The Best Junk Files Cleaner for Windows 10/8.1/8/7
by Jenefey Aaron Updated on 2019-07-25 / Update for Windows Care
Junks files are files that remain on your computer after a task is finished. As time goes by, you computer will be full of junk files in form of temporary files, log files, download files and unnecessary registry entries. Consequently, you PC will be subject to get slower, stuck and even crash. For cleaning up all junk files easily on your Windows PCs, I sincerely introduce the professional Windows optimization tool Windows Care Genius, the best junk files cleanup utility for users with Windows 10/8/8.1/7. Because it allows you to not only completely remove temp files/junk files/temporary files/internet traces off your PC, but also erase invalid registry entries, useless files, download history and so on separately. Click download button below to have a try on it.
How to Remove Junk Files to Cleanup Windows 10/8.1/8/7
Windows Care Genius offers alternative clean ways for you to remove junk files completely or individually. Make sure you have downloaded and installed it on computer. Then you can clean junk files easily as the following instructions.
Part1. Erase All Junk Files off Windows 10/8.1/8/7 with 1-Click
Step1. Run the program and click Checkup in the green box. The program will diagnose and access your PC's health status with specific score ranging from 10 to 0, so that you can know if it is in good condition.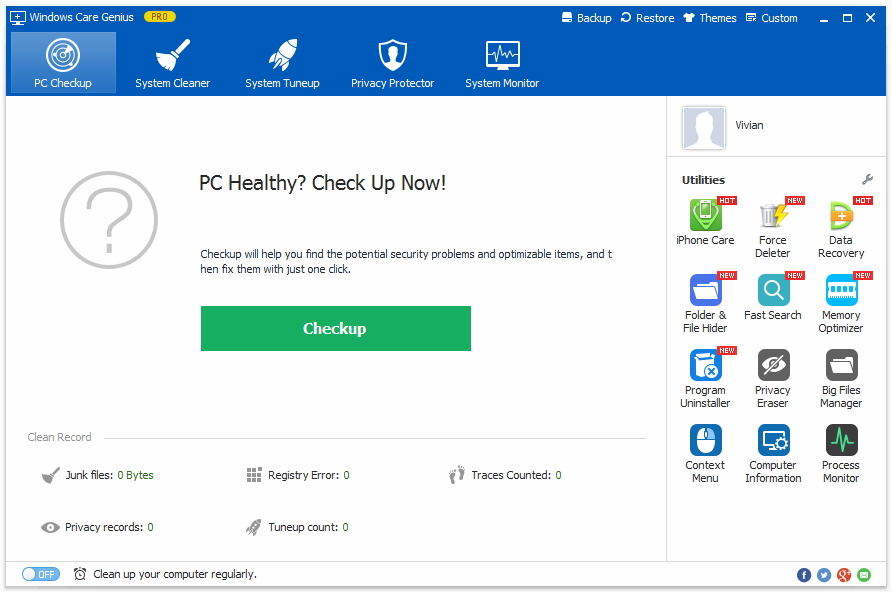 Step2. After scanning, all the potential risks and scanned junk files will be listed one by one. The program enables you to click Fix to fix all problems and delete unwanted files off your PC with Windows 10/8/7.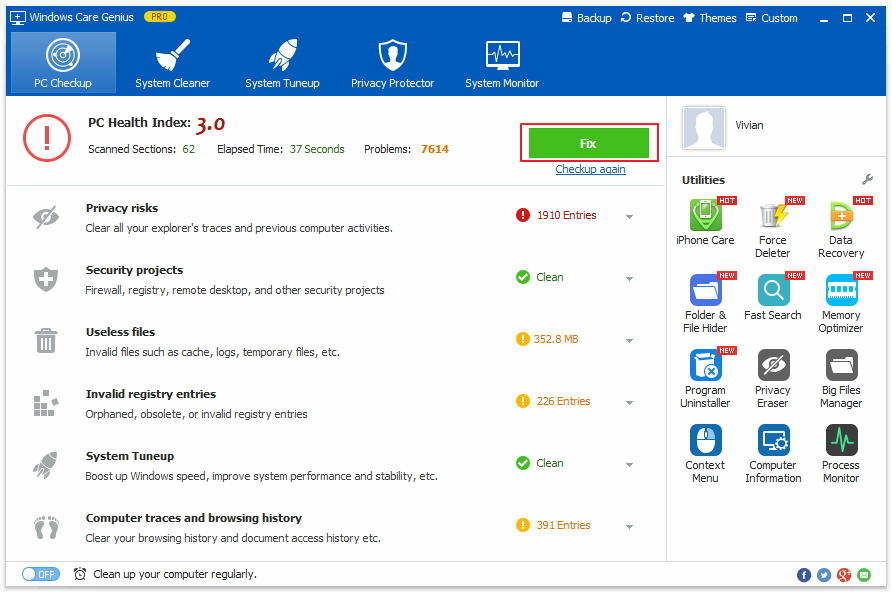 Tips:To be effective and time-saving, you can switch on Clean up your computer regularly on the bottom. The program will automatically operate and clean junk files in the background to keep your PC at peak performance all the time. Also you are allowed to set run types, day and times.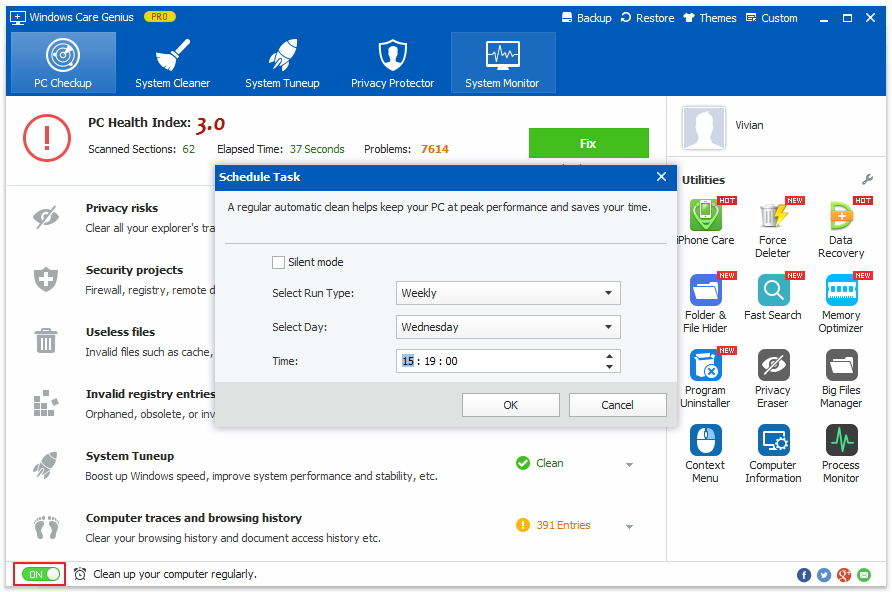 Part2. Clear Specific Junk Files From Windows 10/8.1/8/7 One By One
If you only want to delete partial unwanted junk files from your PC instead of the whole, or further cleanup hard-to-find useless files off PC, you are allowed to do as following steps to make it.
Step1. After launch the program, click System Cleaner in the interface. Here you can clean invalid registries, useless files, downloaded history, unnecessary files on system drive or specific drives. All the operation can be finished with one-click.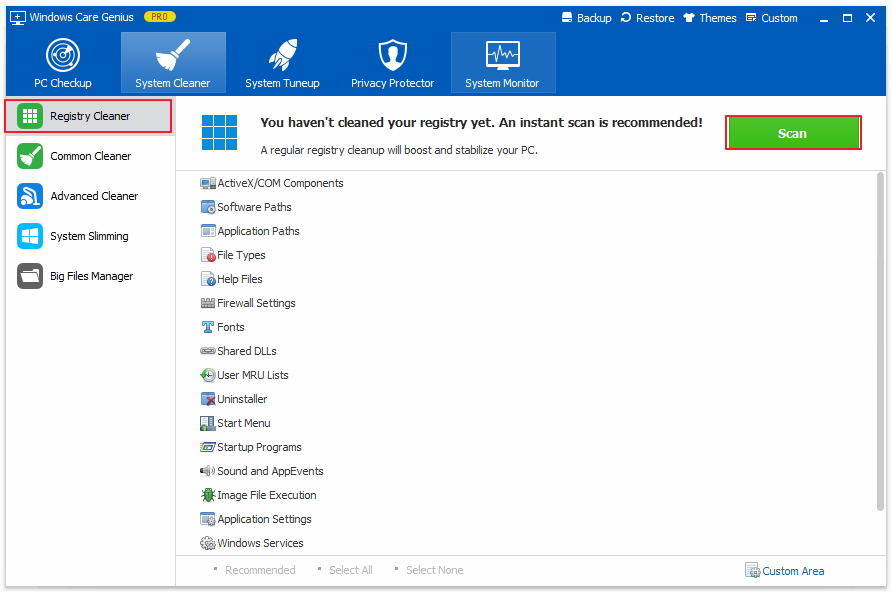 Step2. In Privacy Protector, all the history of your viewed pictures, websites, accessed files and so on can be deleted to protect your privacy from being traced. Similarly, all operations can be done with one click.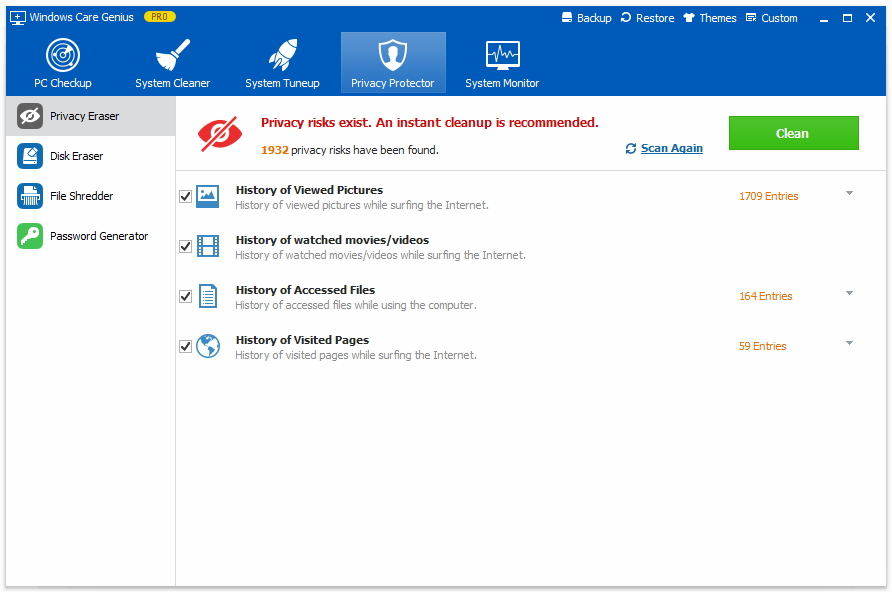 Such a versatile windows junk files cleaner that equips with rich functionalities. That's why it is called the best computer junk files cleaner for windows 10/8.1/8/7. If you have any problem, you are welcomed to leave it under the comment section.