Top Method to Clear Internet History Permanently
by Jenefey Aaron Updated on 2019-07-25 / Update for Windows Care
Every time you search the internet you leave a trail. Your internet history stores information about your preferences. Thus, you may not always want to delete your internet history since it is convenient to go to sites you've visited recently, or even find a page you forgot to bookmark weeks ago, over search engine results. However, you should note that your internet browsing history can be sent back to webpages you visited, which leads to privacy divulgement, and makes you interrupted by annoying ads.
To guard privacy and maintain personal security, you will want to permanently delete internet browsing history. In the following, we will share some useful tips.
Part 1. Where is Internet Browsing History Stored
Part 2. How to Permanently Clear/Remove Internet History in IE, Google Chrome, Firefox
Part 1. Where Internet Browsing History Stored?
Your internet history mainly includes the sites you have visited, the cookies placed by those sites, and copies of accepted pages and images. These data is usually stored in:
Browser location bar history list and the related cookies.
Search history, often displayed by search fields of Google, IE, Firefox, Yahoo, MSN and search engines.
The auto-complete history function memory.
Browser plugins.
The index.dat file.
Start menu run history.
Start menu search history.
Windows "Temp" files.
Open/save dialogue box history.
Recycle bin.
Part 2. How to Permanently Clear/Remove Internet History in IE, Google Chrome, Firefox
To find all the tracks is not easy, let alone delete them permanently from your computer, unless you are an experienced "techie". But if you are a common Windows user, you never need to worry about it if you got Windows Care Genius, a professional and easy-to-use tool for removing all traces in your computer and prevent your privacy.
Step 1. Run Windows Care Genius on Windows 10, 8.1, 8, 7, XP, Vista. Tap "System Cleaner" and then click "Common Cleaner". Click "Scan" to start. This will find out all traces in your computer including internet browsing history. After scanning, you can click "Clean" to delete them.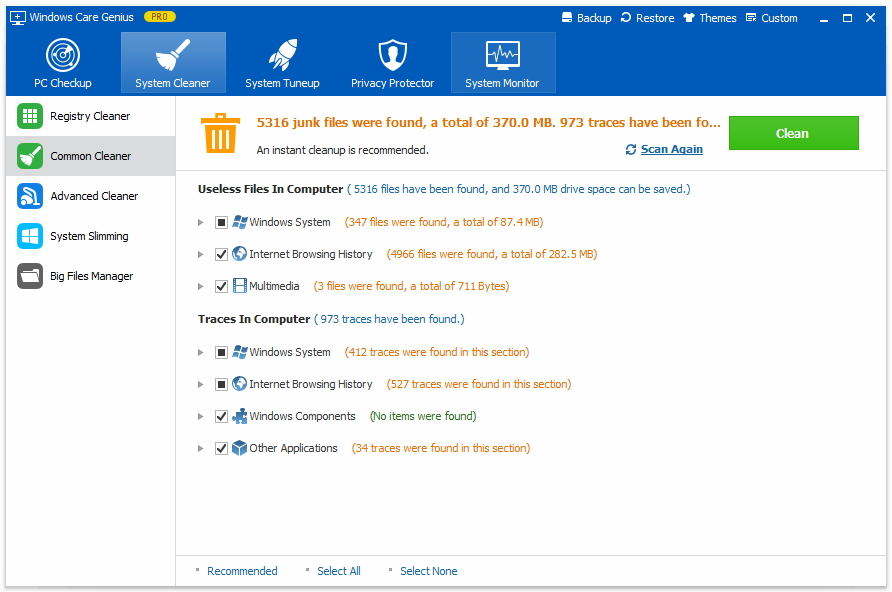 Step 2. Switch to "Privacy Protector". And then tap "Privacy Eraser". This will help you erase the history of your viewed pictures, watched movies, videos, accessed files and visited pages. Select these items and click "Clean" to remove all of them.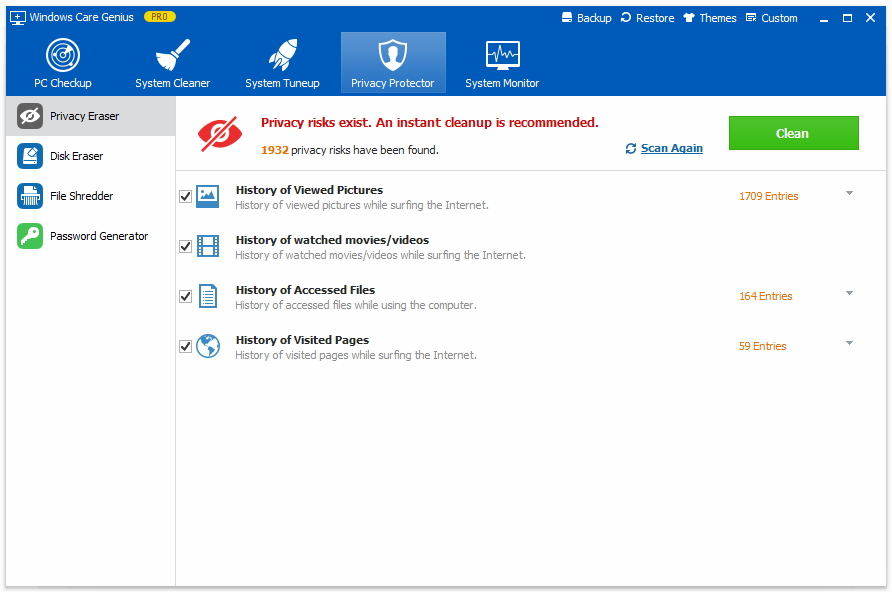 After the above-mentioned is finished, all your internet history, including download history and history of viewed sites will be cleared permanently, whether you are using IE, Google Chrome or Firefox. Not only your privacy is protected, some disk space taken by internet history files will also be freed up so that your computer can run faster.