After the free updating to Windows 10, many uses facing the unexpected problem-Windows 10 boot up slowly after upgrade. The start-up time of PC slow down seriously. If you are the one suffering this issue, then you are in the right page. In this article, we'd like to show you several proven strategies to solve this issue.
Method 1: Disable Software and Services from Startup to Fix Windows 10 Slow Boot-up Issue
This solution involves taking care of your Windows 10 startup settings. Here, you need to open the Task Manager by using the famous Ctrl, Shift and Esc – or by right-clicking on the Task Bar.
In the Task Manager, click on the Startup tab and disable the items with High rating in the Startup impact rating. However, you are advised to keep your antivirus software enabled.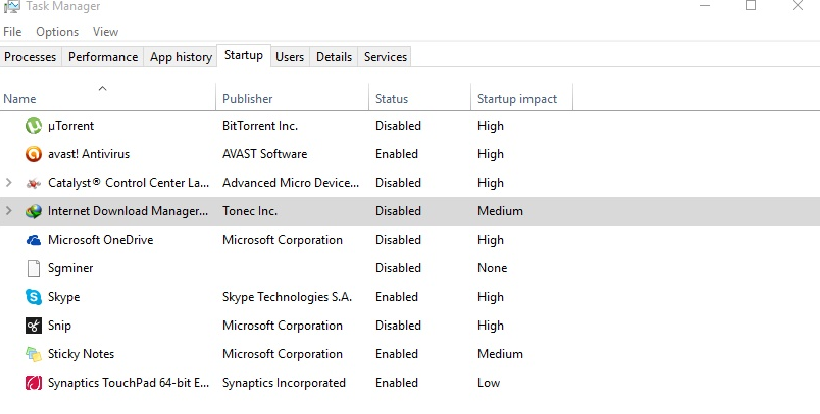 Now you can disable your Nvidia and AMD graphics driver from the startup without affecting the graphics performance of yours system. And this will successfully fix slow boot up issues after upgrading to Windows 10.
Method 2: Enable Fast Startup to Settle Windows 10 Slow Boot-up Issue
In Windows 10, Microsoft enables the fast boot-up option and shutdown times using the special Hybrid Startup and Shutdown option. These options put the system into hibernation state and fix the Windows 10 slow boot-up issue.
To make this change, you can either ask Cortana to "Open power options" - or you can launch the Control Panel and then head to the Power Options.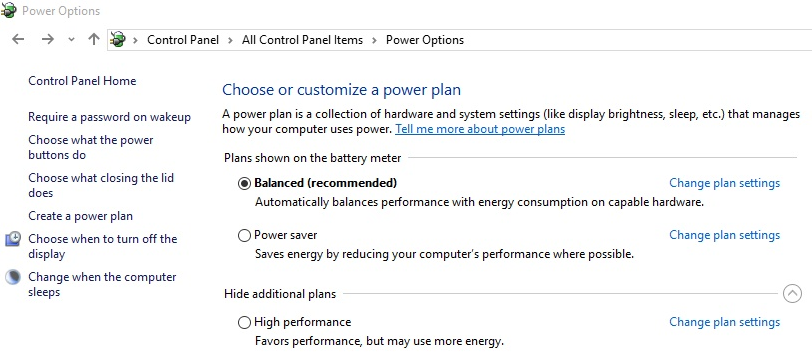 Under the Power Options, click on Choose What The Power Button Does from the left-hand side, then click Change Settings That Are Currently Unavailable.
Now you will be greeted with the list of options that were previously hidden. Here tick on the checkbox that says Turn On Fast Startup and save the changes. After that, the PC will speed up slow boot-up issue after upgrade Windows 10.
Method 3: Use the Delayed Start for Services to Fix Windows 10 Slow Boot-up Issue
After method 2, restart your Windows 10 PC and press Windows Key + R to reveal the Run box.
Here type services.msc and hit Enter. This will open a list of services that you need to scan to find the services that seem to be causing the Windows 10 slow boot-up issue. Right-click on those, open them, and change the setting from default to delayed start. Now, click save and exit the window.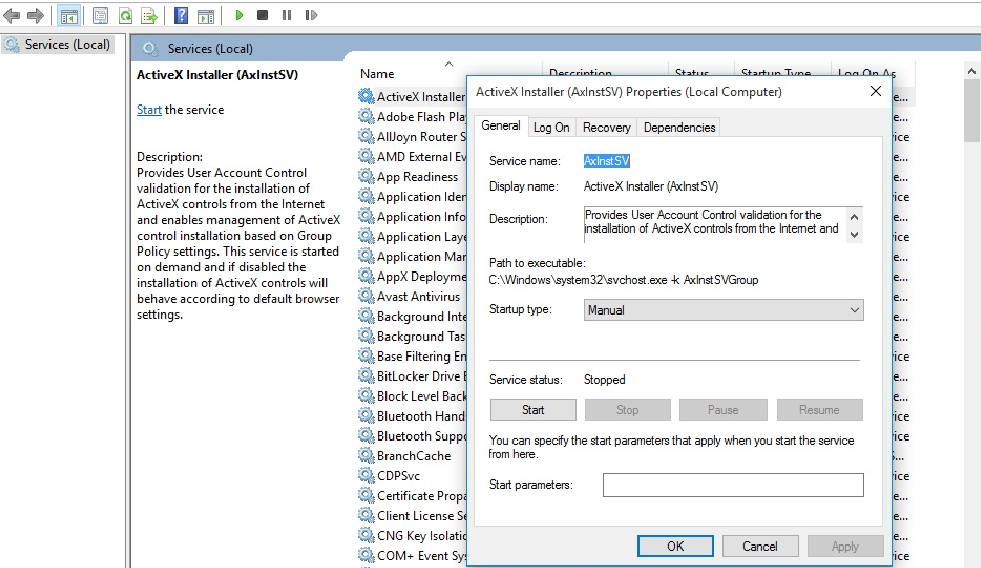 That's it. You will find that this method will fix Windows 10 slow startup boot after upgrade. Now you can restart your PC to witness a lot faster boot-up.
Method 4: Use Windows Care Genius to Solve Windows 10 Slow Boot-up
If the operation on Windows 10 can't work out, you still have a chance to tackle this slow boot-up issue. It's appropriate to use the third-party software like Tenorshare Windows Care Genius, which is a world-class PC clean and speed up tool for Windows 10/8/7.
First, download and install Tenorshare Windows Care Genius.
Free Download
For Win 10/8.1/8/7/XP
Secure Download
Part 1: Manage startup programs and services to boost startup speed
Step1: Run the program and tap System Tuneup and then click Startup Manager. Then you will see Startup, Services and Records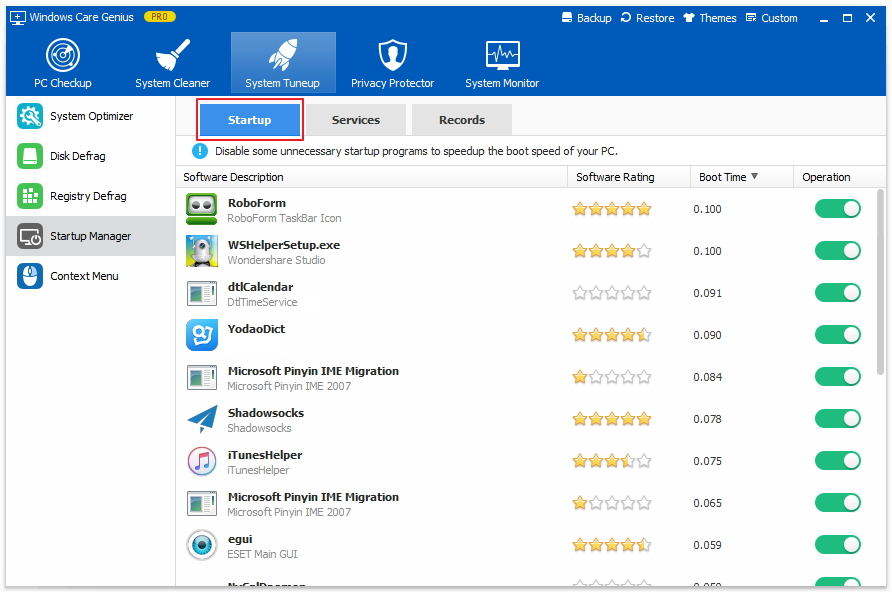 Step 2: Switch any items you want off in Startup, Services. If you want to cancel operations, you can click Records to restore startup items.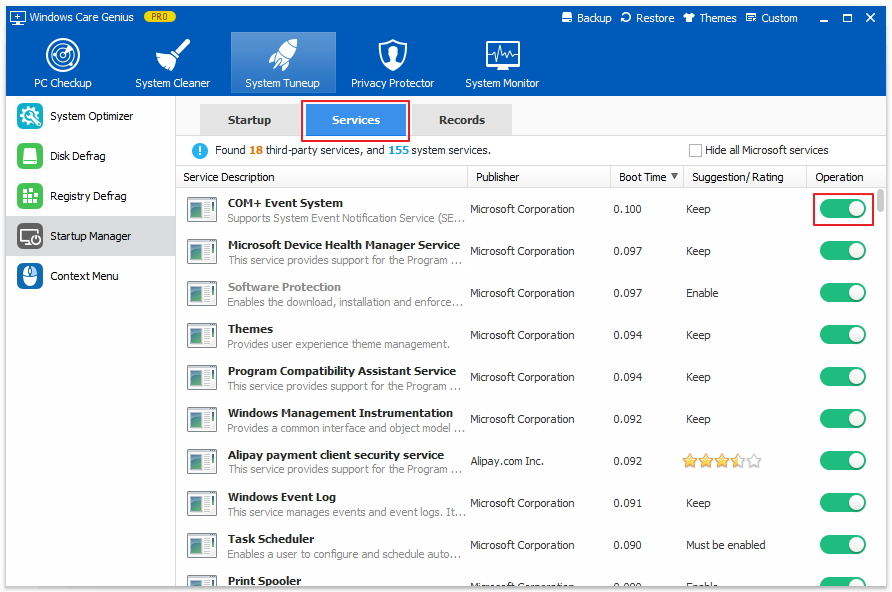 Part 2: Clean invalid registry entries off your computer
Step 1: Click System Cleaner and then choose Registry Cleaner. Click Scan to detect your computer.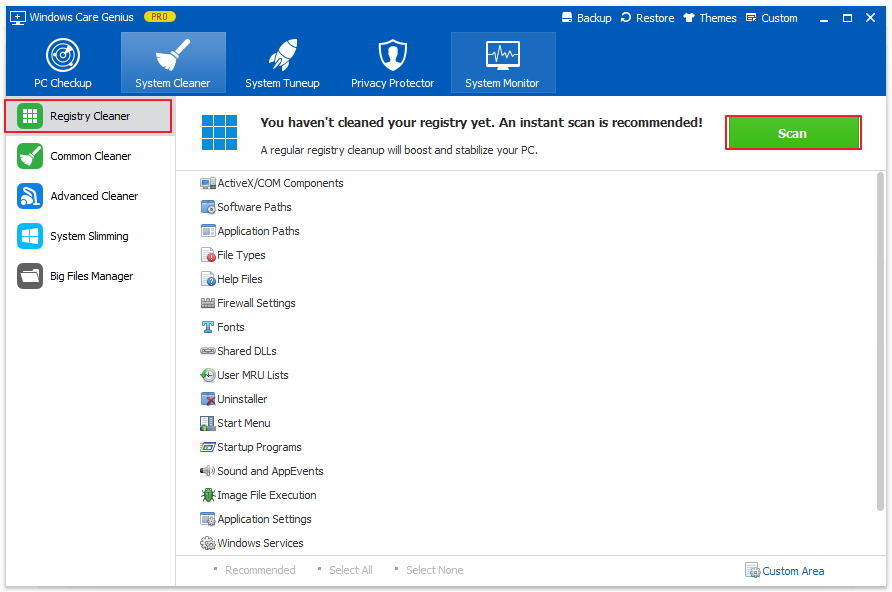 Step2. All the useless registry will be displayed. Click Clean to delete the all.
Part 3: Clean files with specific extensions on specified drives
Step1: Launch the program and tap System Cleaner and then click Advanced Cleaner.
Step2: Set any or all hard drive you want to clean in Scan Location and click Scan. Finally click Clean to finish operation.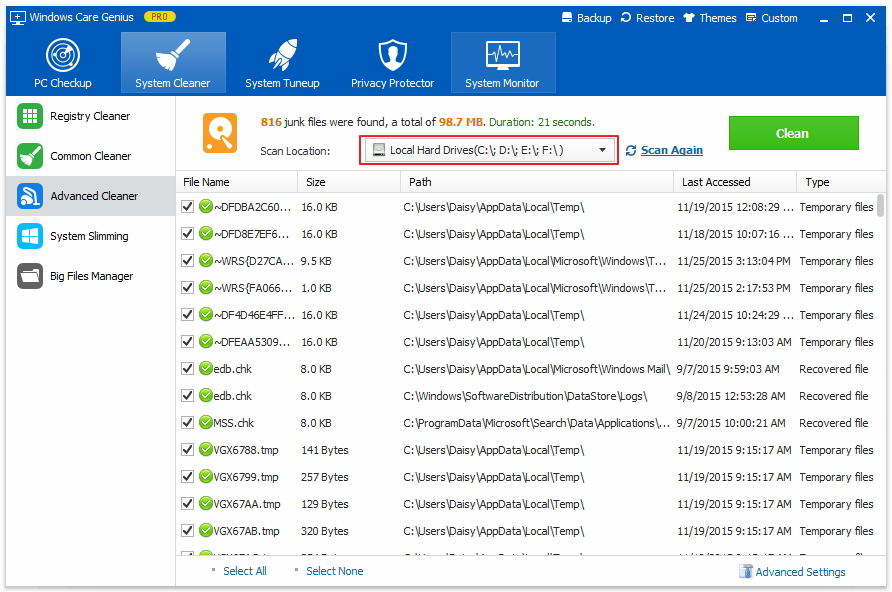 Part 4: Remove unnecessary files on the system drive
Step1: Run the program and click System Cleaner. Select System Slimming. Windows Care Genius will automatically start to scan.
Step 2: After scanning, all files like downloaded installation files, installer baseline cache, IME, help files, wallpaper files, sample music are list here. Tick items you want to clean up and click Slim Down.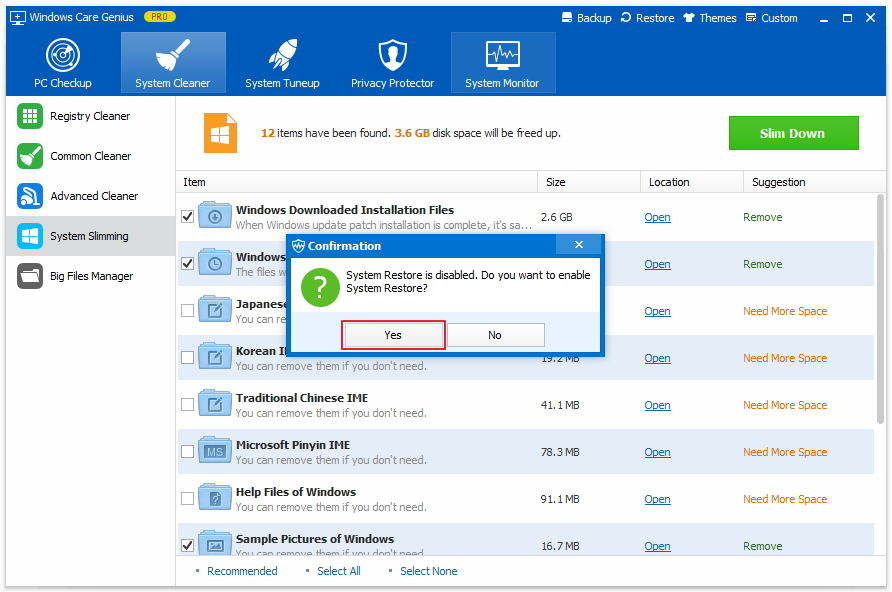 Part 5: Search and delete bulk files on hard disk
Step1. Launch the program and tap System Cleaner and then click Big Files Manager. Unfold Scan Location to tick any hard drive you want. Then click Search and the results will be listed below fast.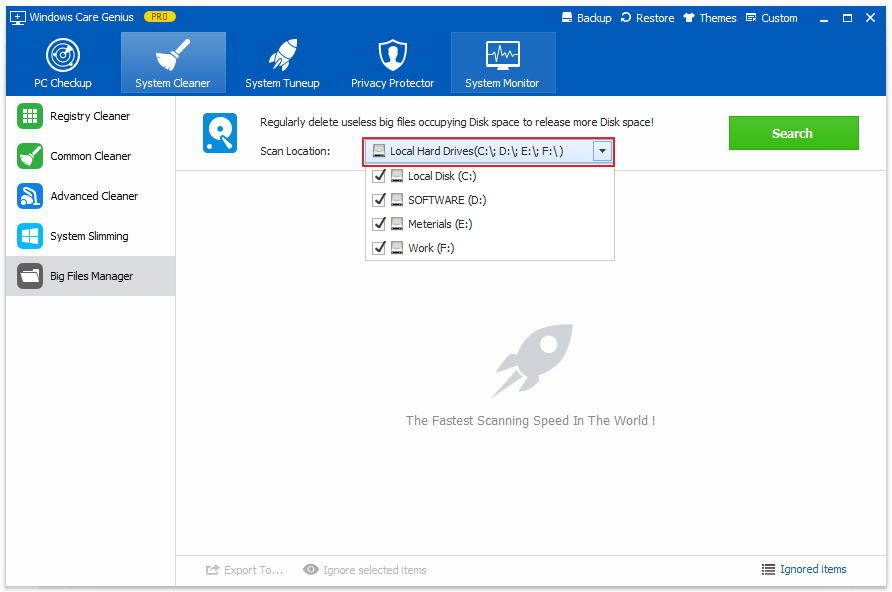 Step2. Select the entry you want to delete and click Delete at the upper right corner.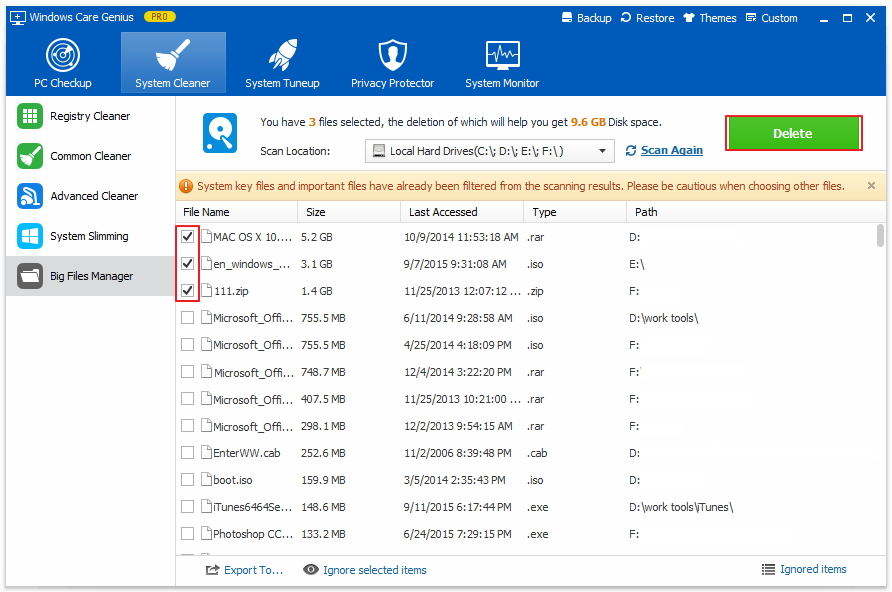 You are free to view more detailed guide about Windows Care Genius. That's all for how to fix Windows 10 slow boot-up issue after upgrade. Try the above methods and enjoy the amazing boot-up speed on your Windows 10 now!
Free Download
For Win 10/8.1/8/7/XP
Secure Download
Related Articles
comments powered by