Windows PCs has typically slowed to a crawl as it gets clogged up with temporary internet files, unused software and other digital debris. Over time, you find your system takes more time to respond to your actions like opening files, folders, surfing the internet and other tasks. That's when you need to enhance computer speed.
Like you do spring cleaning every year, you should also do a thorough cleanup regularly to your computer to make it run faster.
In this article, we are going to share some free ways to speed up your computer running Windows 10, 8.1, 7 and etc.
Before you start, you may firstly download a computer speedup tool – Tenorshare Windows Care Genius from the following button for free.
Free Download
For Win 10/8.1/8/7/XP
Secure Download
Tip 1. Clean Up Your Disk to Speed up Computer Performance
Part of the reason why old PCs take so long to start is because of all the programs and utilities you've installed, and those junk files piled up in your computer, which takes up much disk space. Therefore, to improve the speed of your computer, you can first of all removing all useless files and programs completely from your PC.
1.Run Windows Care Genius, and then select "System Cleaner". It allows you to clean up registry, useless files and traces, so that more space will be freed up.
2.You will find 4 cleaning tools, "Registry Cleaner", "Common Cleaner", "Advanced Cleaner", "System Slimming", and "Big Files manager". Here I take Common Cleaner as an example. Click "Scan" to start scanning all junk files and programs, and then click "Clean" button to delete all of them.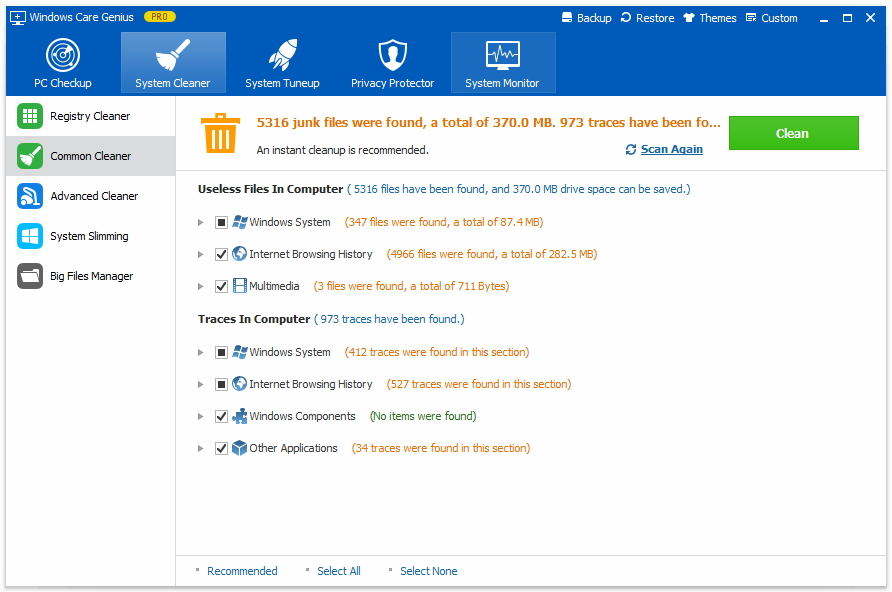 Tip 2: Limit Startup Process to Let PC Boot Faster
How fast your computer starts up mainly depends on the hardware you are using, and how many programs are scheduled to start up when you boot your computer. Many programs may start running in the background when you turn on your computer, slowing down the system startup time. To make PC boot in a faster speed, you can disable programs that you don't need to start straight away.
In Windows Care Genius, click on "System Tuneup" and then select "Start Manager". Here you can see all startup programs and services. Slide the button next the file type to OFF if you don't want to disable it when computer boots up.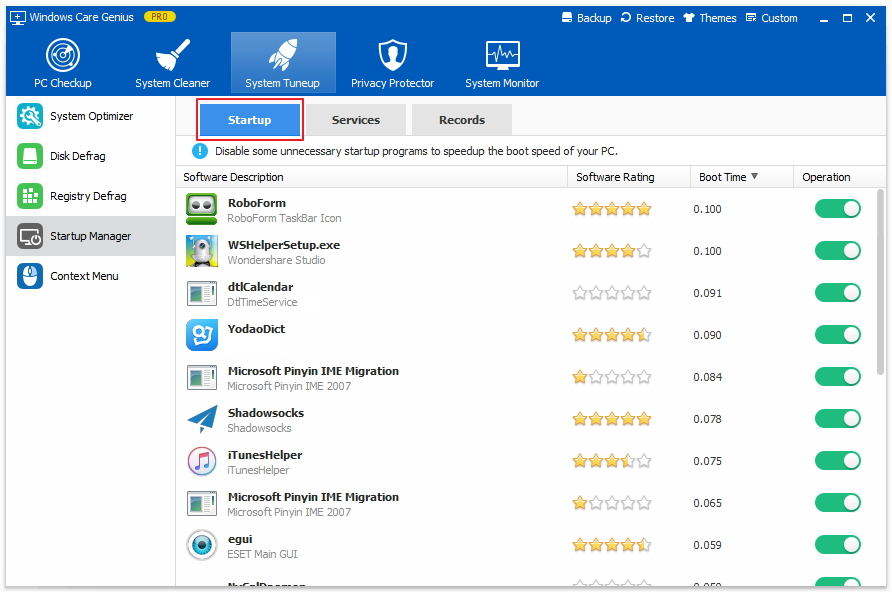 Tip 3: Close Unnecessary Background Programs to Improve Computer Speed
One of the most common reasons for a slow computer is too many programs running in the background, taking too much memory and CPU.
With this Windows speed up tool, you can monitor what programs are running in the background and then close those you don't need, so you can speed up sluggish PC.
Go to "Process Monitor" in "System Monitor". You can highlight the process you want to stop and click End Process to stop it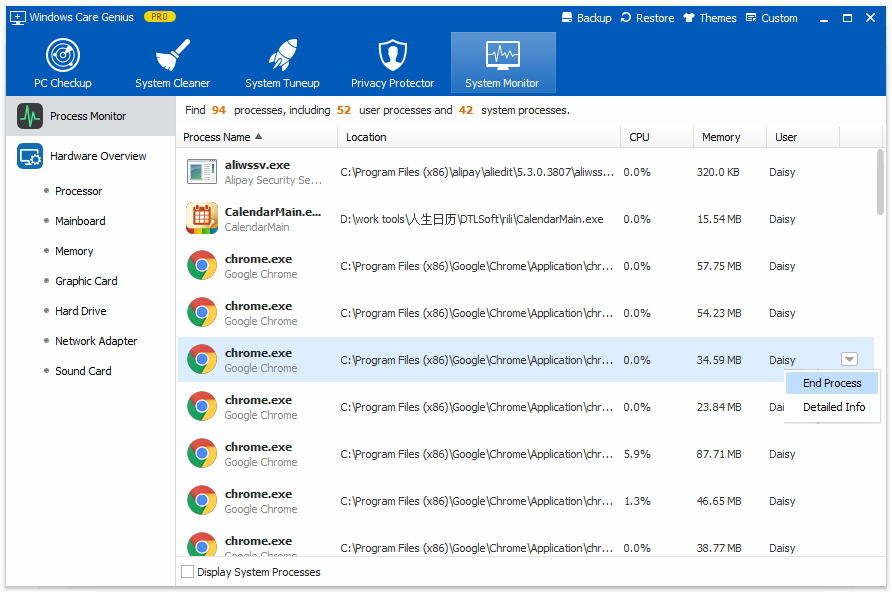 These are how you can speed up your computer free on Windows 10, 8.1, 8, 7, XP, Vista with Windows Care Genius. If you still think your computer act slowly, the ultimate technique to make your PC run faster is to reinstall Windows. Generally we don't recommend doing this for computer data loss.
Free Download
For Win 10/8.1/8/7/XP
Secure Download
Related Articles
comments powered by