When you hit the power button on your PC, you have to wait several minutes to even get into Windows. Especially for computer running for ages, the longer it will take to boot up.
However, it is easy to get your computer started faster, if you got a PC clean up tool, like Windows Care Genius, to remove unnecessary start up programs from boot, which helps you shave seconds, or even minutes, off your PC boot time. Keep reading the following to learn more.
Before you get started, you can free download the trial version of Windows Care Genius from the following.
Free Download
For Win 10/8.1/8/7/XP
Secure Download
How to Make Your Windows PC Boot Faster Using Windows Care Genius
Tip 1. Optimize Windows System
The first thing you may do on any computer running slow is to optimize its system and improve the overall performance.
Run Windows Care Genius after you install it on Windows 10/8.1/8/7XP/Vista. Select "System Tuneup" on the main interface. Then you will find 5 choices and click "System Optimizer" first. The program will automatically find out all items that need to be optimized.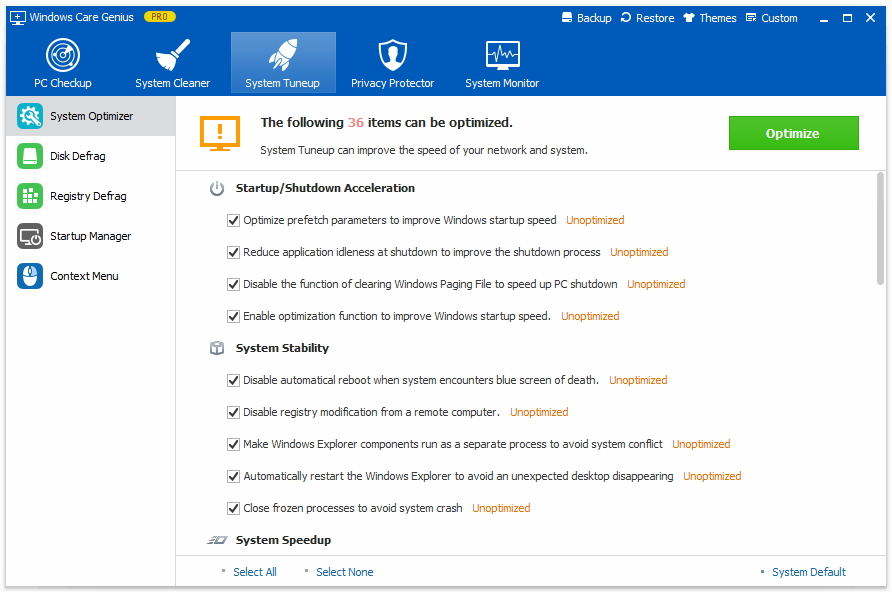 Tick off the items you want to optimize one by one or click "Select All" on the bottom. Then click "Optimize" to finish. This may take several minutes.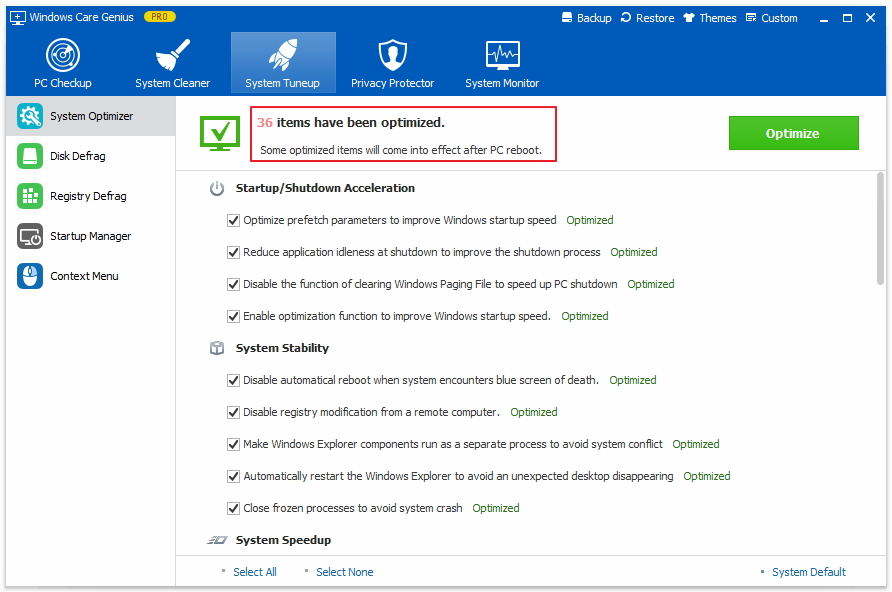 Tip 2. Manage Startup Programs and Services
Windows computer tend to boot slower over time as you install more desktop programs, many of which add themselves to the startup process and automatically start each time you boot your computer. So the most important way to speed up Windows 10, 8.1, 8, 7 etc. boot time is to stop programs from loading automatically at startup.
Continue to run Windows Care Genius, and select "Startup Manager" in "System Tuneup". Then you will see "Startup", "Service", "Records".
In "Startup" and "Service", you can disable any unnecessary startup programs and services by switching them off, to reduce the boot time of your PC.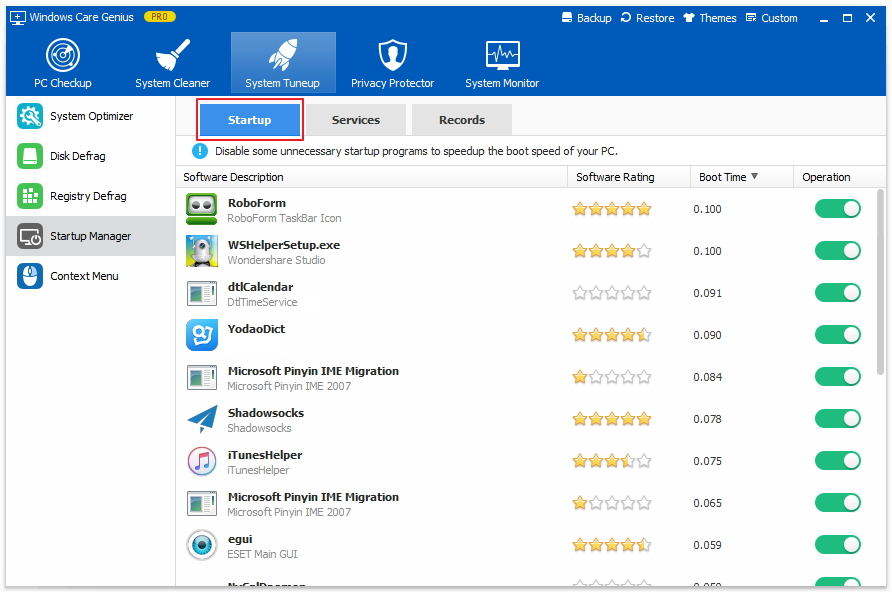 Done! By disabling startup programs and optimizing system can greatly get your PC start faster. You will find the boot time will be largely reduced then. But on the other hand, get a faster hard drive may help it better. A solid-state drive is much faster than a conventional computer hard drive, plus it is generally more reliable. I hope these tips and tweaks can help you a lot. You can also go to Windows Bootup for more details.
Free Download
For Win 10/8.1/8/7/XP
Secure Download
Related Articles
comments powered by