When you are suffering from lagging, slow loading, or crashing when playing PC games, you should consider optimizing Windows performance for gaming. The speed of games reveals the performance of your computer. Also, you can realize your PC becomes slow down over time during daily use. Windows Care Genius can optimize your PC for gaming for free by deleting useless files, closing background processes and unnecessary Windows services.
Windows Care Genius gives an all-around checkup for your Windows performance by telling you the optimized aspects. You can improve the performance and boost up games according to the checkup results.
Free Download
For Win 10/8.1/8/7/XP
Secure Download
How to Speed Up PC for Gaming with Windows Care Genius
Download and install Windows Care Genius to your PC. Follow the instructions below to optimize Windows performance for gaming.
Step 1: Open Windows Care Genius, the default is PC Checkup and you will see the notable Checkup button in the center of the interface. Click this button to scan your PC.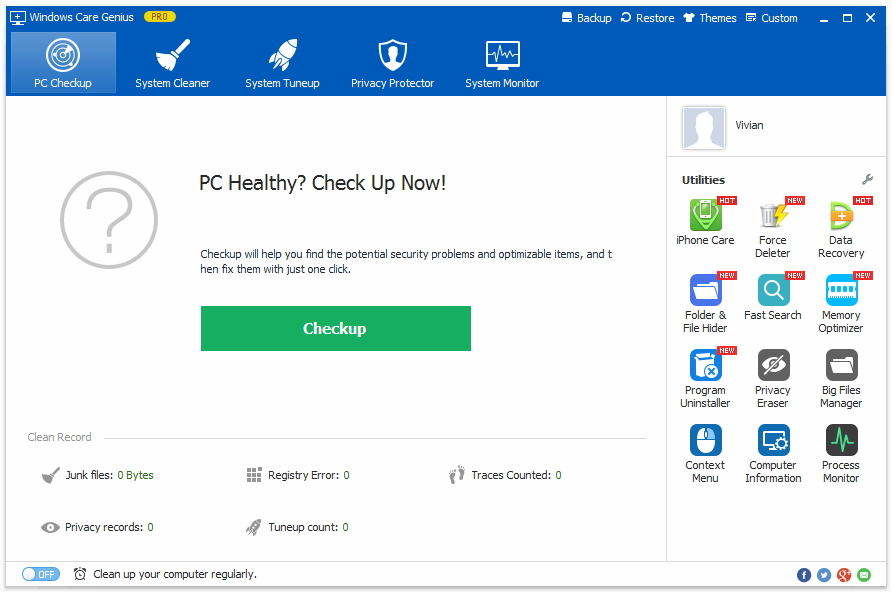 Step 2: In a few seconds the scanning is completed and it lists all the privacy risks, useless files, system tuneup items, invalid registry entries, etc.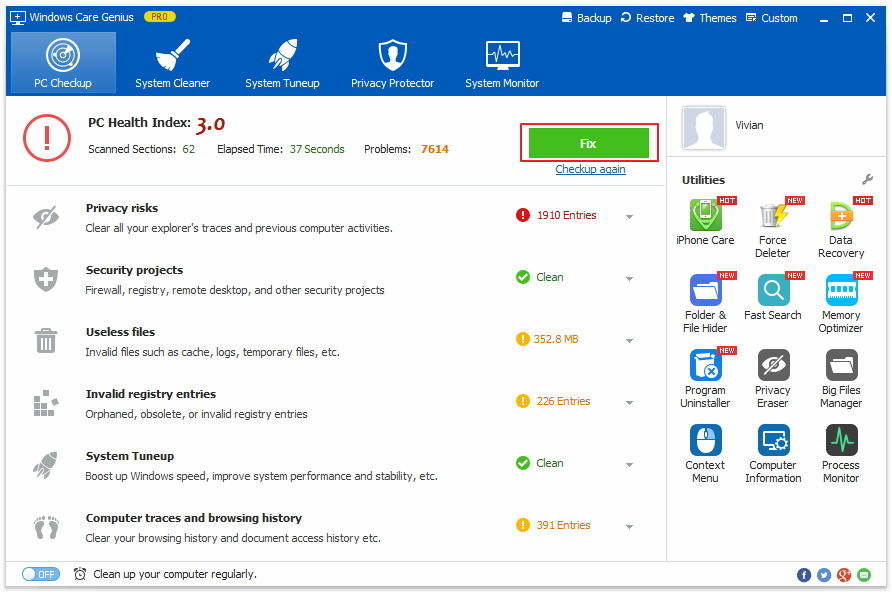 Highlight a category will expand all issues in details within. Expand "Useless files" you can check the junk files in details like junk files/logs/caches created by Windows/Applications, Browser caches, and so on.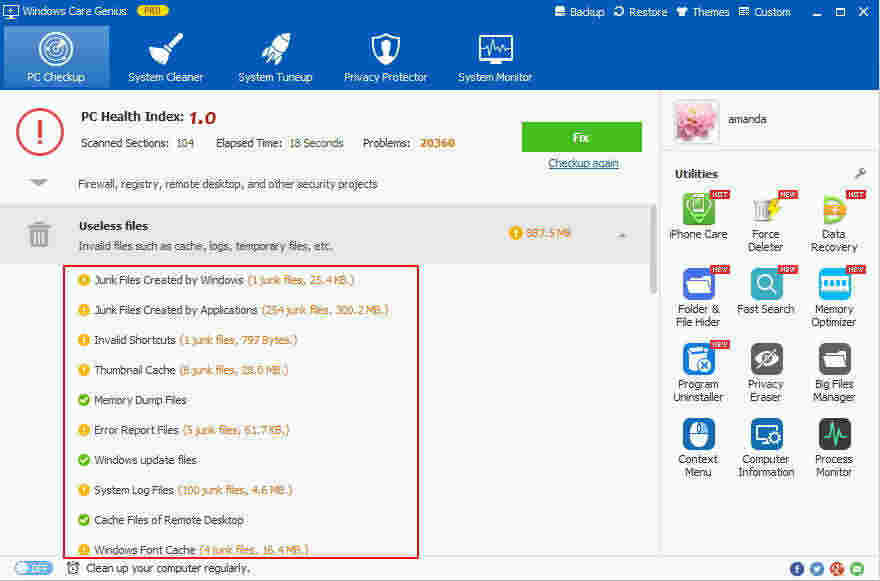 Step 3: Finally, you can click Fix button to fix all these issues within a few minutes. Your PC will be overall cleaned, protected and sped up. The PC Health Index is 10 –the best score.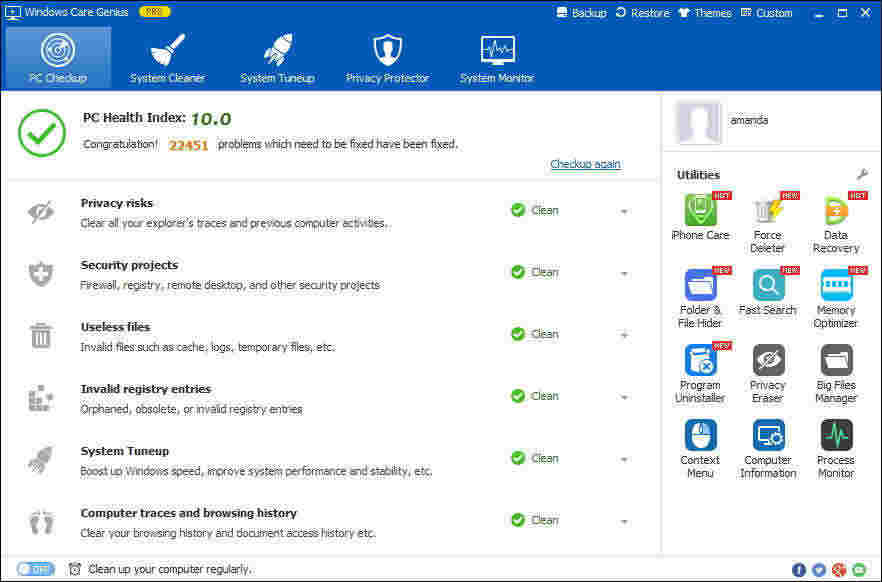 So, with just three steps, your PC will be optimized to an optimal status for gaming. If you'd like to do more improvements, I suggest you switch to "System Tuneup" tab in Windows Care Genius.
"System Tuneup" offers more specific optimization choices from 5 aspects, of which the "System Optimizer" can boost your PC via startup/shutdown acceleration, system stability, system speedup and network speedup.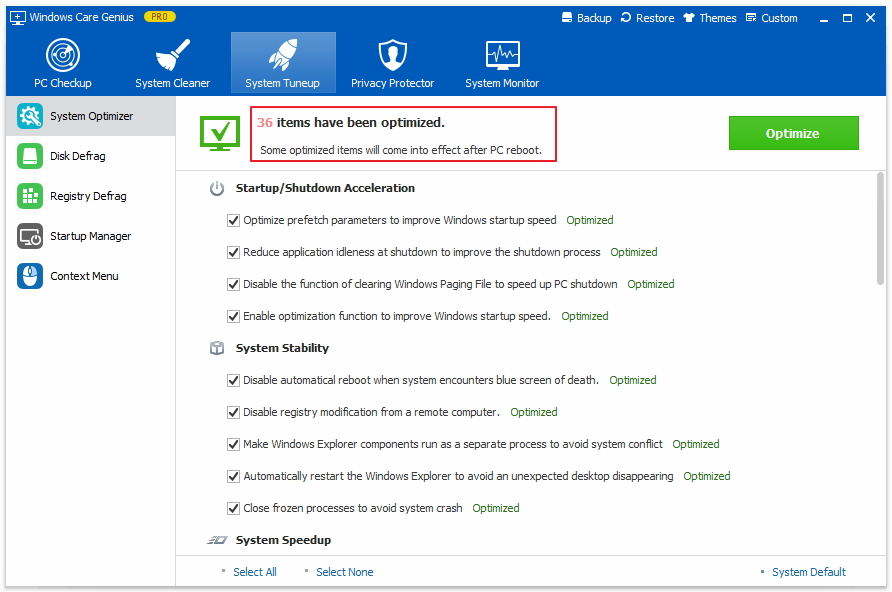 To sum up, this quick and effective PC cleaning and speedup tool is enough for you to improve game experience on your PC. Moreover, Windows Care Genius can do more such as privacy protection, system slimming, big files manager, system monitor and so on.
Free Download
For Win 10/8.1/8/7/XP
Secure Download
Related Articles
comments powered by