No matter how fast a new computer might be, it seems to get slower over times especially when you install a dozen programs, load antispyware/antivirus tools, download untold amounts of junk from Internet. The slowdown might happen gradually that you hardly notice it until one day you're trying to open a program or file and wonder "What happened to my poor computer? How to clean and speed up a sluggish PC?"
Whatever the cause, there's the best way for speeding up your slow Windows PC even without upgrading your hardware. Tenorshare Windows Care Genius is such the world-class PC clean and speed up tool for Windows 10/8/7 PC, compatible with Dell, Lenovo, HP, Asus, Acer, Toshiba, Sumsung and other computers.
Inspect your registry and remove all invalid Windows registry entries.
Clean up useless files like invalid shortcuts, traces, cache, cookies, passwords and Windows components.
Clear any traces of your online activities such as your Internet history.
Speed up hard drive and application performance by accessing the disk defragmentation tool.
Automatically manage registry to significantly improve system performance.
Disable unneeded programs that consume your precious system resources and improve PC startup and shutdown speed.
How to Clean up and Optimize the Performance of a Sluggish Laptop/PC?
First, download and install Tenorshare Windows Care Genius on your Windows PC.
Free Download
For Win 10/8.1/8/7/XP
Secure Download
Step1: Run the program and click Checkup to analysis the whole heath status of your sluggish PC. Then your computer will be scanned automatically.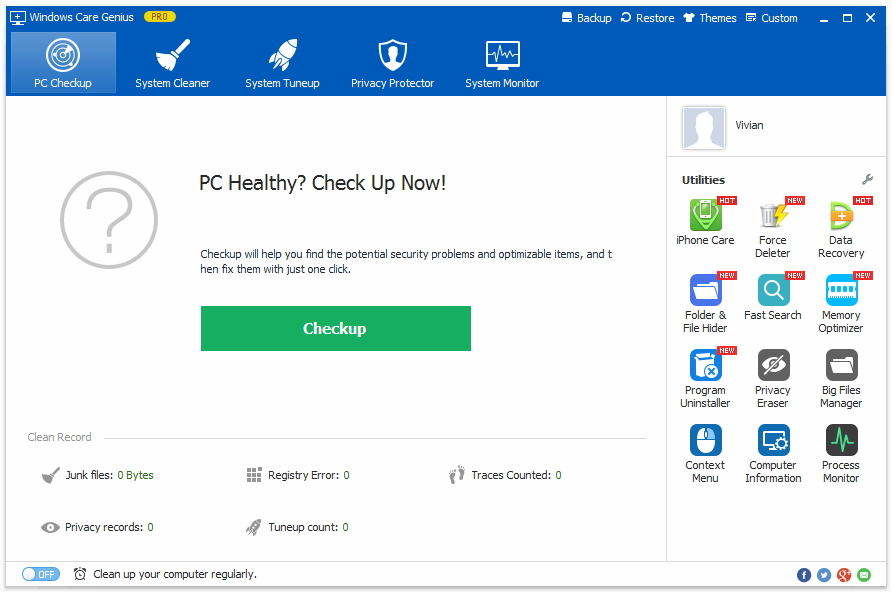 Step2: Here you can click Fix to fix all the problems or fix them one by one. All the junk files will be cleaned up at this step. And your computer will speed up in some extend. After that, you can click Checkup again to check your PC's heath status again.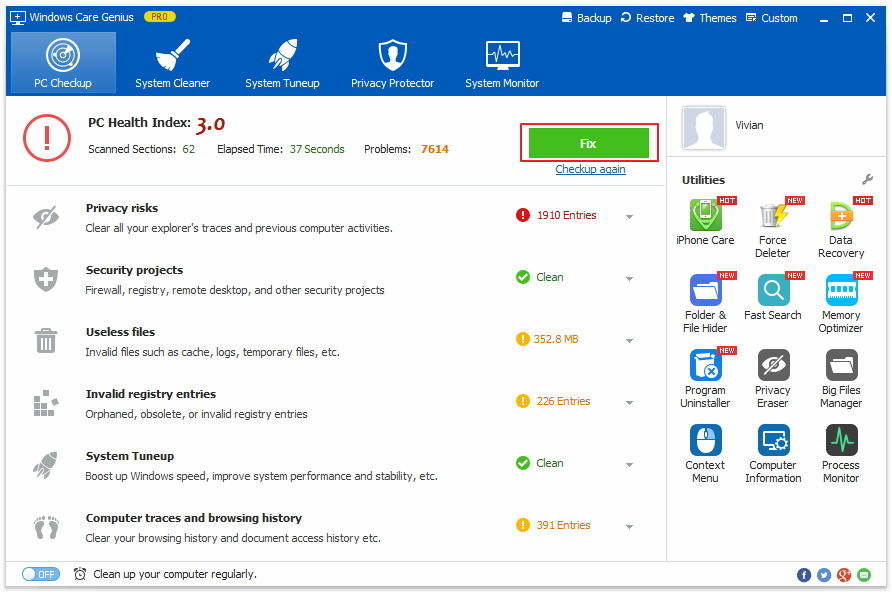 If you want the further optimization, you can switch to System Tuneup for the better PC performance. For more detailed steps, you are free to view Tenorshare Windows Care Genius Guide.
Now, download Tenorshare Windows Care Genius to clean up and speed up your slow PC and laptop!
Free Download
For Win 10/8.1/8/7/XP
Secure Download
Related Articles
comments powered by