How to Delete WhatsApp Backup
by Anna Sherry Updated on 2020-07-15 / Update for WhatsApp
WhatsApp, being a widely used app these days, people use it to exchange a wide range of information over it. As a result of this, many times we just end up having unimportant things in the app. And, not to be denied, you will never want your device to create more space for unnecessary stuff, right? So, if WhatsApp backup is eating a good chunk of space in your device, you can conveniently delete WhatsApp backup from your device or undo WhatsApp back up on iCloud. All you need to have is the essential knowledge to perform the task. Thus, we've enlisted the methods of how to delete WhatsApp backup in a simpler manner.
How to Delete WhatsApp Backup on Device Directly
To delete the WhatsApp backup from your iOS device directly, here are the steps to be followed.
1. To begin with, load 'Settings' app and search for 'General' option. Tap on it right after that.
2. Now, click on 'iPhone Storage' option followed by selecting 'WhatsApp Messenger' featuring on the next screen.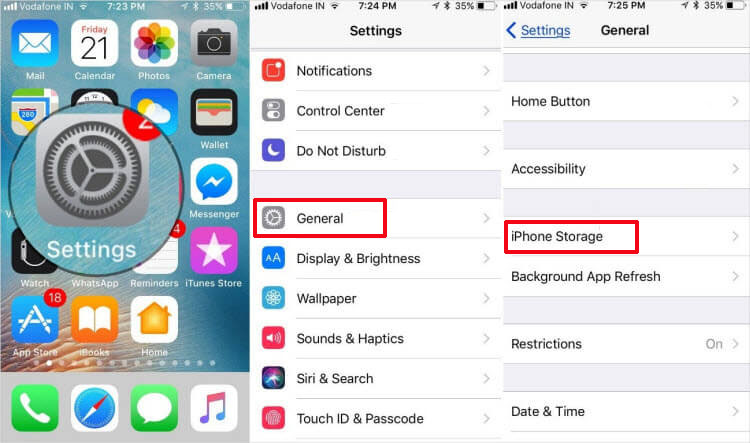 3. Lastly, press the 'Delete App' option. That's all!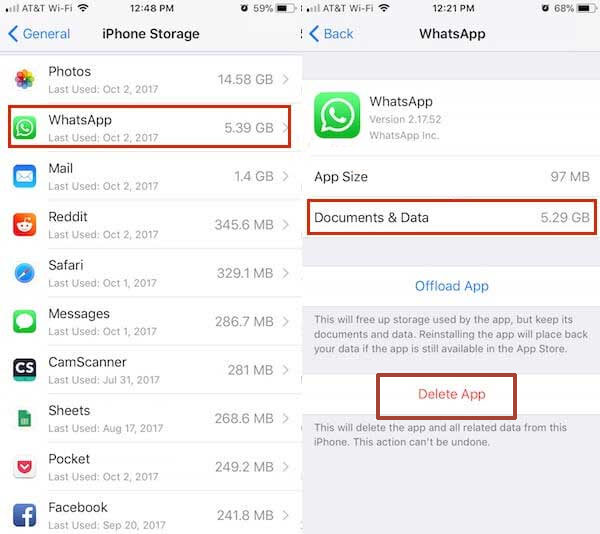 This will prompt to remove away all the WhatsApp documents, photos, videos and chats saved on your device altogether.
How to Delete WhatsApp Backup on iCloud
Apple's iCloud is one of the renowned cloud storage feature that upkeeps the backup of your device. Besides maintaining backup, the Apple users can look out to delete the backup in a much more swiftly manner. So without making you wait any longer, here is the following guide will enlighten you how to delete WhatsApp backup.
First and foremost, open 'Settings' application over your respective iPhone.
From here-on, tap on your Apple ID surfacing on the upper section. It is mandatory that the name you use should be similar to the one signing up with Apple ID.
Head on to 'iCloud' and tap on 'Manage Storage' under iCloud option.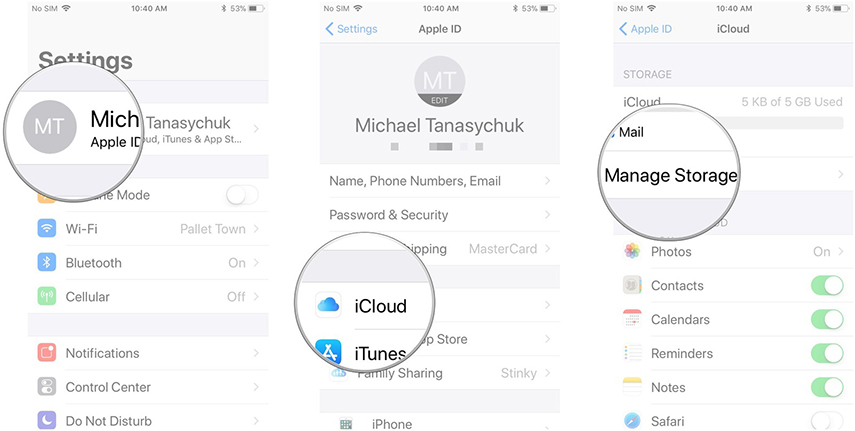 Click on 'Backup' and select the 'device' the backup of which you are looking to remove.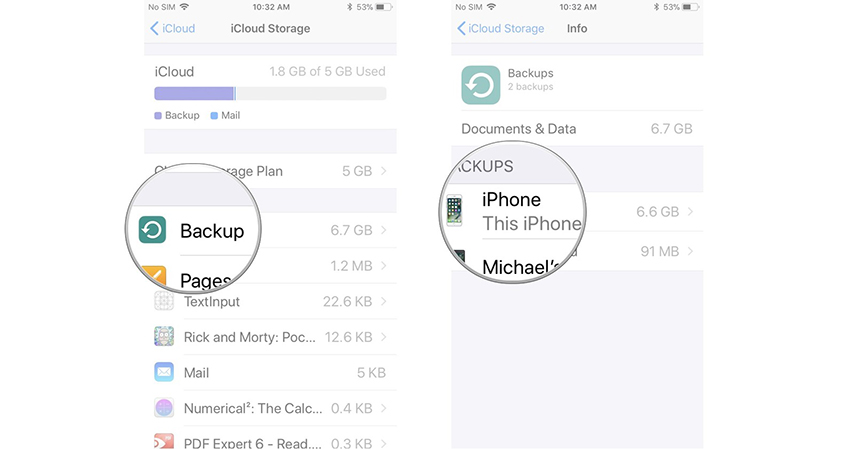 And then, hit the 'Delete Backup' option right away and select 'Turn Off& Delete'.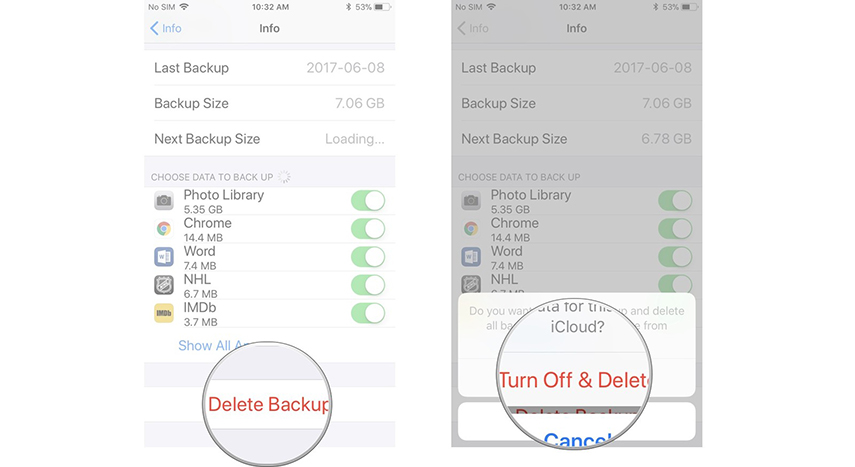 How to Delete WhatsApp Backup on Google Drive
We all know Google Drive is essential in up keeping files available in our device. Similarly, deleting the backup is no task. So, want to know how to delete WhatsApp backup on your Google Drive. Here is how:
First of all, head on to Google Drive's website -https://drive.google.com/ and sign in with your Gmail credentials.
In case you're using a Smartphone for the purpose, simply tap on top left corner and go for 'Desktop Version'.
Now, from the upper corner, click on 'Gear' icon appearing at the top section.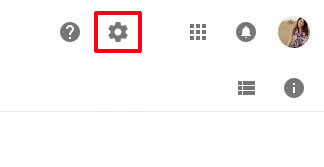 Once through with it, go to Settings option and explore the 'Manage Apps'.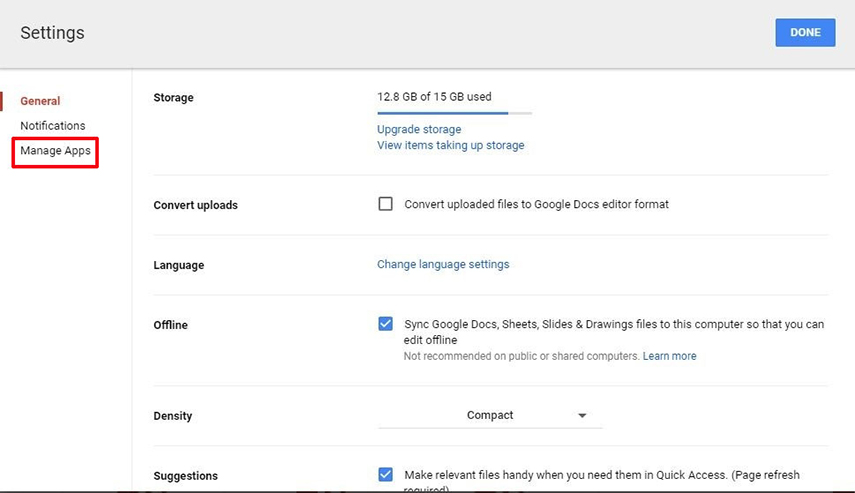 Explore 'WhatsApp Messenger' by scrolling down now.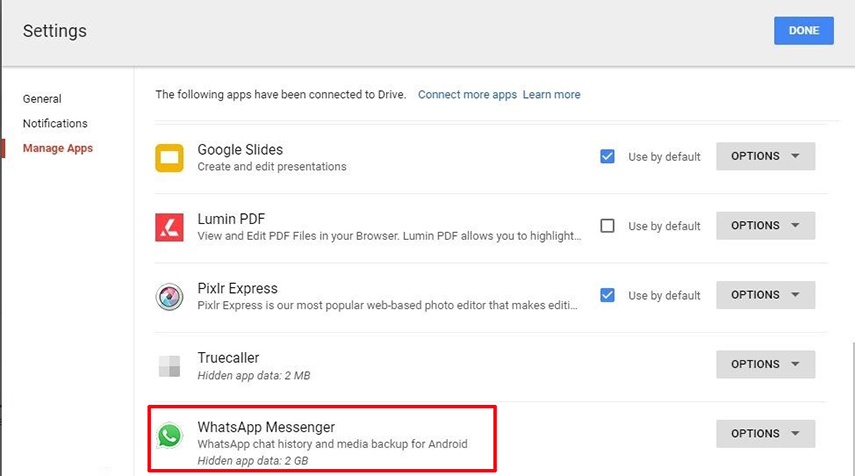 Hold down until you get to see 'Hidden app data' size appearing under the WhatsApp Messenger.
Select on 'Options' and then click on 'Delete hidden app data'.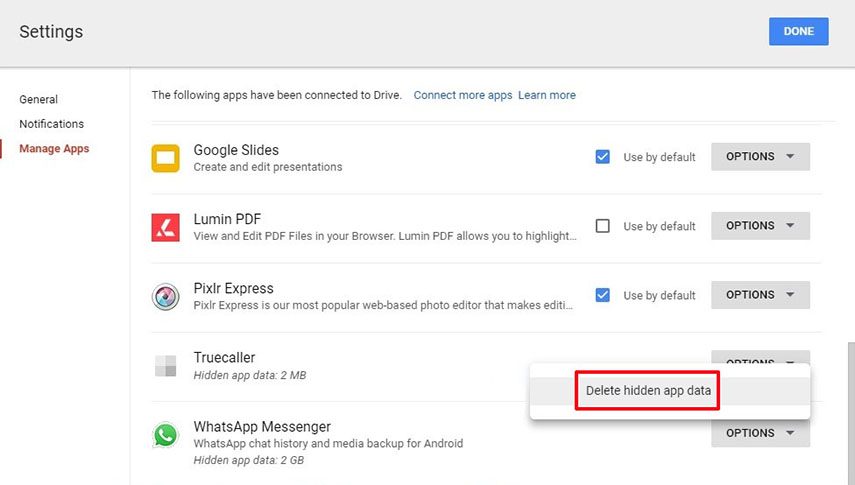 Before proceeding to the last step, you will notice drive saying 'xGB of hidden app data from the WhatsApp Messenger' will get deleted from your drive permanently. Tap 'DELETE' to confirm.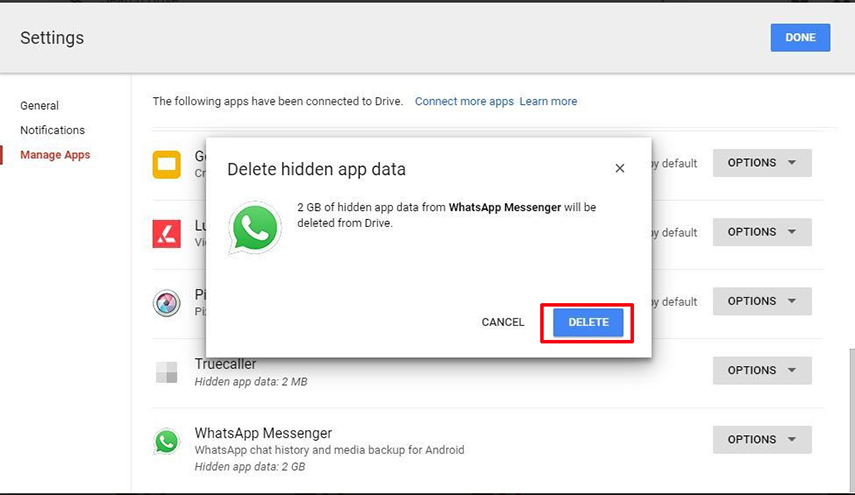 Bonus Tip: Easiest Way to Freely Backup WhatsApp
The ladder of backup steps are too hard to climb, thus to pave away your path, one of the easiest method to easily backup your WhatsApp messages, Attachments or files, use Tenorshare iCareFone Transfer(iCareFone for WhatsApp Transfer)!
Not only does it cater to selectively backup data components but also help in restoring the device. Here is how to backup your WhatsApp via iCareFone:
First and foremost, launch Tenorshare iCareFone Transfer(iCareFone for WhatsApp Transfer) on your PC. Now use a genuine lightning cable to connect iPhone and Mac. Once established, head on to the interface and choose 'WhatsApp' tab.

Using the drop-down arrow to select the device you want to retore data to it. Then click 'Restore Now'.

The program will take a few minutes to restoring WhatsApp data, don't disconnect your device. Then you will get "Restore successfully".
Conclusion
In a nutshell, we've covered an array of methods, essential in deleting the backup of your Whatsapp! The methods are very simple and easy to use but if you want to experience an all-rounder software, facilitating in maintaining, restoring backup or individual files, then Tenorshare iCareFone Transfer(iCareFone for WhatsApp Transfer) is an impeccable option you can ask for.