WhatsApp is a popular instant messaging service and there millions of people around the world who use it everyday. While the app works great most of the time, sometimes it throws some errors that novice of us may not be familiar with.
Waking up one day and opening WhatsApp only to see some errors in there is something nobody would like. However, where there are errors, there are fixes for them.
If WhatsApp has been throwing errors on your device and you want to fix them as soon as they come up, here are some methods that will help you do that.
1.WhatsApp Code Errors
Many times you will see an error with a code on your screen, such as WhatsApp error 924/491/504. The code doesn't make sense to a user who isn't into programming and it's just a three digits for him. However, programmers should be able to know what the code is trying to say.
Regardless of whether you can decode a code or not, you can always implement the following fixes and these are sure to help you get rid of the errors on your device. Try and let us know.
One of the ways to resolve a WhatsApp issue is to try clearing the cache. Sometimes your device has issues reading cache and that's where this trick works.
1. Open the Settings menu on your device and tap on Apps followed by WhatsApp.



2. When the WhatsApp panel opens, tap on the button that says Storage as that's where the cache option is located.



3. When the storage menu opens, tap on the option that says Clear Cache to clear the WhatsApp cache files on your device.



4. You can now open the WhatsApp app on your device and you should see that all the errors are gone.
2.WhatsApp Downloading Issues
If you are trying to download or update the WhatsApp app from the Google Play Store and you are having issues doing so, then you will want to do the following to resolve the issues.
1. Open the Settings menu on your device and then head to Apps and tap on Google Play Store.



2. When the store opens, tap on the option that says Storage to find the cache options.



3. On the storage screen, find and tap on the button that says Clear Cache and it will clear the Google Play Store cache on your device.



4. Open the Play Store app and try to download or update WhatsApp and you will see that it goes through this time around.
In most cases, clearing the WhatsApp cache helps resolve the issue.
Extra Tip: Recovering WhatsApp Contents on Your PC
If the issue persists and you are unable to open WhatsApp on your device, then you will need to reinstall the app. Before you do that, it is highly recommended that you recover the data so you can get to it when you want. Here's how to recover WhatsApp data on your PC:
With WhatsApp Data Recovery, you can easily recover lost or deleted WhatsApp chats(messages, videos, and photos) from iOS and Android phones. In this example, I am going to show you how you can recover WhatsApp data from iPhone.
Free Download
For Win 10/8.1/8/7/XP
Secure Download
Free Download
For macOS 10.13 and below
Secure Download
Free download and install WhatsApp Recovery app page on your computer firstly.
Plug in your device to your PC and run WhatsApp Recovery app on your PC. Proceed to recover data from your device by clicking on appropriate options in the app. Then, on the results page, click on WhatsApp in the left panel to see and recover WhatsApp data.
You can then select the data you want to recover and then click on Recover to begin recovering the data.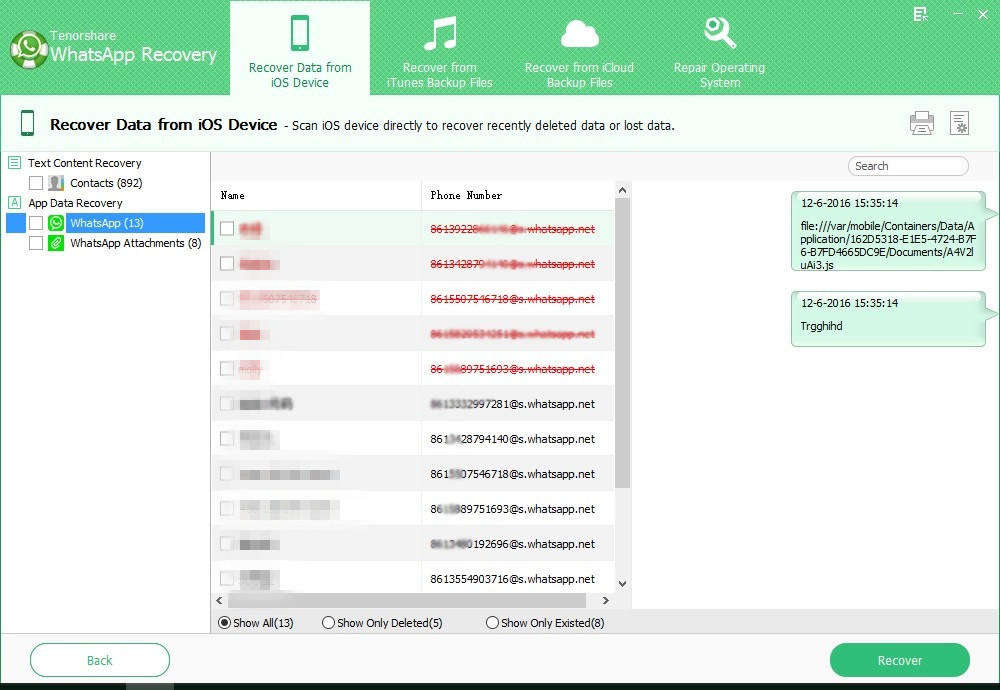 The WhatsApp content should now be recovered to your PC and you can go ahead and reinstall the app on your device to overcome any issues you were facing with the app.
Free Download
For Win 10/8.1/8/7/XP
Secure Download
Free Download
For macOS 10.13 and below
Secure Download
Related Articles
comments powered by