4 Best Ways to Move Videos from Mac to iPhone
by Jenefey Aaron Updated on 2020-04-16 / Update for Transfer Video
Maybe your friend group sent you a video and you want to save it as a keepsake on your iPhone or maybe you have a recording and you want to use it to confront someone or you just want to transfer movies from your Mac to iPhone for a better viewing experience while on the go. So, there can be a number of reasons to transfer videos to iPhone. Now, the question is how to transfer videos from Mac to iPhone? It is very simple, Apple has provided the tool a long time ago and that is iTunes. Most of the iOS users tend to use iTunes for data transfer but there are some users who would use anything other than iTunes. Don't worry, if you are not a fan of iTunes, there are alternative options. Read the article below, to know them better.
Way 1: How to Get Video from Mac to iPhone with iTunes
For decades iOS users are getting support from iTunes when they are looking to transfer a video file or any file to another device. There are always new users who just acquainted with iOS devices and they do not know how to put videos from Mac to iPhone. Do not worry, the steps to use iTunes for video transfers are mentioned below:
1. First of all, connect the iPhone to the Mac with the USB cable.
2. It will take a few seconds for Mac to detect the iPhone and iTunes will be launched automatically.
4. After that go to the Device option on the iTunes panel.
5. Select the Movies option.
6. Now, activate the option to Sync Movies and then select the videos you want to transfer.
7. Finally, click Apply to start syncing the selected video to your iPhone.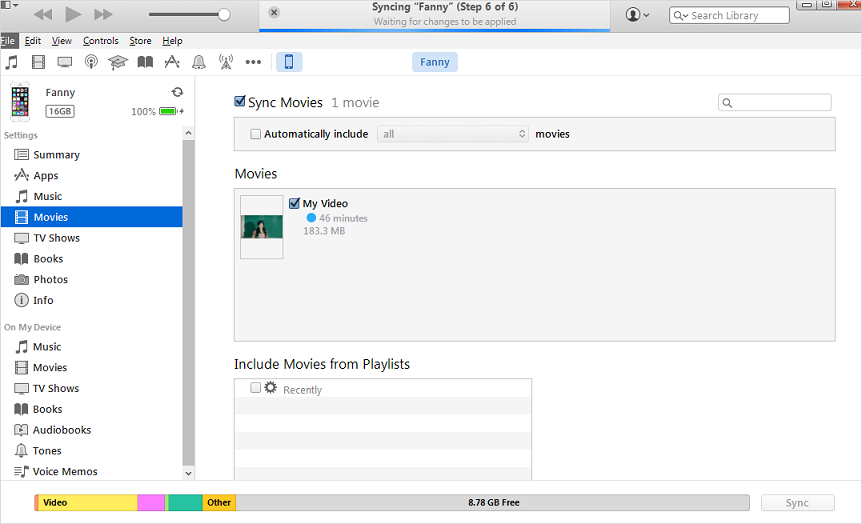 If you are still not sure about how to get video from Mac to iPhone, I hope the convenient steps of iTunes will convince to use this app for data transfer. Also note that the moment you sync the video to your iPhone with iTunes, all the existing videos on your iPhone will be erased, It's better to create a backup.
Way 2: How to Import Videos from Mac to iPhone without iTunes
These days there are a variety of apps available that can transfer files to another device without even using iTunes. Fortunately, those who are worried about how to move video from Mac to iPhone without using iTunes should look into these apps, they may find something even better.
Tenorshare iCareFone is one of those recommended apps. Although it was developed by an independent company, the app still did not fail to amaze the users. From the very beginning, Tenorshare iCareFone attracted users with its simplicity and convenience. You can use it easily for any type of video transfer from Mac to iPhone and even the other way around. You can transfer any type of video files with any extension, size and amount. It is extremely fast and effective! If you are still not sure about the app, then just do the following:
1. Download and install the trial version of Tenorshare iCareFone app on your Mac.
2. Launch the app and then connect Mac and your iPhone with a USB cable.
3. On the iCareFone window find the Manage and click on it.
4. Now, from the data category choose Videos.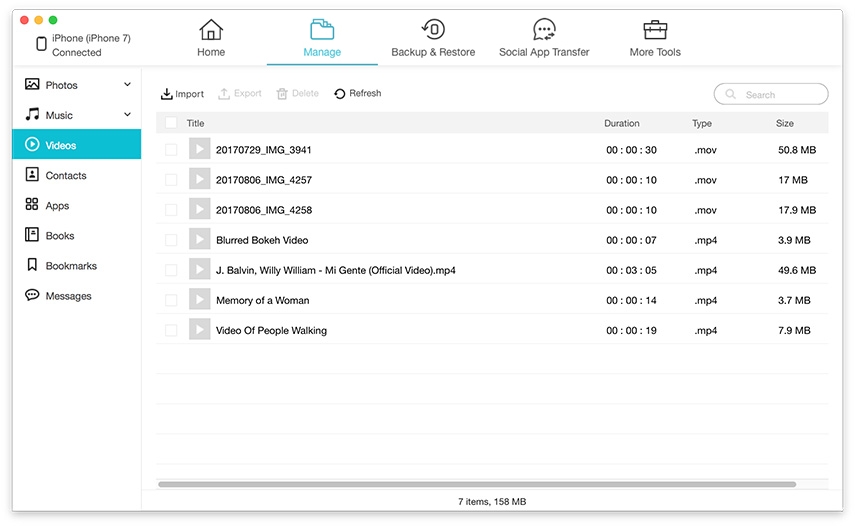 5. Finally, click on the Import at the top of the panel. Choose the videos and just transfer the video files to the selected destination.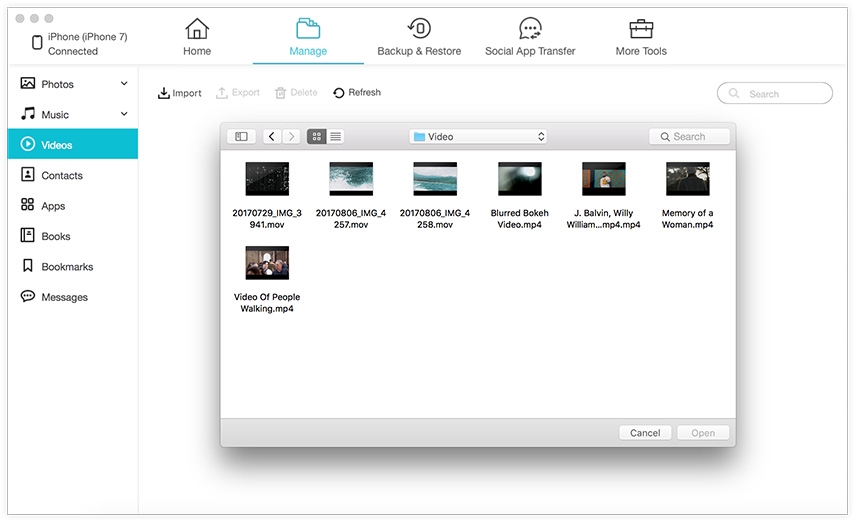 So, you can see that it is very simple to transfer video files with Tenorshare iCareFone. It is also fast, efficient and there is no risk of data loss.
Way 3: How to Send Video from Mac to iPhone with Airdrop
AirDrop is another great app that will transfer videos to any iOS device without using iTunes. Every Mac user has access to AirDrop app, as it comes preinstalled with the MacOS. The most attractive feature of the app is that it can transfer files wirelessly. So, if you are still worried about how to send video from Mac to iPhone, just read the steps below to use AirDrop,
1. Launch the Finder app on your Mac and select the AirDrop app. Make sure that your Wi-Fi connection and Bluetooth are turned on.
2. Select Everyone from visibility settings.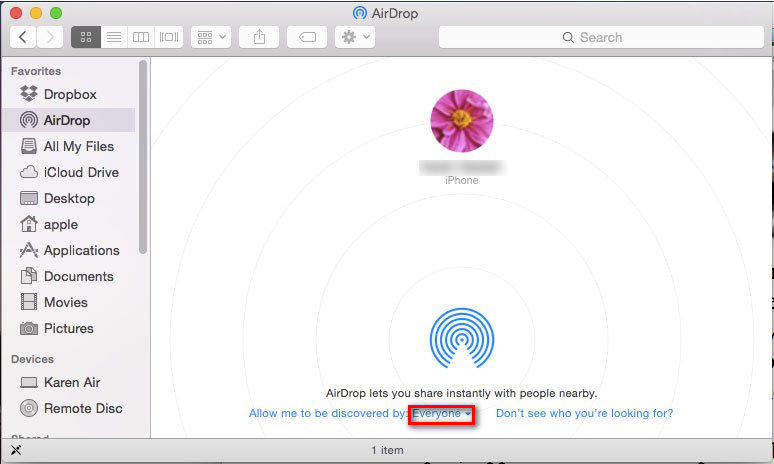 3. On your iPhone, go to Control Center and enable AirDrop and then tap "Everyone".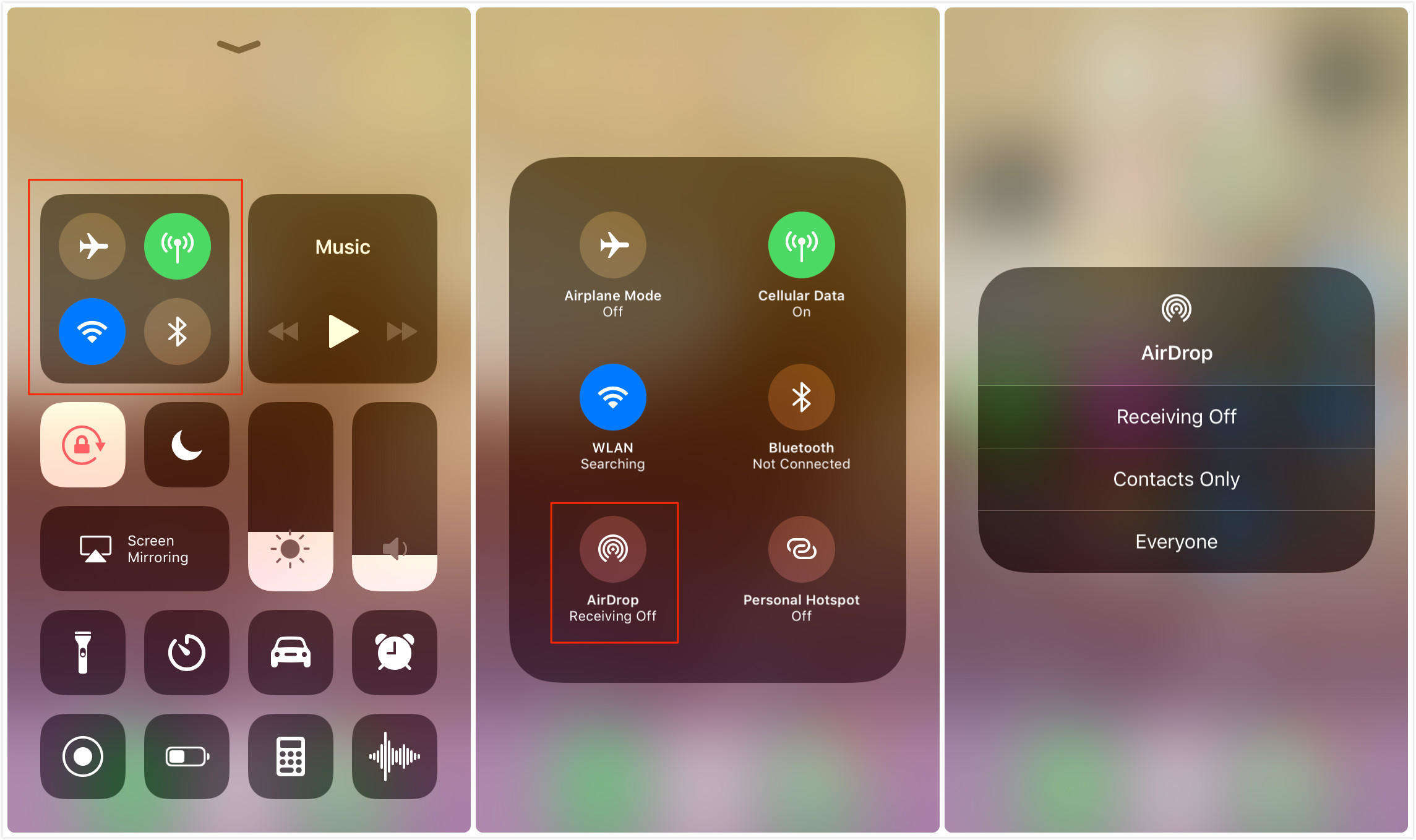 4. Now, on your Mac, the AirDrop window will feature your iPhone. Just drag and drop the video files on the window. Or click on the Share icon nearby your video to send by Airdrop.

5. Tap "Accept" on your iPhone when promoted.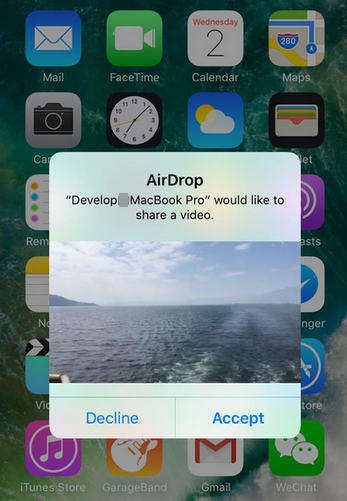 The wireless transfer service provided by AirDrop is very convenient. You can transfer data from anywhere and anytime, you just have to be connected with a strong Wi-Fi connection. Also keep the devices within a certain range of each other, if they are out of range AirDrop will fail to transfer the files.
Way 4: How to Download Videos from Mac to iPhone with Dropbox
Another convenient way to transfer video from Mac to iPhone is Dropbox. Unlike the previous app, it is a cloud service similar to what provided by Appl. It just works a bit differently. Dropbox provides a free membership and a premium membership. The free membership provides 2GB of free storage and paid membership provides cloud space up to 1TB. If you are still unsure about how to import videos from Mac to iPhone then read the instructions to use Dropbox below:
1. First, you have to download and install Dropbox on the Mac.
2. Then, run it and sign-in to your Dropbox account.
3. Transfer the video files in the Dropbox folder on your Mac. This will sync the videos on the Dropbox cloud account.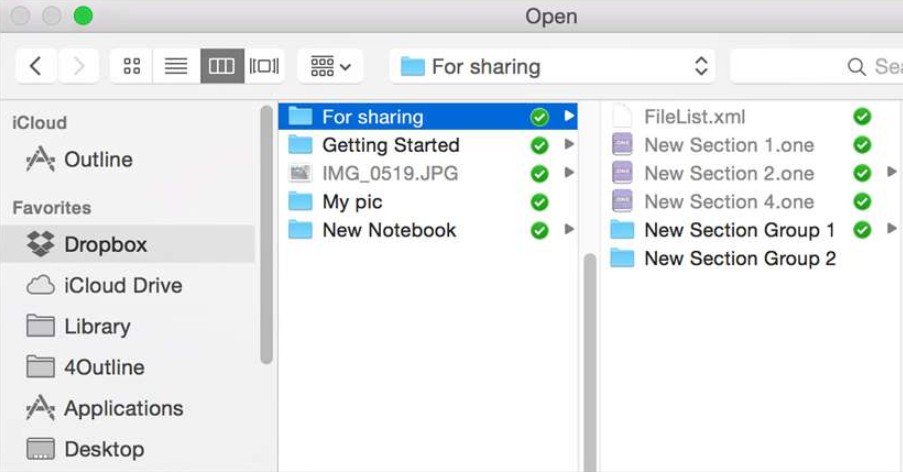 4. After that go to your iPhone and sign-in to that same Dropbox account.
5. From there download the video files on your iPhone.
You can transfer any kind of files with Dropbox cloud service. The free membership provides 2GB storage space but if you want more you have to get the premium membership and that is a disadvantage.
Conclusion
There was a time when the only option to transfer any kind of files from iOS to iOS was iTunes. But times have changed, a lot of new apps are launched on the market. Some of them are Apple certified and some are developed by independent companies. Although people have lost faith on iTunes, several apps have risen up to take its place. One of the first apps is AirDrop, it was developed by Apple to transfer data wirelessly. The next is an independent Cloud service called Dropbox and the last is Tenorshare iCareFone, a simple third-party app that transfers any kind of data fast and efficiently, apart from videos,how copy pictures on Mac can is also possible. We highly recommend it!