Is it possible to view a remote PC through a nearby computer that you can take control of? This could be of great help if you are helping a client and need to have access to his/her PC, or you are not at home, but you need to view certain files on your PC at home, just to name a few. All these can be achieved if you set up remote desktop on Windows, which will be explained in the following paragraphs.
Note: Remote desktop is only included in the Professional, Business, or Ultimate versions of Windows. Home editions do not have remote desktop.
How to Set Up Remote Assistance and Gain Access to Remote Desktop
You need to take several steps to set up Windows remote desktop. The tutorial below could be your guidance.
1. Preparations: First of all you should make sure both PCs are on and connected to the Internet. They can't be in Sleep or Hibernate state, either. To prepare the "host" or the machine that you'll be taking control of.
Note:
If you forgot your Windows password and cannot access your computer, try to use
Windows Password Reset
to reset Windows password and regain access to your computer.
2. Enable Remote Assistance: Open the Control Panel, and type "Remote" in its search box. You could also right-click on Computer and choose Properties, and then choose Remote settings on the left panel.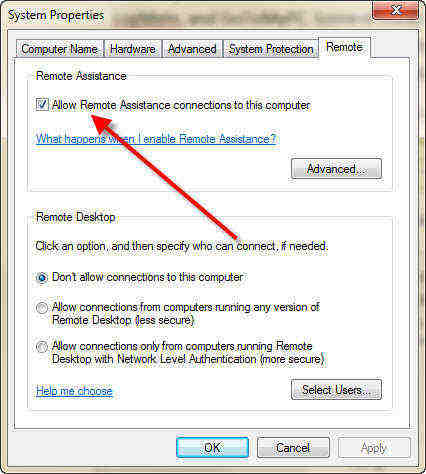 Then you'll see a pop-up window with "Allow Remote Assistance connections to this computer" being the first option. Make sure this box is checked.
3. Ask someone to Connect: At the computer to be controlled, type "Remote Assistance" in the Start button's search box. After that click on Windows Remote Assistance, which opens a dialog on which you should click "Invite someone you trust to help you."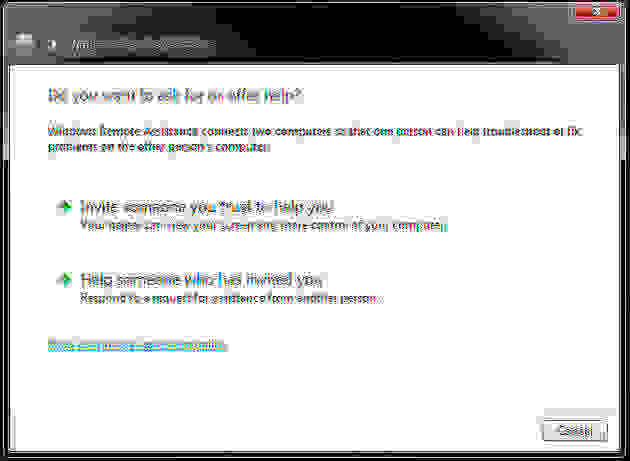 4. Send Invitation: You'll have three options to send invitation: Save this invitation as a file, Use e-mail to send an invitation and Use Easy Connect. The last option will be grayed if both computers aren't using Windows 7 or 8, with some corporate networks, and if your router doesn't support Peer Name Resolution Protocol.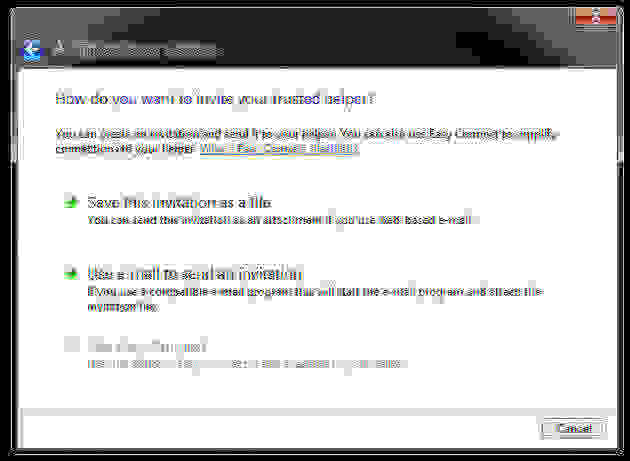 5. Guest Connection. After sending invitation, the controller must start Remote Assistance as that in step 3, but choose "Help someone who has invited you." The first time you connect to a PC this way, you'll be asked to "Choose a way to connect to the other person's computer," with the choices being an invitation file and using Easy Connect.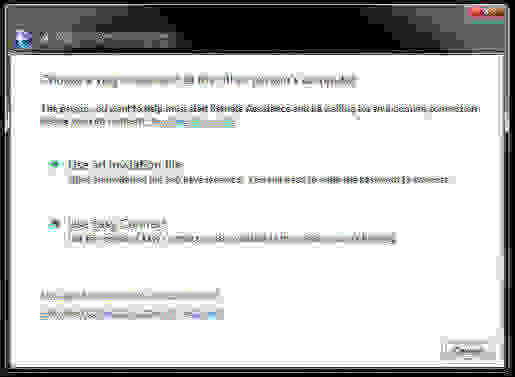 6. Accept Connection. After the controller has sent the request to view the host PC, the latter gets another confirmation. The controller can then see the host's screen in a large window. Once the connection is made there will be a chat box for both users. The controlled PC also has Pause and Stop Sharing buttons. Settings let him choose or turn off bandwidth-conserving features like color depth and window background.
7. Request Control. Next the controller-guest has a big "Request control" button at top left. The user of the PC to be controlled has to confirm the request. One option here for the host/controlee's response, besides the simple yes and no, is the "allow user xx to respond to user account controls."
Done! And you can now remote-control another computer now. Remember that this method always requires a request to be viewed and controlled, so you won't be able to connect to an unattended PC.
If you have other problems concerning your Windows OS, such as forgetting Windows login password, check the post How to Reset Windows Password for help.
Free Download
For Win 10/8.1/8/7/XP
Secure Download
Related Articles
comments powered by