A year after Windows 8, the Windows 8.1 update is finally available on October 17 as a free update for users already running Windows 8 and on October 18 for retail purchase in the form of installer discs or software downloads from the Microsoft Store.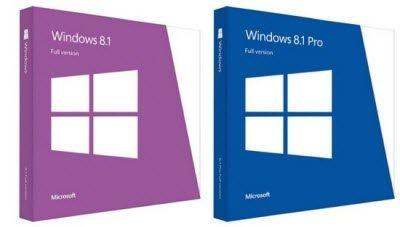 The new update returns the Start button. It also gives users a better SkyDrive cloud storage integration and a new, more-standards-compliant browser version, Internet Explorer 11. There are 2 options available: $119.99 for Windows 8.1 and $199.99 for Windows 8.1 Pro.
For those who happen to forget their Windows password and can't login to Windows, there's no way to install Windows 8.1. However, you can use Windows Password Reset software to get back Windows password and then update your OS to Windows 8.1.
Preparations
Microsoft lists the minimum system requirements for Windows 8.1. Make sure your system meets the following requirements.
Processor: 1 gigahertz (GHz) or faster with support for PAE, NX, and SSE2
RAM: 1 gigabyte (GB) (32-bit) or 2 GB (64-bit)
Hard drive: 16 GB available hard disk space (32-bit) or 20 GB (64-bit)
Graphics Card: DirectX 9 graphics device with WDDM 1.0 or higher driver
Taking advantage of touch input requires a screen that supports multi-touch
To use Windows Store apps, you need a screen resolution of 1024x768 or greater
To snap apps, you need a screen resolution of at least 1366x768
Besides, backup important files before update, especially for Windows 7, Windows Vista and Windows XP users. Because changing to a new operating system would cause them losing all data on current system disk.
How to download and install Windows 8.1 if you already have Windows 8
If you've already using Windows 8, you can update to Windows 8.1 for free.
Launch Windows Store app and you would see a button that says "Update to Windows 8.1 for free". If you do not see this button, make sure you download all the latest Windows updates then reboot and launch the Windows Store again.
Click the Download. The system will then download an installation file that's over 3GB. Your computer will take several minutes to install Windows 8.1. Just wait the installation finishes and restart your PC.
The License Terms will appear during installation. Just read and accept License Terms. Then you'll have to choose Express or Custom settings. It's advised that you choose express instead of custom, as it is usually the easiest and best set of choices.
Log into Windows with your normal username and password. Allow Windows to send you a security code via SMS and enter the code at a prompt, which could make you sync your settings from other PCs.
How to upgrade from Windows 7/Vista/XP to Windows 8.1
But if you're on an earlier Windows OS or no OS, you'll have to burn a DVD or create a bootable USB thumb drive for the installation. Make sure the installer you get conforms to the flavor of the OS you want: 32-bit or 64-bit, regular or Pro.
Updating to Windows 8.1 from Windows 7 can be done through Microsoft's Upgrade Assistant. Windows XP and Vista users must do a clean install with a DVD copy of Windows 8.1. The operating system can be purchased at Microsoft Stores and retailers like Best Buy for $119.99 for Home version and $199.99 for Pro version.
After you've downloaded your ISO disk image file, you'll need to make a bootable DVD or USB thumb drive. You can create the disc using a utility like ImgBurn or Windows 7's Burn disc right-click option.
Then boot your computer with the media in the drive or USB slot or, if you want to do an upgrade installation, run the setup.exe program in the installer folder while your Windows 7 PC is still running (this isn't available for Windows Vista and XP). When the Installer starts running, you'll be asked whether to Download and install updates, which is recommended.
Users of OS earlier than Windows 8 are only allowed an upgrade installation by running the installer from within Windows, and you can only do a Custom installation (clean installation), which keeps nothing from the previous Windows installation.



Next choose the partition to install to the typical Windows installation will precede, taking about 20 minutes. Finally you can set up Windows and start to enjoy Windows 8.1.
You have leant how to install Windows 8.1 with the above paragraphs. If this is the first time you're with Windows 8 you'll get tips at the corners on how to use the Charms and new Start button and more. Read these tips and you can then start your journey with Windows 8.
Tenorshare, the leading PC utility and multimedia software provider said that all its Windows-based software tools have been upgraded to support Windows 8.1. You can check the post Tenorshare Windows-based Software Products Support Windows 8.1 Now for details.
Free Download
For Win 10/8.1/8/7/XP
Secure Download
Related Articles
comments powered by