Android phones and tablets are rapidly gaining in popularity. And numerous people start to rely on their Android devices for videos and other amusement. However most Android devices support only some video formats (for instance, some only support 3GP and MP4 videos), and what if the videos you want to play on your Android are in other incompatible format? We've picked up top 3 free video converters for Android in this post. Just choose the most suitable one and you will be able to watch any videos on your Android phone or tablet.
Released on Dec 17, 2011 and available for download in Google Play, Video Converter Android (VidCon) is a free video converter for Android that runs on Android. With the background ffmpeg library support, Video Converter Android can convert almost any video formats to mpeg4 and h264 videos, including ASF, AVI, DIVX, FLV, M2V, M4V, MJEPG, MKV, MOV, MPG, OGG, OGV, RM, RMVB, etc. But unluckily, you can do nothing if you want enjoy your favorite DVD movies or Blu-ray movies on your android device.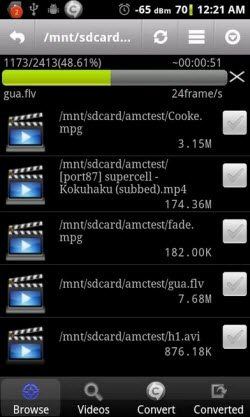 Free Video Converter (from Tenorsahre) is the best solution for converting HD as well as normal video files format like MTS, MKV, WMV, AVI, MPG, MOV and more to the file format supported by the Android phones and tablets.
It is a powerful PC-based Android video converter. Besides Android-compatible format, it can convert videos so that they can be played on iPad, iPod, iPhone, BlackBerry, PSP, etc.

This free online Android converter lets you easily create videos that you can play on your Android devices. Upload a video or provide a URL. To start the Android conversion, just click on "Convert file" and the converter will start immediately to convert your file.
After conversion, you need to copy the converted video from the site to your Android device and the easiest way is to use the QR-code download link you see after the video has been converted.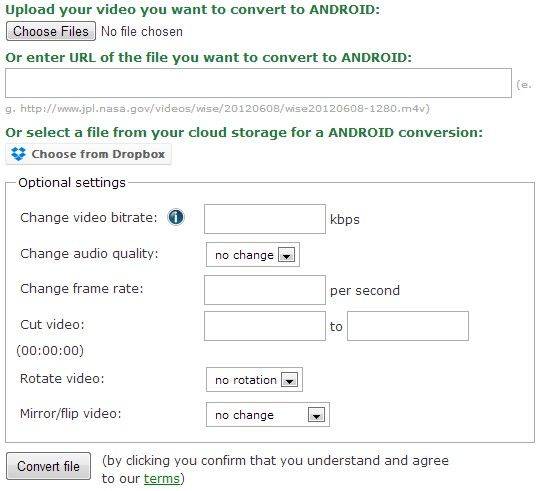 Note: Make sure you have good internet connection when using this free online Android video converter, which is different from the first 2 Android video converters.
Besides these free Android video converters, if you are interested in YouTube videos, you can also use a Free YouTube Downloader to download free videos to your computer and then transfer them to Android devices for entertainment.
Free Download
For Win 10/8.1/8/7/XP
Secure Download
Related Articles
comments powered by