When it comes to upgrade your Mac and improve its performance, a good choice is to upgrade Mac's RAM. This can be cheap and the installing is relatively easy.
Why Upgrade Mac's RAM
RAM stands for Random Access Memory, a special kind of temporary memory that is used by the CPU to hold information pertaining to the currently active processes on your computer. For this reason, the more RAM you have, the faster your Mac works. Especially for those who need to handle multiple tasks at the same time, extra RAM will enable your browser to run smoother, though it can't increase your internet connection speed.
Mac's RAM Upgrade Guide
Before you decide whether to upgrade your Mac's RAM, you can go to Activity Monitor on your Mac OS X. If the chart below is mostly yellow and red and you have little free and inactive RAM memory, you can follow the guide below to upgrade your RAM to a larger memory.

1. Check your Mac's information
First of all, look for the technical information about your Mac, so that you can purchase the right hardware. To do this, click on the Apple icon in the very top left of your Mac's screen, and choose "About This Mac" from the menu. Then you will see a pop-up window that displays all the information about your Mac.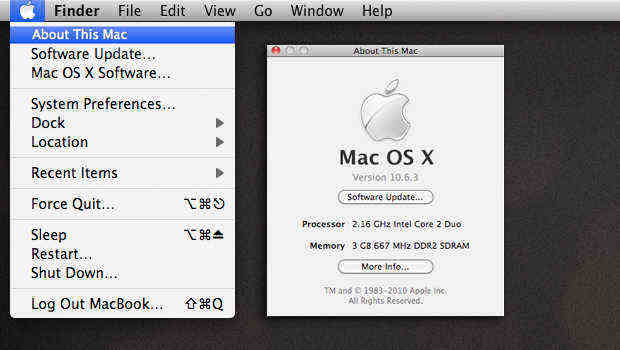 2. Check more information
Go on by tapping "More Info." This will take you into an application called "System Profiler". From here, you can get a lot more technical information about your Mac. On the left side there is a series of categories, click "Memory" under the "Hardware" heading.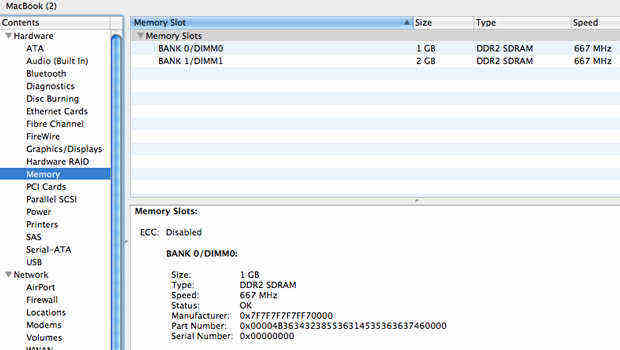 Memory Slot -- This specifies the form factor of the RAM your system uses. Most desktop Macs use DIMMs (Dual In-line Memory Modules), while Mac laptops and some early iMacs take SODIMMs (Small Outline DIMMs).
Size – Size refers to the capacity of the RAM you have installed now.
If you have one of the original first-generation iMac G5s shipped with 256MB of RAM with two RAM slots, to which you can add up to 1GB of RAM each. Provided that you want to keep the original 256MB RAM, you can upgrade to 1.25GB.
Type -- Until recently, Macs used DDR (double data rate) RAM. The latest Power Macs and iMacs use DDR2 memory.
Speed -- The number that comes after the letters PC refers to the RAM's bus speed. Don't mistakenly believe that a faster RAM equals a faster computer. Some faster RAM chips will work in computers that shipped with slower memory (for example, PC2700 chips will work in PC2100 Power Mac G4s). But while you can often add faster memory to systems that use a slower type, doing so won't provide any speed improvements. The computer will run the PC2700 memory at the same speed as the PC2100.
3. Purchase and install Mac RAM
Next you need to head to a place where you could buy high quality RAM for your Mac. This time, the information you've checked about your Mac will be used to help you choose the right version of RAM.

Bad RAM could lead to kernel panics and random application crashes, so make sure you purchase a good one. We advise you buy RAM from Mac-specific companies. Even within the Mac community, it's important that you buy RAM with a lifetime warranty.
Finally, you need to install the RAM you bought on your Mac. Detailed steps on how to install the RAM can be searched out from Apple Support page.
Besides the RAM issue, our earlier posts have also covered tips for Mac's Bluetooth problem. You can check the post Bluetooth Not Available on Mac, How to Fix for details.
Free Download
For Win 10/8.1/8/7/XP
Secure Download
Free Download
For macOS 10.13 and below
Secure Download
Related Articles
comments powered by