At first look, Apple's new Mac Pro could catch your breath with the eye-catching black aluminum cylindrical design. It looks like an ultra shiny round trash can, and perhaps the most powerful trash can. Read on to learn the unique features and amazing specs of Mac Pro.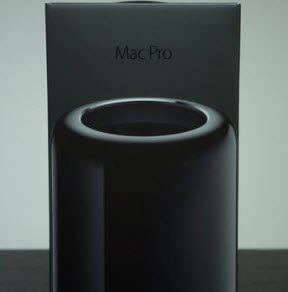 Features of Mac Pro
Cylindrical Design -- The Mac Pro introduces a unique cylindrical design which wraps all of the machine's components around a unified thermal core. With this unique design, the heat produced when operating the machine will be absorbed and dispersed through a vertically-oriented fan that draws air in from the bottom of the machine and vents it out through the machine's top.
Thunderbolt Connectivity -- With a volume of 1/8 of the current Mac Pro, The new machine concentrates on external expansion rather than dedicating large amounts of internal space to expansion bays.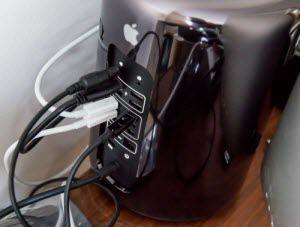 Connectivity includes six Thunderbolt 2 ports delivering data transfer speeds of up to 20 Gb/s and daisy-chaining of up to 36 devices, four USB 3.0 ports, an HDMI 1.4 port, and two Gigabit Ethernet ports. With Thunderbolt 2 and the dual-GPU setup, the Mac Pro will be able to support up to three 4K displays.
Ivy Bridge E Xeon E5 Processors -- The new Mac Pro takes advantage of Intel's latest Ivy Bridge E Xeon E5 processors, maxing out at 12 cores. The redesigned machine has just a single CPU with no room for a dual-CPU configuration, which is quite different from earlier Mac Pro. The Xeon CPU is supported by "blazing fast" memory, a four-channel DDR3 memory controller running at 1866 MHz. There's no doubt that the new Mac Pro will run at a much faster speed than its predecessor.
Flash Storage -- The new Mac Pro uses all-flash storage which costs more but offers significant benefits in speed. With PCI Express flash storage, the Mac Pro is able to transfer data at speed of up to 1250 MB/s, up to 2.5x faster than SATA flash drives which are used in a number of Apple's other Mac products.
Note:
Users with Mac Pro can install Apple's latest operating system
Mavericks
for free.
Tech Specs of Mac Pro (Basics)
3.7 GHz Quad-Core Intel Xeon E5 processor
16GB 1897 MHz DDR3 RAM
Dual AMD FirePro D300 graphics cards with 2GB of RAM each
256GB SSD
6 Thunderbolt 2.0 Ports, 4 USB 3.0
802.11ac + Bluetooth 4.0
9.9 inches tall, 6.6 inches in diameter, weighs 11 pounds (the earlier Mac Pro model was 20 inches high, and weighed 40 pounds)
Go to Apple's official website for Mac Pro to see more about Mac Pro.
Prices of Mac Pro
At launch, customers can purchase configurations starting at a base price of $2,999. The low-end version comes with a 3.7 GHz quad-core Intel Xeon E5 CPU with Turbo Boost speeds up to 3.9 GHz, dual AMD FirePro D300 GPUs with 2GB of VRAM each, 12GB of ECC DDR3 RAM, and 256GB of PCIe-based flash storage.
A higher-tier model can be configured with 3.5 GHz 6-core Intel Xeon E5 processor with Turbo Boost up to 3.9 GHz, dual AMD FirePro D500 GPUs with 3GB of VRAM each, 16GB of memory, and a 256GB SSD. Base price for this model is $3,999.
Mac Pro has been available since December 19. Early orders have been shipped and are scheduled to reach customers for their original anticipated delivery date of Dec. 30.
During the Christmas holiday, Apple also prepared a 12-day Gift Promotion, offering free apps, books, songs and movies to iOS 7 users in the USA from December 26, 2013 to January 6, 2014. Check for details if you are running iOS 7 or about to update to iOS 7.
Free Download
For Win 10/8.1/8/7/XP
Secure Download
Free Download
For macOS 10.13 and below
Secure Download
Related Articles
comments powered by