A lot of people wonder what on earth dictionary file is. As when you try to use a password recovery tool to recover lost password, you'll be asked to select a dictionary file if you choose "Dictionary Attack".
What's Dictionary File
Usually you have 2 different methods for cracking a forgotten password: Dictionary attack and Brute Force attack. The Dictionary attack is much faster comparing to Brute force attack. In order to successfully recover password with dictionary attack, a large size of password list is needed, this password list is included in a TXT file, i.e. the dictionary file.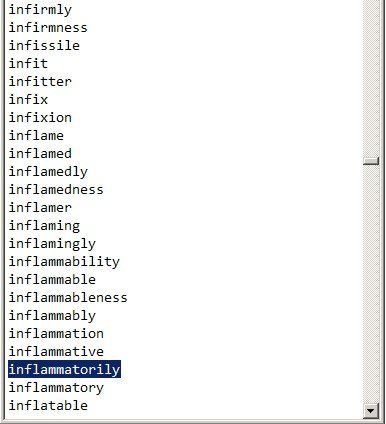 The dictionary file collects a number of possible combinations of letters and figures and lists them on the password list. The program will automatically try the passwords one by one at a pretty amazing speed.
A good and complete dictionary file (password list) can help you quickly recover password. To improve the chance of recovering password, iPhone Backup Unlocker also allows you to create your own dictionary file which includes all the possible passwords you set for the iTunes backup password, for instance some of your most commonly used password.
iPhone Backup Unlocker takes reference of either of the 2 dictionary files: the one you set and the default one which comes along with the program.
How to Create a Dictionary File
Usually, the default dictionary file is included in the password recovery software. Besides the default dictionary file, you can create a customized dictionary file to improve the success rate and speed of password cracking.
1. Create a TXT file on your desktop.
2. Open the TXT file and type in all the possible passwords. Remember that just write one password in a line. You can take the picture at the beginning of the post for reference.
How to Use Dictionary File to Recover iTunes Backup Password
Next we'll show you how to use dictionary file to recover lost password. Take the iTunes backup password recovery software, iPhone Backup Unlocker , for example. Just download the program to your computer (the computer which stores your iTunes backup file) before you get started.
Free Download
For Win 10/8.1/8/7/XP
Secure Download
1. Launch iPhone Backup Unlocker and click "Open". It will automatically navigate to the folder containing the key file to unlock iTunes backup file. Click "OK" to finish importing this file.
2. Select "Dictionary Attack" from the attack type menu. And then set Dictionary Attack Settings.



Use Default Dictionary: Click here, the program will lead you to the file directory of the default dictionary.

Browse Dictionary File(s): In order to use this option, you'll need to create a dictionary file first and then click this tab to import the dictionary file to the program.
With these simple steps, you can recover iTunes backup password. Besides, iPhone Backup Unlocker provides you Brute-force Attack and Brute-force with Mask Attack as well. You can try these attacks if you don't remember anything about the lost password.
Free Download
For Win 10/8.1/8/7/XP
Secure Download
Related Articles
comments powered by