Apple's latest flagship iPhone 5S and iPhone 5C have been available for more than a week. It's great that you can finally get rid of your old iPhone and experience all the new features iPhone 5S, iPhone 5C and iOS 7 bring. However, before you get started, you should first transfer everything from old iPhone to new iPhone.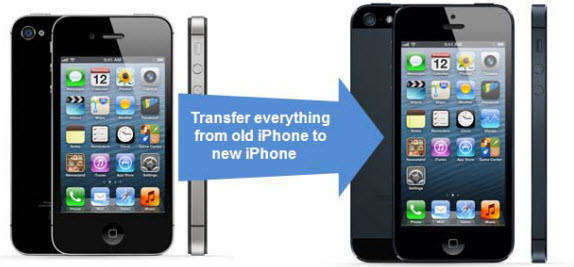 Is there a way to transfer data from old iPhone to iPhone 5S or iPhone 5C? Yes, absolutely. You will find 2 options in the following paragraphs.
Note:
Before transferring data to new iPhone, it's highly recommended that you
upgrade to iOS 7
first in case that there may be incompatibility issues during the process.
Option 1: Transfer Data from Old iPhone to New iPhone Using iTunes
With the help of iTunes, you can back up the old iPhone and then restore the new iPhone from the old iPhone backup. All data included in your iTunes backup will be transferred to your new iPhone. These data include your contacts, settings, messages, call History, camera roll, documents, saved games, etc.
1. First you should back up your older iPhone with iTunes by connecting it to your computer (Mac or PC) via USB. This can be done by launching iTunes, then right-click on the iPhone in the iTunes sidebar and choose "Back Up".
2. Wait for the backup to finish, then disconnect the old iPhone from the computer and turn the old iPhone off.
3. Now turn on the new iPhone. At the "Set Up iPhone" screen select "Restore from iTunes Backup", tap Next, then connect the new iPhone to the computer.



4. Select the backup you just made from the restore menu in iTunes and click Continue.
5. Wait for the transfer to finish. By then the new iPhone 5S or iPhone 5C will reboot itself and everything from the old iPhone will be on the new one.
Option 2: Transfer Data from Old iPhone to iPhone 5S or 5C with iCloud
Transferring data from old iPhone to iPhone 5S or iphone 5C is quite the same as that with iTunes. The only difference is that the iCloud backup is on the cloud which you cannot see.
1. On your old iPhone, go to Settings > iCould > Storage & Backup and tap on Back Up button. This will take some time, depending on the amount of data you have on iPhone.



2. When the backup is completed, check the last Backup time to ensure that you've successfully backed up to iCloud in the first step. After the backup, turn off the old iPhone and turn on the new iPhone 5S or iPhone 5C.

Note: Do not use the old iPhone then as it will cause conflicts with the backups in iCloud.

3. Follow the instructions to complete the setup assistant. Here you need to select language and country, and choose whether to enable Location Services. Then choose Wi-Fi network.
4. Select Restore from iCloud Backup and tap Next. Then enter your Apple ID and password.
5. Select the most recent backup of the old device and tap Restore. The process will take some time, depending on the amount of data and the internet speed.
6. After that iPhone 5S or iPhone 5C will restart. Connect your new iPhone to iTunes to sync data not contained in the backup. You can check which data are synced by clicking syncing tabs in iTunes. iPhone will begin to re-download all the apps in the background as well.
7. Finally enter the password for the Apple ID, email and other accounts again for security reasons.
Option 3: Transfer Data from Old iPhone to iPhone 5S or 5C with iAny Transfer
iAny Transfer is a versatile iTunes companion, allowing to manage all data on your iPhone, iPad and iPod. With it, you can transfer music, text messages, photos, iBooks, etc. to your iOS devices, PC and iTunes effortlessly.
With this tool, you can first transfer data from your old iPhone to your computer or iTunes and then export the files to your new iPhone or sync from iTunes.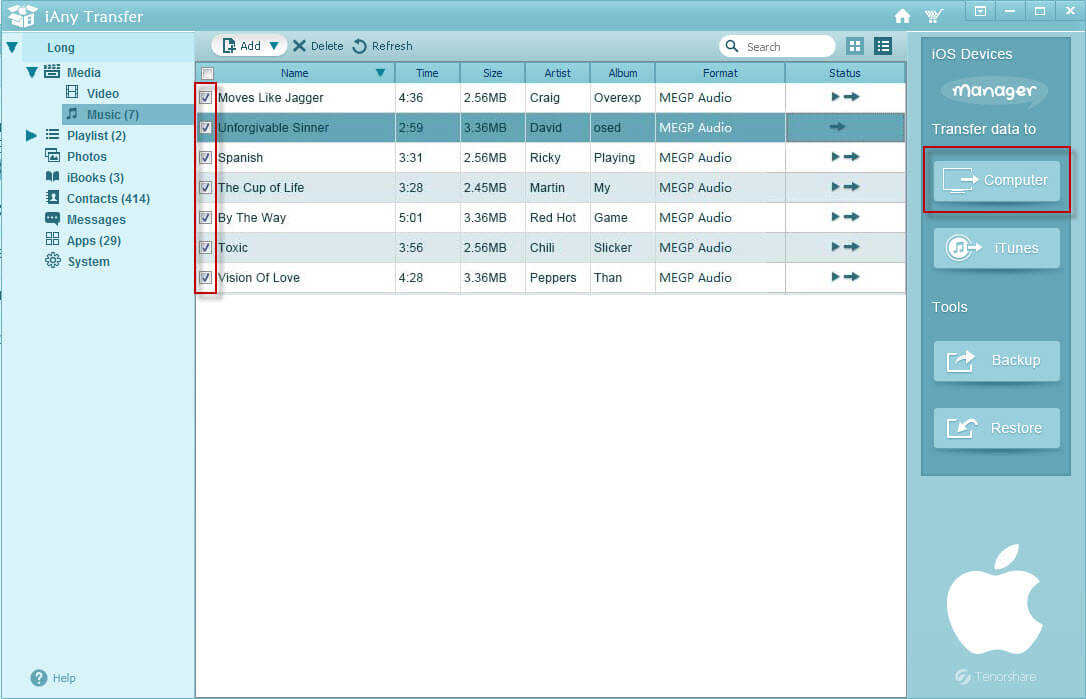 Extra: Backup iPhone Data to Computer before the Transfer
The data transfer options are quite safe, still many iPhone users worry about data loss during the data transfer. If you want to be more secure with your iPhone data, you can backup data on your old iPhone to your computer with iPhone Data Recovery for Mac. This way you could still have all the iPhone contacts, text messages, photos, etc. on your computer even if they are missing on iPhone.
Wish you could have a nice start with your iPhone 5S and iPhone 5C after reading this post. If you find this post useful or have suggestions for us, be sure to let us know in your comment!
Free Download
For macOS 10.13 and below
Secure Download
Related Articles
comments powered by