The combined sales of iPhone 5S and iPhone 5C handsets topped 9 million units through their first weekend of availability, Apple announced on September 23. Seems that the new If you're in need of an iPhone but still not sure which to buy, read the following paragraphs which focus on iPhone 5S and iPhone 5C comparison.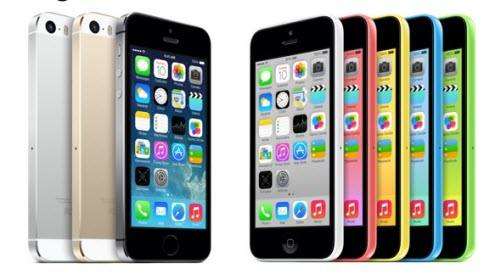 iPhone 5S: Touch ID Sensor and A7 Chip
One unique feature of iPhone 5S is the Touch ID sensor which enables you to simply and securely unlock iPhone 5S with your finger print rather than the traditional passcode.
Another thing that makes iPhone 5S stand out is the A7 64-bit chip. App developers will start designing software intended specifically to leverage the A7's 64-bit processing power, and power-saving/motion tracking features made possible with the M7. If you want to make sure you have hardware that can take full advantage when these titles start to hit, you'll need the iPhone 5S.
iPhone 5C: Colorful and Cheaper
Aside from the colorful appearance, the most notable innovation in the iPhone 5C is the chassis build, which uses a seamless plastic shell over a steel-reinforced frame. The general design is just like previous iPhone, with the telltale home button beneath the screen, rounded corners and Apple logo on the back. Compared with iPhone 5S, iPhone 5C is relatively cheaper, which is $100 cheaper than iPhone 5S with the same capacity.
The 132g iPhone 5C feels solid and substantial in the hand, yet is quite comfortable to hold — even for people with small hands. It's quite thin at 8.97mm and has a moderate-sized footprint at 59.2mm by 124.4mm.
If you've already got an iPhone and want a new one, then you may want to take iPhone 5C into consideration. However, iPhone 5 owners should think carefully: there's very little difference between the core specifications of the two handsets, and iOS 7 is just a download away.
iPhone 5S VS iPhone 5C
The chart below is a comparison of the main features of iPhone 5S and iPhone 5C, aiming to give you a more clear idea of differences between iPhone 5S and iPhone 5C.
| | | |
| --- | --- | --- |
| | iPhone 5S | iPhone 5C |
| Capacity & Price | 16GB $649, 32GB $749, 64GB $849 | 16GB $549, 32GB $649 |
| Chips | Apple A7 with 64-bit architecture & M7 motion coprocessor | Apple A6 |
| Camera | 8 megapixel camera with True Tone flash | 8 megapixel camera |
| Colors | Gold, Silver, Gray | Yellow, White, Green, Blue, Pink |
| Touch ID | Fingerprint identity sensor | - |
| Weight | 112 grams (3.95 ounces) | 132 grams (4.65 ounces) |
| Body Material | Aluminum | Plastic |
Have you decided which iPhone to choose? As iPhone 5S and iPhone 5C each has its own features, take your time and make sure you choose the best one for you. For more differences between iPhone 5S and iPhone 5C, go to https://www.apple.com/hk/en/iphone/compare/
Free Download
For macOS 10.13 and below
Secure Download
Related Articles
comments powered by