iOS 7 sports a revolutionary new design, under-the-hood features like Control Center and card-based multitasking, and app updates. More than 1/3 iOS users have upgraded to iOS 7.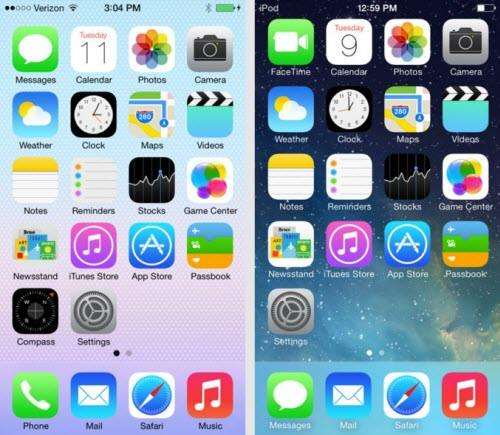 How to upgrade to iOS 7 properly? Nearly a million users have complained about receiving error messages and the long time it takes to download the operating system. Maybe you can smoothly upgrade to iOS 7 if you read the following Q&As concerning iOS 7 update.
Question 1: What Devices Can be Upgraded to iOS 7?
Earlier a friend of mine complained that he couldn't upgrade his iPod touch 4 to iOS 7. However he wouldn't have such problem if he has been acknowledged of the fact that only certain models of iOS devices can be upgraded to iOS 7. The chart below lists all supported devices for iOS 7.
| | |
| --- | --- |
| iPhone models | iPhone 4, iPhone 4S, iPhone 5, iPhone 5c, iPhone 5s |
| iPad models | iPad 2, iPad 3, iPad 4 or later; iPad mini |
| iPod touch models | iPod touch 5G (16GB, 32GB, and 64GB) |
Question 2: What Should I Do before Updating to iOS 7?
To make sure you can successfully transfer from iOS 6 to iOS 7, you must do some preparation before iOS 7 update.
1. Back up via iTunes
Plug your device into your computer (or use the Wi-Fi Sync option) and open iTunes. Click the Devices button, select your device, and scroll down in the summary tab to Backups. Under 'Manually Back Up and Restore', click Back Up Now.
2. Check if you have enough free storage space
The update to iOS 7, you need at least 1.4GB free space for temporarily storing the download during the update. You can check how much space is available by tapping Settings > General > Usage. The list of apps will tell you which ones are using up the storage. Typically, it will be the Photos app and music which is full of your images, videos and songs.
3. Check new features of iOS 7
You might want to know What's New in iOS 7 before upgrading to iOS 7. Check this post to see the new features in iOS 7.
Question 3: How to Upgrade to iOS 7?
There are two ways to update your iPhone, iPad or iPod to iOS 7: over the air (via Wi-Fi) or via iTunes.
Upgrade to iOS 7 Via iTunes
If you are near your computer with iTunes, it might be faster to update this way. According to a friend, updating his iPad 2 via iTunes was faster than updating his iPhone 4S over the air.
1. Open iTunes and then click iTunes > Check for Updates to install the latest version iTunes 11.1.
2. When you've updated iTunes, connect your iOS device. Click on your device in the upper-right corner of iTunes and then click the Update button.
The 649MB iOS 7 download took me about an hour.
Upgrade to iOS 7 Over the Air
If your device is running iOS 5 or later, besides via iTunes you'll also be able to update to iOS 7 over the air. iTunes is the only way to upgrade if the iOS you're running is lower than iOS 5.
1. You can check if the update is available by tapping Settings > General > Software Update on your iPhone, iPad or iPod. Next click the Download and Install button for iOS 7

2. Tap to agree to Apple's terms and conditions. Apple would advise you to connect your device to a power source during the download to save battery.
3. Once the downloading is finished, tap Install to upgrade to iOS 7.
After the update installs and your device restarts, you'll know immediately that you're using iOS 7, right from its initial greeting: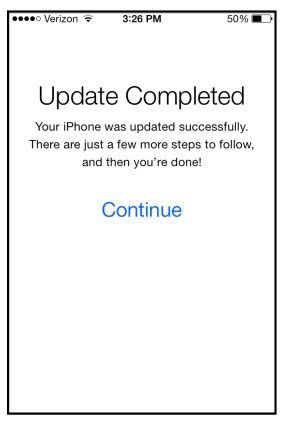 Just like earlier iOS updates, iOS 7 update might cause you lose precious data on iPhone, iPad and iPod touch as well. In the event of such tragedy, you can download iPhone Data Recovery for Mac which will restore data from iPhone, iPad and iPod to your Mac.
Free Download
For Win 10/8.1/8/7/XP
Secure Download
Free Download
For macOS 10.13 and below
Secure Download
Related Articles
comments powered by