I got a new computer and want to back up my iPhone before updating iOS. However, iPhone will not back up. I guess I need to transfer the iTunes library from my old computer to my new computer. How do I transfer the iTunes library to a new computer?
Actually, there are several ways to transfer iTunes library to a new computer. Before we talk about how to do this let's first get some knowledge about iTunes Library files.
iTunes Library Files and Location
The iTunes library is the database iTunes used to organize your music. They keep track of what media you've added to iTunes, how you've organized it, and other information such as playlists. Two iTunes library files are created and maintained by iTunes for different purposes. They're both in the iTunes folder. The chat below shows you where the iTunes folders are on different OS.
| | |
| --- | --- |
| Mac OS X: | /Users/username/Music/iTunes/ |
| Windows XP | C:\Documents and Settings\username\My Documents\My Music\iTunes\ |
| Windows Vista | C:\Users\username\Music\iTunes\ |
| Windows 7 | C:\Users\username\My Music\iTunes\ |
| Windows 8 | C:\Users\username\My Music\iTunes\ |
How to Transfer iTunes Library Files : Top 4 Methods
1. Use the "Back up to Disk" Feature of iTunes
The "Back Up to Disc" option was removed in iTunes 10.4. However if you're running earlier versions of iTunes, you may still be able to use this feature of iTunes. This method will back up your full library (with the exception of audio books from Audible.com) to CD or DVD. You need to prepare several blank discs in advance.
1) Go to File - > Library - > Back Up to Disc.
2) An introductory screen appears briefly explaining the process and asking you what you would like to back up.

3) When the backup completes, you'll have a complete set of discs that represent your entire iTunes library. To restore from these discs you need to insert them into your computer. iTunes will detect a backup disc, and immediately offer you the opportunity to restore from it.
Note
: Lost data on iPhone but forget to backup iPhone with iTunes? Try
iPhone Data Recovery for Mac
, a professional data recovery tool that help you restore contacts, photos, notes, text messages, etc. from iPhone to Mac.
2. Use iAny Transfer (for Windows)
Alternatively you can also try to use iAny Transfer to transfer iTunes library as well as other files (contacts, music, photos, iBooks, etc.) from iPhone to computer. This professional iOS transfer utility allows you to transfer data between iOS devices or between iOS devices and iTunes as well.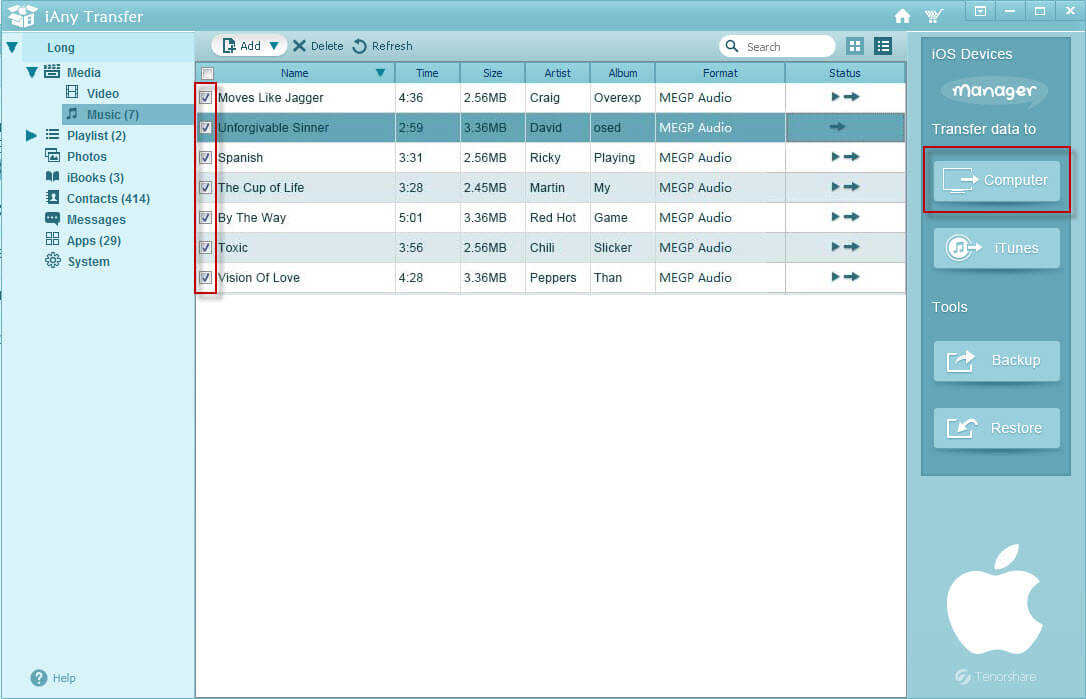 3. Use Migration Assistant (for Mac)
On a Mac, the easiest way to transfer an iTunes library to a new computer is to use Migration Assistant. This can be used when you're setting up a new computer, or after it's already done. Migration Assistant attempts to recreate your old computer on the new one by moving data, settings, and other files.
The Mac OS Setup Assistant will offer you this option as you set up your new computer. If you don't choose it then, you have to use it later by finding Migration Assistant in your Applications folder, inside the Utilities folder.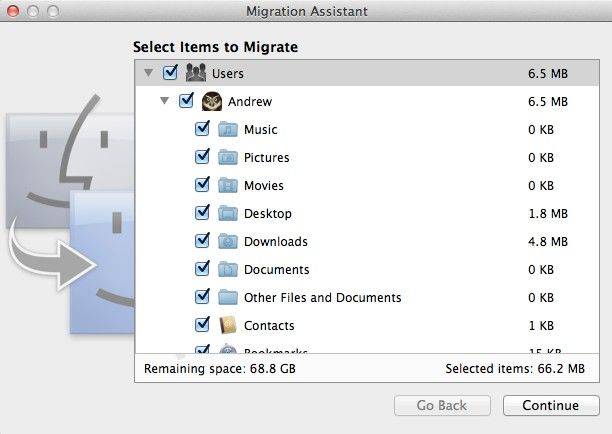 1) First use a Firewire cable to connect the two computers.
2) Restart the old computer and hold down the "T" button. You'll see it restart and display an orange Firewire icon on the screen.
3) Once you see that, run Migration Assistant on the new computer, and follow instructions on the screen to finish the transfer.
4. Copy the Whole iTunes Folder to an External Hard Drive
Since iTunes uses the same file format for both Mac and Windows, the program will be able to read your iTunes Library file and it will show your music, videos, podcasts, and so on with playlists, ratings, play counts, and the like. You can copy the whole iTunes folder to an external hard drive and then restore your iTunes library from the backup in your external hard drive.
For detailed steps to do so, read How to Back Up iTunes Library by Copying to an External Hard Drive.
Note: Mac can read from and write to some Windows-formatted hard drives, they can't write to NTFS disks without additional software. If you're switching to the Mac, it's best to use a Mac formatted (HFS+) hard drive.
Free Download
For macOS 10.13 and below
Secure Download
Related Articles
comments powered by