In some situations, we have to put our iPhone, iPad or iPod to DFU mode, for instance, jailbreak. If you need to enter DFU mode on iPhone, iPad and iPod, you can read this article to get everything you need to know about DFU mode.
What is DFU Mode
DFU stands for Device Firmware Update. DFU Mode is a way to get your iPhone, iPad or iPod to interface with iTunes but does not load the operating system (this is the essential difference between the DFU mode and the device recovery mode).
Tips: If you are to get into recovery mode or stuck in recovery mode, you can use the freeware Tenorshare ReiBoot to enter or exit recovery mode with 1 click.
When to Use DFU Mode
The primary reason people need to access DFU mode on their iPhone is to change the firmware on the device. This can serve to downgrade to a prior iPhone firmware and operating system, or to use a custom firmware that is required for a jailbreak or SIM unlock. For instance, if you got the phones installed and decided you would rather have a prior version of the firmware on your iPhone, you would need to do this through DFU mode.
To use the iOS data recovery tool iPhone Data Recovery, you also need to get your device access DFU mode first. Using this device you can restore lost files if jailbreak, update or something else cause you lose data on iPhone, iPad and iPod.
How to Enter DFU Mode on iPhone, iPad and iPod
The tutorials below describe how to put iOS device to DFU mode. You can do it on any iOS 10/9/8/7 device. Connect the iPhone to your computer and launch iTunes. We just use iPhone as a demo.
Hold down the sleep/power button and home button together for exactly 10 seconds
Release the power button and keep holding home button for another 10 seconds.
Release home button and your screen should be completely black.
You should know that at this point you are in DFU mode.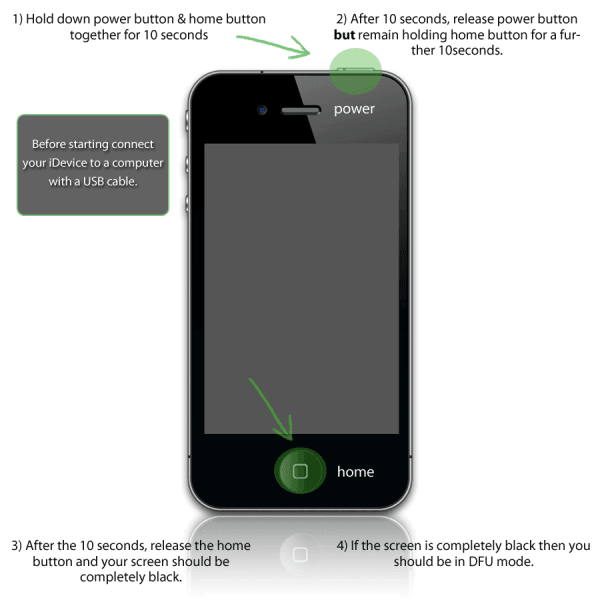 Still you can try another way to put your iPhone, iPad or iPod to DFU mode, which is slightly different from the method above. Here we take iPhone for example:
Plug your iPhone to computer and turn it off.
Press and hold power. Keep holding power. As soon as you see display on the screen of any sort press and hold home.
Hold power and home together for exactly 10 seconds.
Release power but keep holding home until the computer beeps as a USB device is recognized.
At no point will the display come on, which means that you've successfully entered into DFU mode.
Free Download
For Win 10/8.1/8/7/XP
Secure Download
Free Download
For macOS 10.13 and below
Secure Download
Related Articles
comments powered by