After the September, 18th iOS 7 release, complaints of severe iOS 7 battery drainage exploded onto every Apple-related forum. Do you have the same problem with iOS 7? How to fix iOS 7 battery drain? Read on to find some useful tips.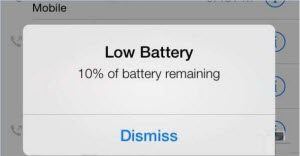 Updated: Since the release of iOS 8, iPhone users report the same problems with iOS 8. You could also try the following tricks as well as other tips to fix iOS 8 battery life issue.
iOS 7 Battery Drain Issue
Just take a look at the Apple forum, you'll find tons of complaints about the iOS 7 battery drain problem, which is mainly for iPhone 5.
Mariafromwestmont: I have iphone 5, drains battery like no other...charged phone to 100% at 3:30 pm, and was down to 65% at 5:30pm about...
Canadian Goonie: On my iPhone 5, the battery drains so fast after the iOS 7 update. It's weird because it starts out fine from 100% and could take a few hours to get down to the 80% range. After that, it just eats the battery like mad and within a couple hours of going past 80%, the battery will go down to zero.
Corinnesg: I wish I had never installed iOS7 on my iPhone 4S! At 8a.m. battery charged 100%, but at 9.30 a.m. (no phone call, no internet, no playing any games etc.) only 69% left !!!
Solutions to Fix iOS 7 Battery Drainage on iPhone
However, there are some tips you can use to preserve iPhone battery life, such as factory reset iPhone, trun down screen brightness, disable push mail, etc.
1. Restore iPhone as a new device: A good way to solve the iOS 7 battery drain issue is to factory reset iPhone and restore iPhone to a "new device". Though you'll have to reinstall all apps, the factory reset helps to solve all manner of performance and battery life issues. To do this, go to Settings > General and find "Reset" option at the bottom of the menu.
2. Restart iPhone: Like computers, iPhone might also need a reboot occasionally. This is because rogue apps doing things they shouldn't is a key reason for battery life issues in any phone, and a proper reset will fix this in many cases.
A long press on the power button (around three seconds) and iPhone will show the power off slider that turns the phone off properly. For a "hard" software reset, press down on both the Home and power buttons until the screen goes black.
3. Turn off cellular data: The apps running background will consume battery. Turning off the cellular data means you won't be able to browse the internet without Wi-Fi, and apps won't access the internet in the background. Go to Settings > Cellular and select the "Cellular Data" option. This will turn off any feature that uses the internet, including Siri.
4. Turn down screen brightness: Most iPhones use automatic brightness, taking readings from an ambient light sensor on the phone's front and then decides how bright the IPS screen's backlight need to be. However, you can save battery power by changing the base level of brightness.
In the Wallpapers & Brightness menu of Settings, or in the Control Center menu, you'll find the slider (and the auto brightness toggle). accessed by swiping up from the bottom of the screen.
5. Disable AirDrop: Using AirDrop, the brand new feature of iOS 7, users can share files with other supported Mac computers running OS X 10.7 or later and iOS devices running iOS 7 or later through Wi-Fi. But it drains battery by searching for nearby iPhones. If you want to save iPhone battery and disable AirDrop, find an AirDrop toggle in the Control Center pop-up menu, accessed by swiping up from the bottom of the screen.
6. Disable Push Mail: Instead of having your iPhone or iPad or iPod check for mails constantly, you can disable Push email, which will reduce strain on the battery. This can be done by:
Go to Settings -> Main, Contacts, Calendars -> Fetch New Data.
Set Push to OFF.
Click on Advanced and set each email account to Fetch or Manually.
7. Turn off apps on Notifications: Another change in iOS 7 is the pull-down notifications menu. You can find new emails, texts and so on, and this will drain a little bit of battery. To turn off apps in the Notifications bar, you can go to Settings > Notification Center. Here you'll find toggles for calendar info, reminders as well.
Apple is likely to improve iOS 7battery efficiency in future updates. However, iOS 7 does appear to eat more power than iOS 6. If the tips above still don't seem enough, check the post How to Downgrade iOS 7 to iOS 6 to see if this will help.
Free Download
For Win 10/8.1/8/7/XP
Secure Download
Free Download
For macOS 10.13 and below
Secure Download
Related Articles
comments powered by