We all hope that our iPhone will always be safe with us. However, accident just happens. And having iPhone lost really gives one a sinking feeling. Actually, you can get it back. The Find My iPhone app is an excellent tool to find lost or stolen iPhone.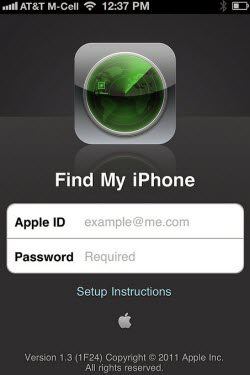 The Find My iPhone app is an iCloud service to locate your lost phone. You can also remotely lock the phone and set a password on it, or even remotely delete its data - two nice security features. It's free and requires access to another iOS device or a web-connected computer when yours is lost.
How to Use Find My iPhone App to Find Lost iPhone
When your iPhone is lost or stolen, feel free to use Find My iPhone app on another iOS device (a Mac, iPhone, iPad or iPod touch that have internet access). The steps below may give you some idea on how to find a lost iPhone.
1. Open Find My iPhone App: Open this app on your iOS device (of course not the one you lost). Navigate to iCloud in your web browser, log in using the iCloud account associated with your iPhone and click the Find My iPhone icon.

Note:This account may be your Apple ID or iTunes account.

2. Click on Device: Click the Devices button on the upper left of the screen and choose your lost iPhone from the list of devices. Your iPhone's location will automatically be displayed on the map along with a box giving you basic information about your phone.



If the device is turned off or out of power, the map will display its last known location, not necessarily its current location. When it's turned back on, the map will update.

3. Send Alert: In your iPhone's info windows, click Play Sound. A loud alarm will go off on your phone, allowing you to quickly track it.



4. Lock iPhone: To lock your lost iPhone, click the Lost Mode button and enter the password you want to use to unlock your phone.
5. Wipe iPhone Data: Should you not be able to locate your phone, and suspect that it's lost, click on the Erase iPhone button in the phone's info window. This will erase all data, and you will not be able to use Find My iPhone to locate your phone once that happens.
Feel sad about the erased data on your iPhone? You can get back your iPhone data with the help of iPhone Data Recovery, an easy to use tool that allows you to restore iPhone contacts, photos, text messages, notes and more from iTunes backup with ease.
Free Download
For Win 10/8.1/8/7/XP
Secure Download
Free Download
For macOS 10.13 and below
Secure Download
Related Articles
comments powered by