Knowing how to factory reset iPhone, iPad and iPod can be of great help in some situations. This post will cover everything you need to know about factory reset including what is factory reset, when you need it and how to do it on iPhone, iPad and iPo
What is Factory Reset?
If you factory reset an iPhone, everything will be wiped from the device and it'll be a new device without any data. Factory reset is usually done before you sell your iOS device to someone. Otherwise, other people will have access to all the personal information that you have stored on the device. It can also be a very helpful troubleshooting technique for some persistent iOS based software problems. After you have reset the iPhone, it will reboot as if it was brand new and can either be set up as new or restored from a backup.
A factory reset can be done in two ways: from your computer via iTunes or directly from your iDevice.
How to Factory Reset iPhone, iPad and iPod?
Before you reset iPhone to factory settings, remember to sync or back up your iPhone with iTunes. So is it with iPad and iPod. This will create a backup of all your pictures, music, apps, contacts, etc. which you can use to restore iDevices from. If you haven't backup before factory reset, use iPhone Data Recovery to restore lost files.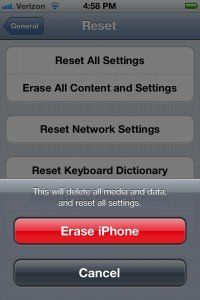 1. Tap Settings > General> Reset on your iPhone, iPad or iPod

2. Tap Erase All Content and Settings.

Note: If you've set a Passcode or a Restrictions Passcode (they are different) you might have to enter that code or password in order to erase and reset it.

3. Confirm the reset, and tap OK. The whole process can take one minute or two.
At this point, your phone will be inoperable for the next few minutes while it erases itself. After that you'll see the welcome screen that you see on any new iDevice running iOS 7 or 8.Once it's done, you can turn it back on and everything will be just like it was when it came off the assembly line.
Also you can set iDevice to factory settings from iTunes. Here I take iPad for example.
1. Connect your iPad to computer via the USB cable.
2. Launch iTunes and backup iPhone with iTunes before the reset.
You can also restore iPhone to factory state with the steps above. You can check for more information concerning iOS devices such as How to Put iPhone, iPad, iPod to DFU Mode. Hopefully, with all these info you can get better use of your iOS devices.
Free Download
For Win 10/8.1/8/7/XP
Secure Download
Free Download
For macOS 10.13 and below
Secure Download
Related Articles
comments powered by