On Monday Apple released its first major update of iOS 7, iOS 7.1. Apple adds CarPlay to iOS 7.1. The software update also includes improvement of Touch ID fingerprint built-in to iPhone 5S, an update for a home screen crashing issue and other bug fixes.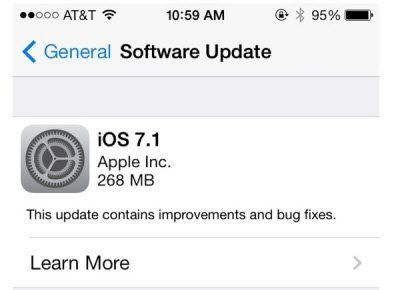 New Features of iOS 7.1
CarPlay -- The CarPlay was initially unveiled last week at the Geneva Motor Show. This feature can be enabled on iPhone 5 and newer devices. CarPlay makes your device able to power a touch screen on a new car's dashboard. CarPlay will get an iOS-like interface and it will be mainly used for map and audio.
Ferrari, Mercedes-Benz, and Volvo will support CarPlay in some of their new cars at launch, and a wider range of car manufacturers, including Ford and BMW, are promising to integrate CarPlay with their future in-car entertainment systems.
Siri – In iOS 7, Siri will think that you are done with the talking even when you just pause for a moment. With iOS 7.1 you can also hold down the home button all the time you're talking to Siri. Just lift your finger once you're done. And Siri will know. Both the old way and the new way to talk to Siri are included in iOS 7.1. Apple also introduced new male and female voices for Mandarin Chinese, British English, Australian English, and Japanese.
Bug Fixes -- iOS 7.1 has also fixed some bugs to improve iOS 7. Just to name a few which you might be interested in.
One that causes a crash on the home screen.
iCloud Keychain support in additional countries.
Better recognition of your fingerprints for Touch ID.
Improved performance for iPhone 4.
A patch for problems with the Mail icon's unread badge showing numbers greater than 10,000.
Other Features -- The software update also includes some user interface design tweaks, such as visual changes to the phone dialer and power-off features.
If you have an iPhone 5S, you will find that iOS 7.1 prepares a camera update for you. The HDR (High Dynamic Range) will automatically turn on when you are in need of it. The HDR takes many photos at once in different exposures so as to create a sharp image that's similar to what your eyes sees.
The latest iOS update is compatible with iPhone 4 and later, iPad 2 and later, and iPod touch 5G. Users of iOS 7 and older versions can upgrade compatible devices over-the-air by navigating to "Software Update" in the "General" section of the settings.
Tips: Make sure you have backed up important contacts, text messages, photos and other data on iOS devices before you start to update to iOS 7.1.
Free Download
For Win 10/8.1/8/7/XP
Secure Download
Free Download
For macOS 10.13 and below
Secure Download
Related Articles
comments powered by