As we've been with iOS 7 beta for quite a few days, we found a bunch of surprises hidden within iOS 7 and new ways of doing things. The features included in this post may help you better use iOS 7 beta on your Apple devices.
Feature 1: Automatically Update Apps
A promising feature of the upcoming iOS 7 is the automatic app updating, as it costs a lot of time if we update apps manually. The auto update saves us time greatly. To enable the auto update you need: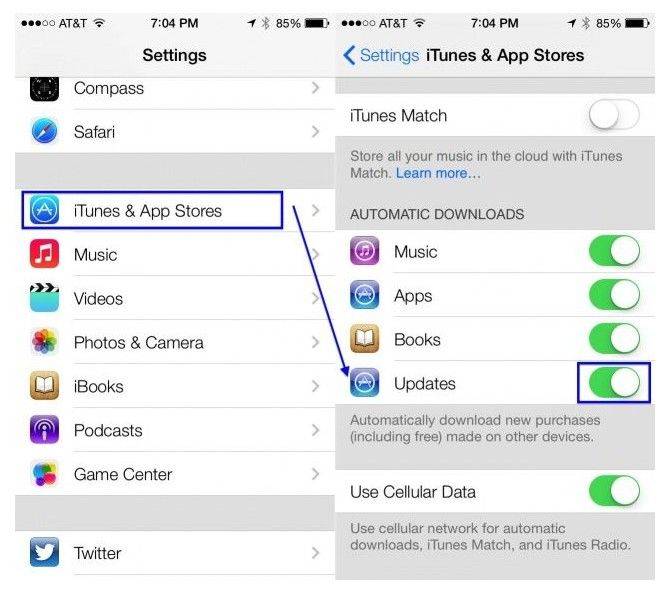 Launch Settings, and then scroll down to the iTunes & App Stores button.
Tap iTunes & App to go to that specific preference screen, and then scroll down to Automatic Downloads area.
In the menu which already shows Music, Apps, and Books auto-update toggles, you'll see a new one: Updates. This is set to ON by default.
To turn off automatic updating for your apps, tap the toggle to OFF, which will change the toggle from a bright green to a pure white.
Feature 2: Enable Dynamic Text Size
It's a little tricky to see words on those tiny iPhone screens. Dynamic Type will let any application that supports the feature to adjust the font size in the app to better match what works best for you. Below is how to access and change the settings for Dynamic Type in iOS 7 beta.
Tap into your settings app and then tap on General. See Siri, Spotlight Search, and then Text Size? Tap Text Size.
At the bottom there's a slide bar which allows you to increase/decrease the size of your preferred text.
Any apps that support Dynamic Type will "adjust to your preferred reading size below. Next time you use Mail, iBooks, or others that support Dynamic type, the font will be large enough (or small enough) to fit your own personal preferences.
Feature 3: See iMessage Timestamps
In previous versions of iOS, the date and time stamps of iMessages you sent and received were printed right in the app. While in iOS 7, you cannot see what time those messages came in or were sent, instead you can see a time stamp for every message in the Messages app. To see when you sent or received those iMessages:
Launch Messages app, and then find the Message thread you're looking for.
Tap on the name of the person on the iMessages list. When the message thread opens up, swipe from the right side of your iPhone screen towards the left. The timestamps will reveal from the right side of your screen.
Then you can know when you sent that special message, or got that special picture from whom.
Tips: If you accidently deleted valuable iMessages on iPhone, you can use
iPhone Data Recovery
to help you recover the deleted files. The program also supports to recover other iPhone data like contacts, photos, text messages, notes and more.
Feature 4: Force Apps to Quit during Multitasking
iOS 7 provides a new way to handle multitasking. In iOS 6, a double click on the Home button on your iPhone, iPad, or iPod touch brings up a multitasking bar. On iPhone and iPod touch, it only works in Portrait mode. On the iPad, it works in both Portrait and Landscape screen orientations.
That's the same in iOS 7, but the visual look of the multitasking system is quite different. Instead of a small bar sliding up from the bottom, you get full previews of each app in the multitasking list. You can swipe left and right to move between apps.
Feature 5: Compass And Level App
You must have already seen the compass in iOS 6. iOS 7 adds a level function within the Compass app on the iPhone. Here's how to find and use the compass and level app.
The level function in the Compass app is much more interesting. Once in the Compass app, swipe to the left to get a surprisingly art-deco styled level. To measure the level of any object, place the edge of the iPhone on the surface of the object, either in portrait or landscape orientation. There will be two white circles on a field of black while the object is out of true, but the display will go green when the angle is zero.
Free Download
For Win 10/8.1/8/7/XP
Secure Download
Free Download
For macOS 10.13 and below
Secure Download
Related Articles
comments powered by