iPhone Airplane Mode: How and When to Use it
Everyone knows that Airplane Mode should be turned on when you are on a plane during the flight. Actually, this is only one of the many situations where you could use Airplane Mode on iPhone. Continue your reading and you will find more use s of iPhone Airplane Mode.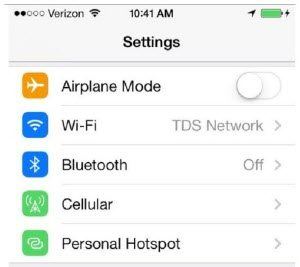 How to Turn On and Off Airplane Mode
To activate Airplane Mode on iPhone, tap on the Settings icon on your home screen. The first option is Airplane Mode. Slide it to On. To turn it off, slide it to Off.
When to Use Airplane Mode on iPhone
In Airplane Mode, your iPhone will stop receiving signals, which ensures that the signal the plane send or receive will not be interrupted. Airplane Mode disables your iPhone's ability to place or receive calls or texting, while still permitting use of other functions that do not require signal transmission.
1. To Save Battery
A secondary feature of Airplane Mode is that it saves power by shutting down various onboard transmitters and receivers. If you are in a situation where you can't get your iPhone charged, you can just turn on Airplane Mode. This could help you save battery for emergency calls.
If you want to save battery after updating to iOS 7, check the post how to fix battery life issue with iOS 7.
2. To Spend Some Quality Time with Family
When you turn on Airplane Mode on iPhone, all connections will be cut off. No one could reach you. It's a great way is you want to be away from all your business or work and enjoy being with your family or loved ones.
3. When Kids Watch Movie or Play Games on iPhone
If you have kids, some of you might give your iPhone to them for play. Kids will start pushing and tapping on anything they see on the screen, including accidentally dialing phone numbers. So before you let kids play games or watch a movie on your iPhone, turn on Airplane Mode. This not only prevents them from calling anyone, but also stops push alerts from interrupting their game or movie.
Note
: If your kids accidently delete your favorite movies, you can recover the movies with the
iPhone Data Recovery
tool.
4. When Travelling Across the World
Travelling abroad can be costly for your wireless carriers. You might find the international roaming charges quite expensive. To avoid the roaming fees, you can just activate Airplane Mode on iPhone and only use Wi-Fi for internet access. With the Wi-Fi-only connection, you will not be able to receive SMS or phone calls, but you can still check your e-mail, use instant messagers and browse the Internet.
Do you have other solutions as to when to use Airplane Mode on iPhone or other iOS 10/9/8/7 decvices? If you have, let us know in the comment below.