Today's mailbox question:
"I accidently deleted all the notes on my iPad 4. They are very important since some are my random inspiration for my new book. How can I recover lost data from iPad 4 on Macbook."
Accidents happen. They especially tend to happen with data that we can't afford to lose since they are irreplaceable or hard to recreate. Fortunately, iPad 4 data recovery on Mac OS is pretty easy as long as you find a reliable way that can help you. If you are a Windows user and lost iPad 4 data, click here >>
There are 3 different paths to take: Restore iPad 4 from iCloud, Restore iPad 4 from iTunes and Recover iPad 4 Data with Tenorshare iPad 4 Data Recovery for Mac. Each one has its pluses and its minuses, which we will explain to you in detail.
1. How to Restore iPad 4 from iCloud Backup?
If you backed up your data with iCloud on your device before, you can restore iPad 4 data from iCloud backup. Here is how-to.
Note: We don't recommend this method concerning privacy issues. There are some other risks with iCloud, such as wireless vulnerabilities, virus infections, hacking attempts and data theft.
Connect iPad 4 devices to Wi-Fi and plugged into the charger.
Select "Restore From iCloud Backup" option.
Enter your iCloud account and password.
Choose the recent backup you wish to restore to your iPad 4.
Enter any passwords required when prompted.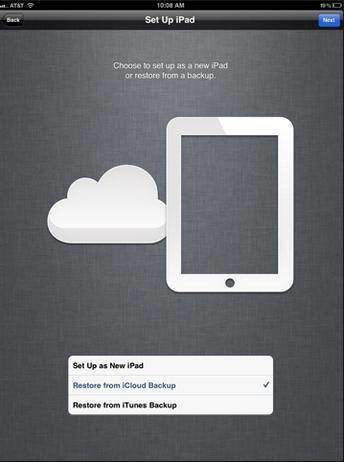 2. How to Restore iPad 4 from iTunes Backup on Mac?
iTunes create backup file every time you sync your iPad 4 with it. Therefore, you can restore iPad 4 from iTunes backup. This kind of iPad 4 data rescue will revert all data on your iPad 4 to those contained in the backup. There is a potential risk: if your lost files are NOT in this backup, your current data on your iPad 4 will be erased as well. Light gains make heavy purses. So, be cautious if you are not that certain.
If you insist on restoring iPad 4 data from iTunes backup, launch iTunes and connect your device, and then click the "File" menu and select "Device"> "Restore from Back up".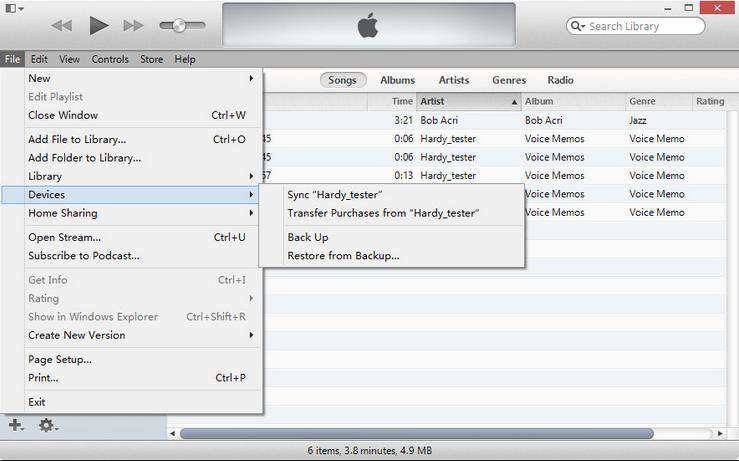 3. How to Recover iPad 4 Files with Tenorshare iPad 4 Data Recovery for Mac?
Tenorshare iPad 4 Data Recovery for Mac is the very software program that can recover notes, messages, photos, videos, calendar, and other files on iPad 4 (iPad with Retina Display). It provides 2 recovery modes: recover data from iPad 4 device without iTunes backup and recover iPad 4 data from iTunes backup. Of course, it supports previous iPad modes: iPad 3, iPad mini, iPad 2 and iPad 1.
The following are steps you can use to recover data from iPad 4 by using this iPad 4 file data recovery for Mac.
Option 1: Recover Data Directly from iPad 4
Option 2: Recover Data from iPad 4 Backup (iTunes Backup and iCloud Backup)
Note: Compared with recovering iPad 4 data from backup with iTunes and iCloud, this software can preview and selectively recover the files you need.
Select "Recover Data from iTunes Backup File" or "Recover Data from iCloud Backup File". Choose your iPad 4 backup file and click "Start".


Preview your iPad 4 lost files in details and select the ones you want to recover by clicking "Recover" button.
Now, you can decide for yourself which is better for your iPad 4 data recovery needs. Sure, Tenorshare iPad 4 Data Recovery for Mac offers you more options for iPad data recovery, covers any data loss scenarios and is pretty easy to use.
Related Articles
comments powered by