How do I sync iPhone to a new computer?
"I purchased a new Samsung laptop with windows 8. I have an iPhone 5 and I'm trying to sync the two. When I check anything in iTunes it give me a message that iTunes will over ride my iPhone with what is on the computer, which is nothing. I cannot figure out how to do this without deleting data on my iPhone."
When you plug in your Apple device to your new computer that's synced with your old computer, you probably get the "erase and sync" message. This is because syncing with a new computer essentially means making iTunes on the new computer accept your device as it is. If you accept this, iTunes will "erase and replace" all the content on the device with the data in the new computer's iTunes library. You should be clear that nothing is in the new computer's iTunes library.
How to Sync iPhone, iPad and iPod to a New PC or Mac
The following guide elaborates on how to sync iPhone, iPad and iPod to a new computer. To transfer files across your computer, iPhone and iTunes, check the iAny Transfer user guide.
1. Authorize the new computer & Download past purchases with Apple ID
Disable auto sync when your iDevice is connected under iTunes>Preferences>Devices (under Edit menu if using Windows). Then sign in with the Apple ID that you used for the original purchase. Right-click your iOS device in the sidebar and click "Transfer Purchases". You can then download items that you've purchased from App Store. These items include music, movies, TV shows, ringtones, Apps, books, etc.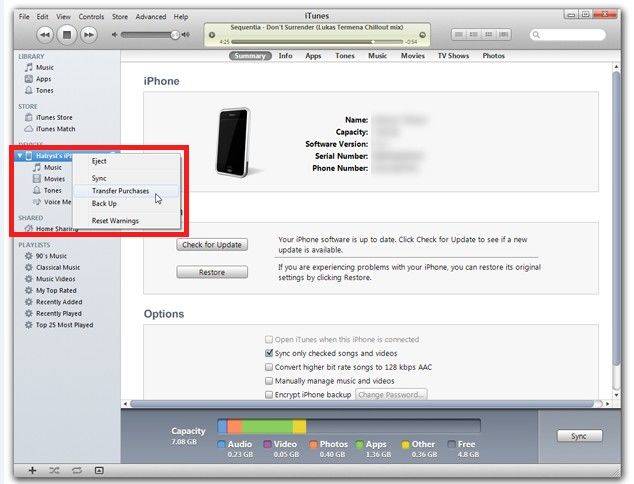 Important Note: Previously purchased items might not be available if they're no longer on the iTunes Store. If you changed your Apple ID from one country to another, you can't download items you purchased in a previous country.
2. Back up and restore on the new computer
Right click your phone in the left device pane & select "Reset warnings". Then you need to back up and restore your iPhone, iPad or iPod on this new computer. When prompted to create another backup, decline.
This has to be done by a sync to restore your iTunes content, which you select from the various tabs. You'll get a popup regarding your contacts & calendars asking to merge or replace, select "Merge".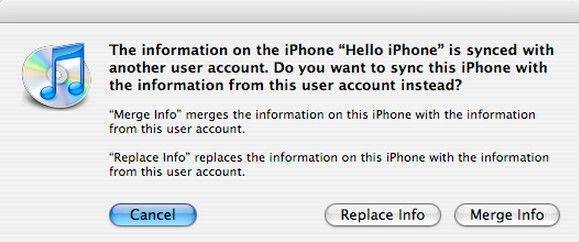 Done! Next time, when you sync iTunes with your iPhone, iPad and iPod, these files will be synced to your iDevice, overwriting the original ones.
Free Download
For Win 10/8.1/8/7/XP
Secure Download
Related Articles

iOS Sync Session Failed to Start: How to Sync iPhone, iPad, iPod Contacts, Photos, Music and More to/from Computer
comments powered by