Which operating system is best for you, iOS 7, Android 4.3 Jelly Bean or Windows Phone 8? This post compares the 3 platforms in terms of design and look, camera, notification center, etc. Read this carefully and you'll make your choice at the end of the post.

Design and Looks
The interface of iOS 7 is completely different from previous iOS versions. iOS 7 has forgone skeuomorphism in favor of a digitally authentic interface, with a heavy use of blur, transparency and layering to create the illusion of depth. The system font has changed to Helvetica Neue Regular.
Windows Phone 8 shares the same Start Screen with adjustable live tiles in Windows 8. Windows Phone 8 includes extensions to its Live Tiles interface, as well as new features including a child-safety feature called 'Kid's Corner', a tool called 'Data Sense' that will help keep down data costs, and 'People Hub' -- via which groups of fellow users can communicate and share content.
Unlike iOS 7 and Windows Phone 8, which are relatively closed, Android Jelly Bean is more open. And almost every OEM has placed a skin over the top of Android.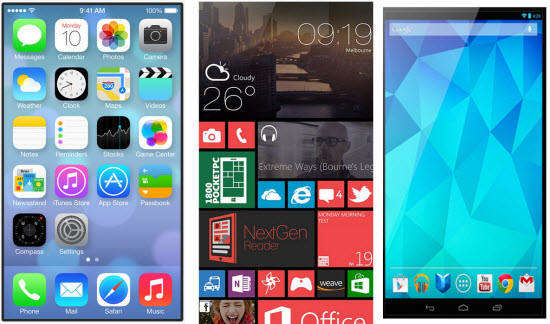 Camera Settings
iOS 7 gave the camera a revamp, tweaking the interface and adding preprocess features like cropping and filters. Burst mode was also granted to the iPhone 5 and later, while iPhone 5S users got slo-mo.
For Android phone, camera app varies tremendously from brand to brand. Add the endless variation in hardware and things get really complicated. HTC One is most notable for camera tech with UltraPixel and HTC Zoe, or there is Samsung with Burst Mode found on the Galaxy S3 or S4.
Windows Phone 8 camera settings are common. It has introduced pinch to zoom, and the ability to take photos by tapping the screen, making the app feel a little more natural. There is also the idea of 'lenses', that allow you to use camera tools that you have downloaded instead of opening a separate app.
When the photos on your smartphone are lost, you can restore with some third-party tools. The list below shows you details of tools that you need.
Notification Center
Notification is an important feature for all devices, giving quick access to Calendar events, Emails and Text messages. Device control is equally important.
The notifications and Control Center in iOS 7 have changed a great deal. The notifications centre that was accessed by swiping down from the top has become a full-screen affair, also available via the lock screen. Previous iOS versions had a very basic centre, the new control center offers quick access to settings such as Wi-Fi, Bluetooth as well as screen brightness, AirDrop and AirPlay even your iPhone is locked.
Android 4.3 Jelly Bean brings in expandable notifications, showing more information about the top event, as well as being able to swipe to dismiss. When you see something in Android's notification drawer, you can take action and respond without opening whatever app first.
Windows Phone 8 doesn't have Notifications, however there are strong suggestions that there is a notifications centre making in Windows Phone 8.1. Notifications are viewable from the lock screen.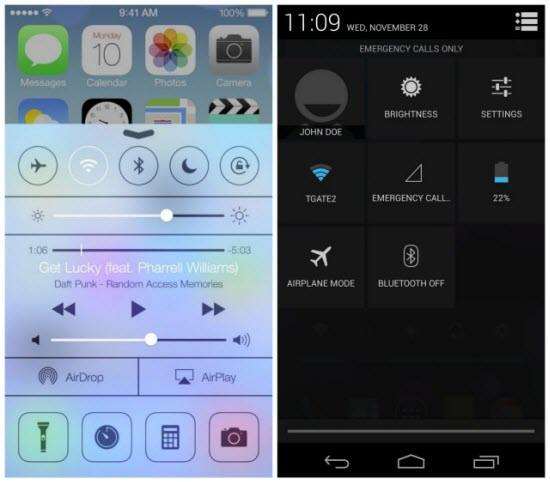 Browser
Chrome on Android 4.3 and Safari on iOS 7 are great for surfing the internet as they are very fast, with support for multiple tabs and incognito browsing. Also, both allow users to sync bookmarks and opened tabs between multiple devices. This is pretty cool for people who have to switch frequently between their desktop computer and a smartphone or tablet. Users of Windows Phone 8 user Internet explorer which comes with the Do Not Track feature by default, as well as SmartScreen phishing protection.
Multitasking
iOS 7 gives users a big, scrollable carousel of screenshots for running apps. Closing apps in the old interface was a super-tedious process of long-pressing then tapping tiny flags in the corner. In iOS 7, you can just swipe apps off the screen to close them.
For Android users, hit the multitasking button (or whatever mechanism your phone uses) and you get a list of running apps with screenshots. The exact look and feel varies with device, but the stock UI is definitely not as attractive as Apple's take. Some OEMs change the look a bit, but the basics are still there.
Windows Phone 8 has a similar method of bringing up its multi-tasking window. Long pressing the back button brings up the multi-tasking screen, allowing users to flick across to the app they wish to use.
In conclusion, iOS 7, Jelly Bean and Windows Phone 8, it's very hard to decide which the best smartphone platform is. There is no doubt that when it comes to availability of high-quality applications for download, iOS 7 triumphs the other two. If you want to upgrade to Apple's newest iOS 7, check the post How to Upgrade to iOS 7.
Free Download
For Win 10/8.1/8/7/XP
Secure Download
Free Download
For macOS 10.13 and below
Secure Download
Related Articles
comments powered by