Want to share wonderful photos, videos, documents, apps and other files from Android phone? This sounds not easy especially if you are a green hand. Read this article and you'll find 3 different ways to transfer files from Android phone.
Transfer Files between Nearby Mobile Phone via Bluetooth
Most mobile devices have Bluetooth as default hardware.  For users of Windows Phone 8, Android phone, BlackBerry, etc., Bluetooth can be used to transfer files wirelessly between nearby mobile devices and computers. You can now transfer files across different OS if the 2 mobile devices is close to each other. However, iPhone is an exception and it doesn't support file transfer via Bluetooth. Additionally, transferring any files larger than 20MB is not supported by Bluetooth.
The following steps show you how to transfer files via Bluetooth on Android phone.
1. On your Android phone, open the file you want to share, for instance, view photos in the Gallery app.
2. Tap the share button, and then select the Bluetooth option.
3. You'll then be prompted to set up the Bluetooth pairing between two devices.
4. After the pairing, you can transfer the file to a nearby smartphone which also enabled Bluetooth.
Possibly you might press the wrong button and delete important files whiles transferring them. If this ever happens to you, try to use Android Data Recovery to rescue your lost contacts, text messages, photos, etc.
Share Android Files Wirelessly Using Dropbox
If you uploaded files to your Dropbox app on Android, you can then share a link to the file so the other person can download it directly from your Dropbox account. With Dropbox you can have photos you take automatically upload to your Dropbox account and then share it from your Android phone.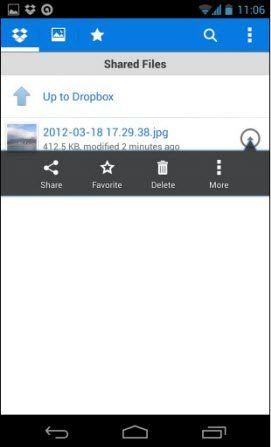 Follow the tutorials to learn how to share Android files with Dropbox.
1. Open Dropbox on your phone and log into your account, or create an account if your're a new user.
2. After you log in you'll see all of your Dropbox folders and files. Tap to open any folder and open your folders, files, photos, videos, etc.


3. To share a file, press and hold on the file. When the options appear, select Share. Then you can choose to Share a link or Share this file.
Share a link: If you choose this option, you will need to choose email, Twitter, Facebook, SMS or other methods to deliver this link. And then your recipient will get a link to open and view the file.
Share this file: Choosing this option, you will then have the option to send the file via email using one of the installed mail clients.
Transfer Android Files via Email
Maybe you've already used email to transfer or share files on Android with friends. It's easy and doesn't require another app to help. You just need to launch the email app on your Android phone, attach the file you need to share and then send this email.
Guess must have already found the best way to share Android files. If you want to get more info about your Android devices, for instance, How to Speed Up Android Phone, continue to read.
Free Download
For Win 10/8.1/8/7/XP
Secure Download
Free Download
For macOS 10.13 and below
Secure Download
Related Articles
comments powered by