How to Backup Android Phone
With Android phone you can put various data including pictures, emails, videos, saved messages, contacts, etc. in your pocket. However, Android doesn't offer a native backup service to backup all these important data. Therefore I would like to share a few methods to backup Android phone in this post. Let's get started.
Copy Android Files to PC
Photos, videos, and music from your Android phone could be transferred to your PC or Mac when you connect Android phone to your computer and manually copy the files to your hard drive. However, you should know that this backup will not get updated timely and automatically.
1. Connect your Android phone to computer (Windows or Mac) via the USB cable.
2. On your Android, select "USB connection" from the pull-down menu.
3. On the next page, choose USB Mass Storage and hit OK.
4. You'll see a new drive or "Removable Disk" appear on your computer for the SD card. Open it up, and copy all the files inside to a new location on your computer.
It's highly recommended that you use the backup date as the name of the backup folder, for instance, "130905-Android-Backup", which could help you easily recognize when this backup is created.
If, unfortunately, you delete photos, text messages, etc. that is not backed up to PC before you delete them, I think you can only rely on Android Data Recovery to restore lost files from Android phone.
Backup Android Data to Google Account
If you have a Google account, you can keep your contacts, system settings, apps, calendar and email data on your Google account. Here's how:
1. Press the "Home" on your phone to get to the Home screen. Hit the "menu" button and select "System Settings."
2. Select the "Privacy" option right under "Language" in the Settings screen.
3. Tap "Back up my data" and "Automatic restore". Click "Backup my account" to ensure extra redundancy for backing up your data on the cloud.
4. Finally go to Settings > Account & Sync, tap on the Google account you want to sync, and check all the available options. This way, your data will be stored in your easy-to-access Google account.
Use Android Backup Software
Want to use Android backup software that doesn't require you to root Android phone? If you haven't rooted, then Carbon can be your best bet when it comes to backing up your data.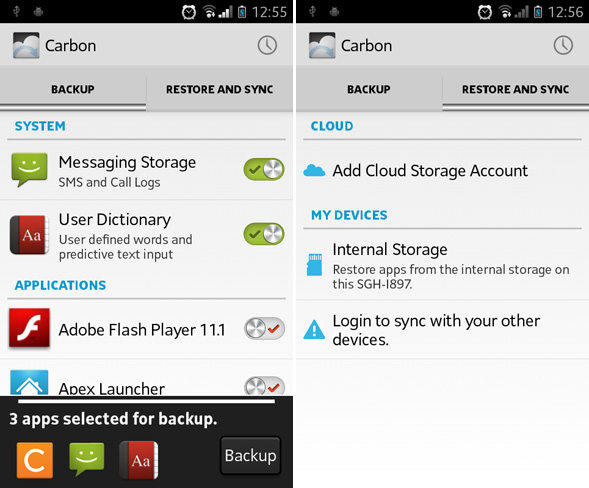 Carbon can back up your text messages, call logs, your texting dictionary as well as your apps. If you need a deeper, more comprehensive backup solution, you may need to look for other software (and root your device, too), but if this is all you need then Carbon will just be fine.
To use Carbon without rooting your Android phone, you'll need to run Carbon Desktop and follow the installation instructions. The free version of Carbon is ad-supported and only allows backing up to the SD card and PC. The premium version costs $4.99 USD and allows automatic backup schedules, Android-to-Android sync, and cloud backups.
All these backup solutions offered in this post are for you to better keep your Android data. If you do lose data on Android phone before taking these backup precautions, you can still have a chance to get back lost files with the help of Android Data Recovery.