What to Do when Android Phone is Lost or Stolen
Theft and loss are the biggest threats to Android devices. In August 2013, Google rolled out a service called Android Device Manager for Android users to find lost devices. Check this post to see how to use Android Device Manager to find lost Android phone.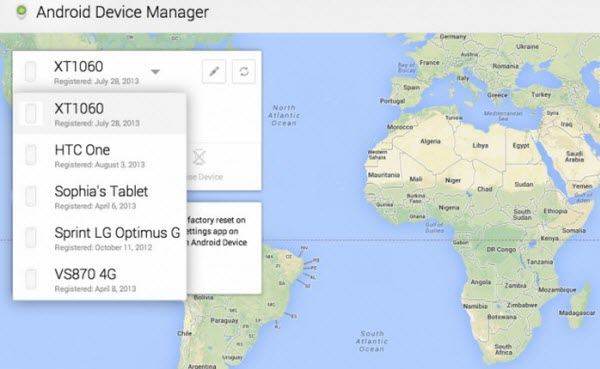 Find Lost Android Phone with Android Device Manager
If you ended up dropping your phone somewhere at your home, Android Device Manager allows you to quickly ring your phone at maximum volume so you can find it, even if it's been silenced. When you left Android phone to a restaurant where you had dinner last night or your device is stolen, you can locate it on a map in real time with Android Device Manager. To protect confidential data from falling to the wrong hands, you can quickly and securely erase all of the data on your device.
Note
:Android Device Manager works quite like the Find My iPhone app. You can check
How to Find Lost iPhone
for detailed information.
What do You Need to Prepare
To use Android Device Manager, you need to have:
1. Your Android phone running Android 2.2 or above.
2. A Google Account and then use it.
After this you could first set up Android Device Manager on your phone and then manage Android phone through the web portal of Android Device Manager.
Set Up Android Device Manager on Your Phone
Launch Android Device Manager on your phone. By default, the Android Device Manager is turned off. On your phone, go to Settings -> Security ->Device Administrators to enable it.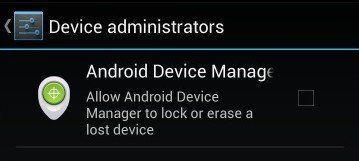 Check the box on the above picture and you'll get the following screen.
Manage Android Phone Through Android Device Manager Wed Portal
After setting up the Android Device Manager on your phone, you can begin managing it from Android Device Manager web portal here at https://www.google.com/android/devicemanager. The first time you access the service you'll need to accept an agreement which allow Android Device Manager to use your location data.
Next you could select your device from the drop-down menu in the corner and perform any of the 3 tasks below.
1. Locate your Android device: This is enabled by the GPS or WiFi location data on your phone. It's worth mention that if the GPS function is shut down for a period of time, for instance a couple of days, the location feature will be unavailable.
2. Ring the device: This is quite useful as many of you could place your device in a place and then you do not know where to find it. You could ring the device even if your phone is silenced or turn to vibrate.
3. Erase all data: You can remotely wipe data on your phone. Internal storage designated as /sdcard will be wiped. Removable SD cards may be wiped depending on the hardware/OS version. The business version of Android Device Manager has a specific wipe-SD-card functionality. The consumer version is likely to have this feature soon.
Finally, it's highly recommended that you set a password for your Android phone. This small and simple action could buy you some time to remote control your device and erase confidential data. If you get your Android phone back but the data is erased, you could try Android Data Recovery to restore contacts, text messages, photos and more on Android devices.