"I have a 32GB iPad Air. Ever since I updated to iOS 9 I have had a ton of random reboots with the blue screen. Could an app cause the problem? Does anyone else have the same problem? Is there any idea to fix endless reboots of iPad Air during play games?"
"My iPad Air 4 randomly restarts when I play game for no reason. I am doing something when suddenly the screen goes back, then the apple logo appears before going to my lock screen after a couple of minutes. How can I fix random reboots on my iPad Air?"
We've been receiving numerous reports from users finding that their iPad Air (including other models) unexpectedly reboot itself, not once or twice but number of times, which really make you hysteric. Certainly there are many reasons like failure updating, jailbreak and etc may cause random reboot on your iPad. You may have tried turn off and on your iPad but it doesn't work. If you are still having this problem, here is what you can do to fix:
Solution1. Fix iPad Air Random Reboots Due to Insufficient Storage
Actually insufficient storage may cause random reboots on your iPad Air especially when you run large memory games. Here we offer 2 ways for you to cleanup your storage.
Option1. Quickly release iOS space by deleting big storage hogging apps.
Step1. Tap on Setting on the home screen > Click General > Choose Storage > Click Manage Storage, it shows us how much space is available and what's eating it all up
Step2. Here the usage list is sorted by total size and choose anyone you don't need and tap on it and the tap the big red "Delete App" button. Next you have to confirm the deletion at the alert dialog.
Step3. Repeat this with any other apps you don't use often until you have sufficient space available.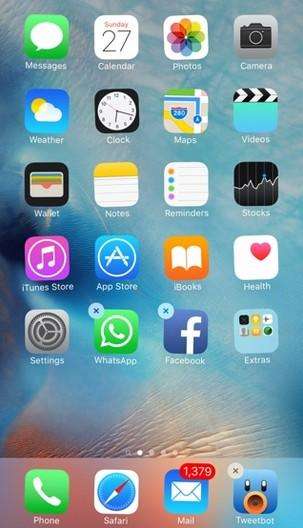 It can help you to thoroughly cleanup iOS 10/9/8 storage with the third-party tool. It can boost up performance by removing junk files and free up space on iPad without deleting apps.
Step1. Download and install program. Run it and click Speedup&Clean.
Step2. Click "Quick Scan" to get the check-up to your iPhone. Then choose the file types to clean by clicking "Clean" on the right.
Step3. After cleaning, you iPhone would run much faster than before.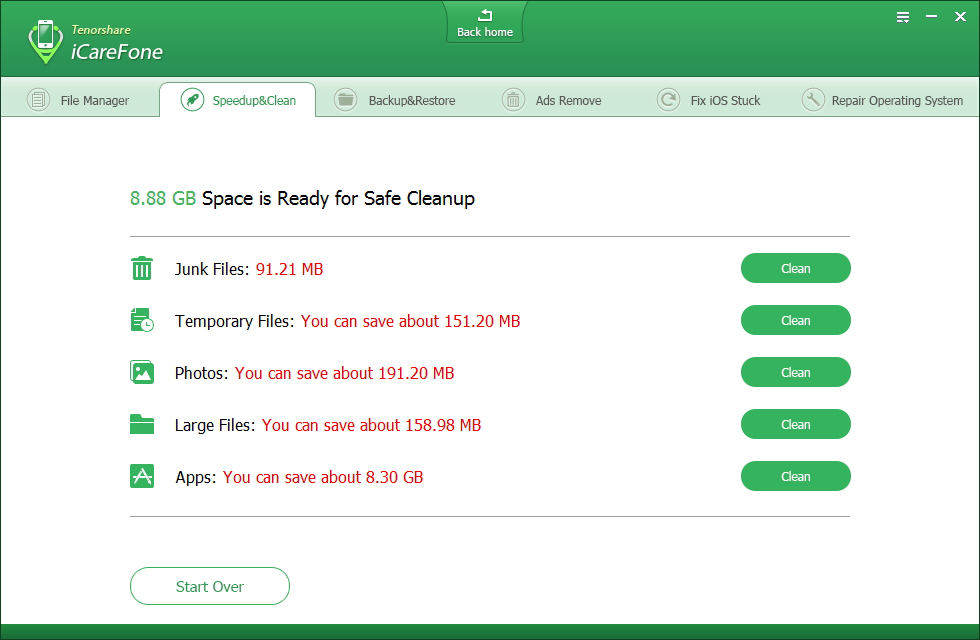 Solution2: Fix iPad Air Random Restarts As a Result of Unstable System
Your iPad Air worked fine and later you ungraded to the latest iOS system. Then you found your iPad started to crash, restart even dead of blue screen.
Option1. Wait for New System to Fix Incompatible Issues
Sometimes new system brings your greater joy but it is definitely to be compatible with all apps. Later random starts come along. We have no any idea but wait new system coming to fix it.
Option2. Air Random Reset by Recovery Mode
Additionally, here we sincerely recommend Free Tenorshare ReiBoot for you to fix repeated restarts on iPad Air in case of data loss.
Step1. Connect your iPad Air device to the computer. Run Tenorshare ReiBoot and click the "Enter Recovery Mode" to enter Recovery Mode.
Step2. Click "Exit Recovery Mode" button and the device boots up. Your iPad Air is already back to be normal in the process of rebooting.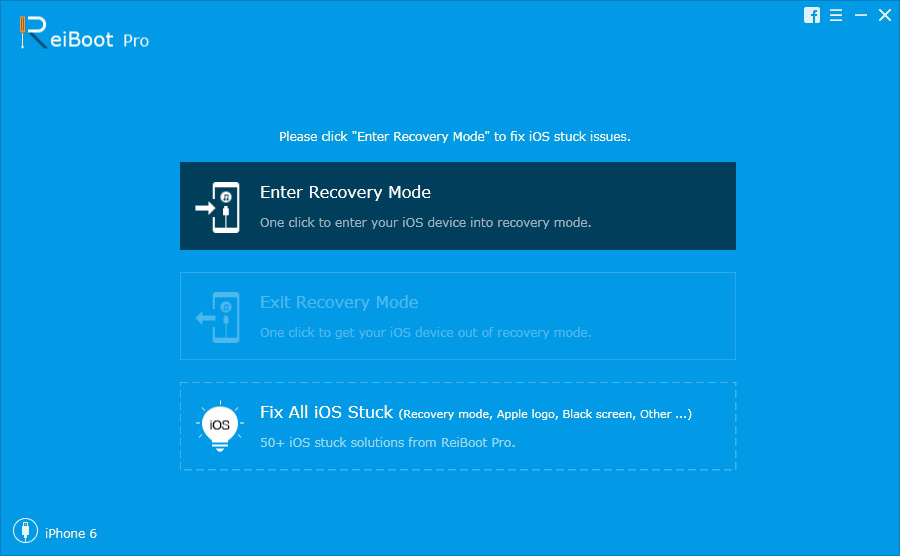 Solution3: Fix iPad Air Keeping Restart in that Incompatible Apps
You download a new game and going to have a fun, but it always exits automatically for no reason. Probably this game was designed with the problem of its own application software. You can try to update it on App Store or delete it.
Step1. Press and hold down any icon until all the icons begin to jiggle
Step2. Tap the little X in the upper-left corner of the app you want to delete
Step3. Tap the delete button to make confirmation
If have any questions, all questions will be welcomed anyway.
Free Download
For Win 10/8.1/8/7/XP
Secure Download
Free Download
For macOS 10.13 and below
Secure Download
Related Articles
comments powered by