Samsung Galaxy S5: Features, Release Date and Price

Feb. 27, 2014 9:21 am / Posted by Jenefey Aaron to News
Follow @JenefeyAaron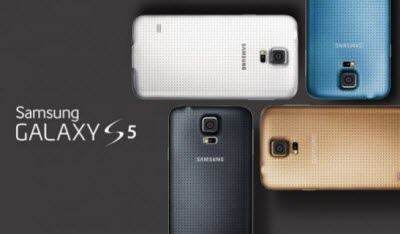 The South Korean Electronics giant, Samsung, launched its new flagship Android smartphone Galaxy S5 at Mobile World Congress in Barcelona along with Gear Fit - a wearable fitness device.
The flagship model has a 5.25-inch screen, 16MP camera and runs Android KitKat 4.4. Despite its familiar design, the Galaxy S5 has a few new useful hardware features, including a fingerprint scanner, heart rate sensor, and a toned-down TouchWiz UI on top of Android 4.4 KitKat.
Design, Outlook and Color
The Galaxy S5 has got a 5.1 inch screen and is just a little larger than Galaxy S4 which has a 5 inch screen. Samsung Galaxy S5 is also made of plastic just like its predecessors. But S5 is surrounded with metal which is almost identical to the Note 3. It comes in 4 colors: black, white, blue and gold and is dust and water resistant. The resistant to dust and water is 1m for 30 minutes – enough time to fish it out when thrown down a toilet.
Samsung says that its Galaxy S5 will combine Wi-Fi and LTE to download items faster.
Fingerprint Scanner
The fingerprint scanner is among one of the biggest changes coming to S5. Speaking of the fingerprint scanner that appears on Samsung Galaxy S5, one could recall the Touch ID on iPhone 5s. This feature could be enabled from the Home key and allows users to unlock the phone or authenticate purchases online (Samsung is partnering with PayPal to enable this feature, though it doesn't validate purchases from the Google Play Store).
When using the fingerprint scanner to activate S5, you need to swipe quickly and smoothly. Or you may be refused to unlock the phone.
Fitness Tracking and Heart-rate Sensor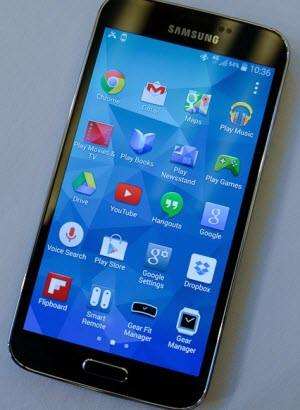 A big improvement has been made in the field of fitness tracking this year, and the Galaxy S5 benefits from an upgraded S Health app and new heart-rate sensor on its back. With the S Heath app, users can sync with Samsung's Gear line of wearable, and get guided coaching and feedback while working out.
The heart rate monitor that's coming to Galaxy S5 is a totally new addition. It is located below the camera and reads your fingertip so as to tell your pulse in about five to ten seconds. We've run a simple test and the sensor worked just as advertised, giving me a reading in just a few seconds.
16MP Camera
The camera has been upgraded to a 16-megapixel sensor with 4K video capabilities, and it now supports real-time HDR processing for better photos in mixed lighting. You can feel free to apply Samsung's unique camera effects after shooting a picture, so you don't have to worry about what mode you're in when taking images. The camera interface has now become simple and clear, pretty snappy and responsive.
To better enjoy the pictures taken with the great cameras on Samsung Galaxy, you might want to know how to recover photos from Samsung Galaxy once they're deleted or lost for other reasons.
Release Time and Price
Galaxy S5 is scheduled to launch globally on April 11th and will be available on all major US carriers. Prices have not yet been announced. Samsung has made itself recognizable and a successful brand with its Galaxy series. Chances are that S5 will continue the Samsung's success regardless of the prices.
We'll keep you updated with what else do we know about the Galaxy S5. You can catch our news from the News Center page.
Related Articles
comments powered by