Samsung Galaxy Mega is to Land on the USA

Aug. 28, 2013 03:21 pm / Posted by Jenefey Aaron to News
Follow @JenefeyAaron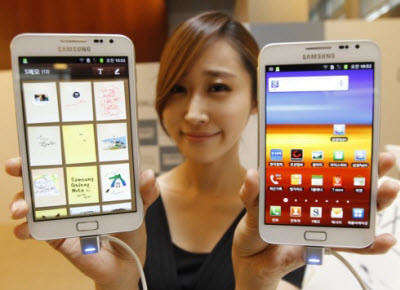 The 6.3 inch Samsung Galaxy Mega is coming to the USA soon with 2 colors: Nova black and Polaris white. Customers could get Samsung's new device from AT&T, Sprint and US Cellular.
AT&T will start to sell the Galaxy Mega on Aug. 23 for $149.99 if you sign a two-year contract. Sprint only said that they will sell the device "later this year". And US Cellular gives no information about when the Mega is to be launched.
Interested also in the rumored iPhone 5S? Check the post iPhone 5S Release Date and Features.
Galaxy Mega: What Do We Get
The Galaxy Mega's huge screen provides an HD Super Clear display with a resolution of 1,280x720 pixels. Equipped with Android 4.2.2 Jelly Bean, the phone has a dual-core 1.7GHz processor, 1.5GB of RAM, and 16GB of internal storage. Users can expand the capacity to 64GB by using an external microSD card. The Mega also has an 8-megapixel rear-facing camera supporting various modes like Beauty Face, Best Photo, Panorama, etc.
If you've lost treasured pictures on Android phone, fell free to use
Android Data Recovery
tool to recover Android photos. The data recovery tool could also help you restore contacts, text messages and videos which are stored on your Android phone. You could download and have a try.
The hardware of Galaxy Mega is amazing, and so is the software which is detailed in paragraphs below.
Air View: Among the Galaxy features expected on the Mega are Air View, which lets users preview content without actually touching the device. Just hover a finger an inch over the screen for a quick look at emails or photos, to start speed dial, or magnify text.
Multi Window: Meanwhile, users can take advantage of the Mega's vast screen real estate to run multiple apps on the screen simultaneously. Watch a movie on Samsung Hub and check email at the same time, which can be easily done by simply dragging and dropping apps.
Watch on TV: To watch on an even bigger screen, users are allowed to use the Mega as a remote control with any Integrated Infrared (IR) capable TV or set-top box. There's no doubt that this feature will give you a new way to browse by genre, search by title, or receive recommendations based on your interests.
Easy Mode: The Easy Mode is designed to help users new to smartphone to better navigate the Mega. The home screen layout, camera, calendar, messaging and the Internet browser are made simpler, which make the settings menu easy to navigate. Once they are familiar with Android and the Mega, they can change back to the standard home screen interface.
If you haven't get enough from the above, you can have a fresh look at this all-new device at stores and get more details of the big Samsung Galaxy Mega. Feel free to leave us a comment if you have any new finding.
Related Articles
comments powered by