The New Nexus 7 Rumored to Be on Sale in July

July 25, 2013 2:43 pm / Posted by Jenefey Aaron to News
Follow @JenefeyAaron
In the past few weeks, Google's upcoming Nexus 7 has been leaked several times. Exciting news is that the ad on Best Buy shows that Nexus 7 will go on sale on July. Still we wouldn't know for sure until Google's official announcement.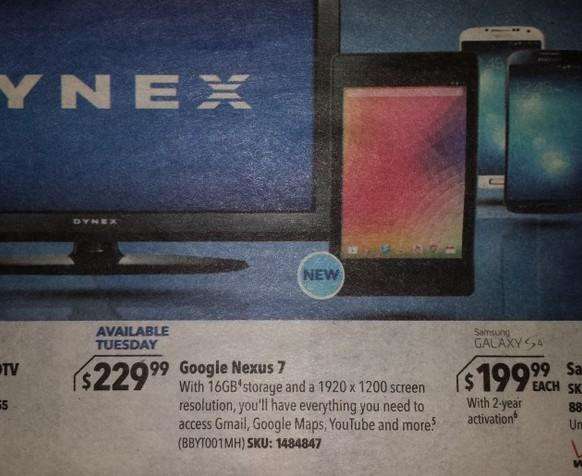 Features of The New Nexus 7
The new Asus-made tab doesn't look too different from the previous version, though the dimples that flecked the back of the original are gone, and that front-facing camera has finally found a friend in a 5-megapixel sensor that sits on the device's backside. One of the bigger gains here is the addition of a much higher resolution 7-inch display -- the updated 7's screen will run at 1920 x 1200, a big leap from the 720p panel we saw the first time around. As usual, we can't discount what's ticking under that redesigned hood, and the new Nexus tab is expected to pack a quad-core chipset running at 1.5GHz, 2 or 4GB of RAM, and dual rear-facing speakers.
Will Nexus 7 run Android 4.3? Perhaps Many people are counting on the leaked pictures of Nexus 7 to answer this question. Mobile aficionados poking around those leaked builds have already pointed out improved touch sensitivity and support for low-energy Bluetooth. It seems that there is a huge possibility that customers could get the first glimpse of Android 4.3 from Nexus 7.
Release Date of New Nexus 7
Images from Staples' internal employee news system point to a July 31 release date, but now it looks like ailing electronics retailer Best Buy is gearing up to launch the device on the 30th instead. Seen from the ad, it seems that the release date is pretty correct.
Price of Nexus 7
Android Central said it had learned that Google will price a 16GB version of the tablet at $229 and a 32GB version at $269, which is also the same as that appeared in the Best Buy ad.
Just stay calm and the Nexus 7 will arrive in less than a week. However, you can have some preparation job before buying a new Nexus 7. For instance, download Tenorshare Android Data Recovery and use it to restore data from Nexus 7 in case of data loss tragedies.
Related Articles
comments powered by