Microsoft Unveils Office for iPad: Word, Excel and PowerPoint Available on iPad

Apr. 3, 2014 10:21 am / Posted by Jennifer Carrington to News
Follow @Jennifer Carrington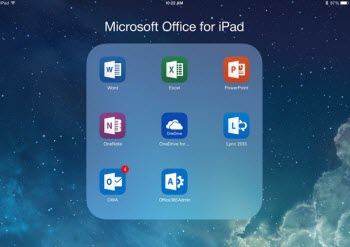 Microsoft finally unveiled Office suite for iPad after so many years of rumors. Office for iPad will benefit millions of iPad users, making it easy to read and edit all the Office documents.
Office for iPad has Word, Excel, PowerPoint and a revamped OneNote as a bonus for iPad users with a ribbon interface that's similar to the Windows and Mac desktop versions. The iPad version has much more features than the iPhone version which only includes some basic editing feature. Microsoft is promising full file fidelity with the desktop versions, and Office for iPad includes support for re-flowing, formatting, and touch handles.
How is Office on iPad?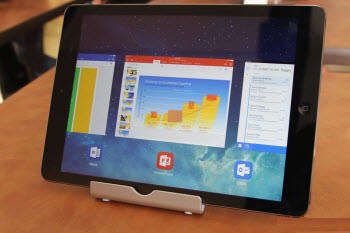 Office on iPad is powerful, personal, and usable for. When you hold and move the objects, text flows smoothly around them. No keyboard and mouse required. You can even use iPad features like voice dictation to draft a Word document or AirPlay to project a presentation wirelessly on a TV screen.
Word - You can use the Home tab to assign styles, modify character formatting, adjust line spacing and indents, and apply bullets and numbers to lists. You can't define custom bullets or numbering formats on a tablet, nor can you define styles. You have to go back to the desktop in order to do that.
If you've done with editing the Word documents on iPad, you can convert Word to PDF so that the texts in the Word document won't be changed if you press or touch your iPad screen.
Excel – The worksheets for iPad users offer similar fidelity with existing worksheets. One thing worth noting is that a second custom keyboard that you can switch to in place of the standard iPad keyboard. Besides a numeric keypad, there's also a full selection of operators and symbols that you can use to enter and edit formulas.
PowerPoint – PowerPoint for iPad focuses more on delivering the actual presentation. You can choose a theme when creating a new slide deck, for example, but you can't change that theme from the iPad app. However, it's possible to add transitions between slides and rearrange slides in a deck.
Office for iPad and Office 365
It's said that Office for iPad is designed in conjunction with Microsoft's cloud-based services Office 365 and OneDrive. This way your files will be easily synced between smartphone, tablet, PC and cloud. If you already have an Office 365 account, you can use this account to connect to Office app on iPad.
How Much Does Office for iPad Cost?
iPad users can now download Office app from Apple's App Store. The reading and presentation feature of Office documents will be offered for free. To get the full editing and creation experience, you need an Office 365 subscription. Office 365 gives you always-up-to-date versions of Office across your PC, Mac and iPad, and much more. If you already have an Office 365 account, no need to pay again as it can be used on 5 PCs/Macs or tablets.
The Office 365 Premium is $9.99 a month and $99.99 a year. For prices of other versions of Office 365, go to Microsoft's Office 365 Subscriptions page.
Related Articles
comments powered by