Microsoft Confirms Spring Update for Windows 8.1

Feb. 25, 2014 11:24 pm / Posted by Jenefey Aaron to News
Follow @JenefeyAaron
The leaked screenshot of the latest build of Windows 8.1 Update 1 has been widely spread and hotly debated. And finally, Microsoft's Joe Belfiore, who is now responsible for phones, tablets, and PCs at the software maker, revealed the update is coming "this spring" and is largely focused at improving the experience for mouse and keyboard users, making the OS a lot more simple and easy to use.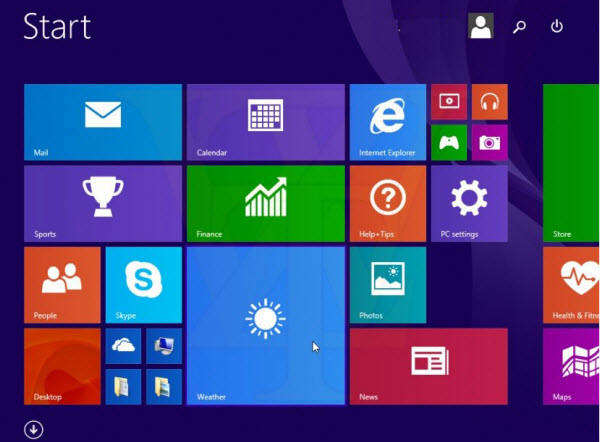 Let's have a closer look of all the changes and improvements that's been added to Windows 8.1 Update 1.
Start Screen
The start screen along with the power button has come back to Windows 8.1 Update 1. You can find them in the upper-right corner. Clicking on the power button gives you options to shut down or restart your PC, which is easier than it used to be. The Search button will bring up the pop-out search panel on the right.
In Windows 8.1, Microsoft used to hide the shutdown button in "PC Settings", which left novice users flummoxed. The new power button saves you the trouble of swiping in from the right side of the screen in order to shut down or restart your rig. This should shave some seconds off the process.
Windows Store & Metro Apps
According to sources, Windows 8.1 Update 1 enables its users to pin Metro apps on the task bar. You can thus select Metro apps from the desktop environment, better blurring the dichotomization between the traditional and the new in Windows 8.x. Reports also states that the Update 1 allows users to minimize and maximize the Metro apps.
The Windows Store will probably now be shown on the taskbar. Users who have a mouse can hover to the lower part of Metro apps to reveal the taskbar and switch between all apps.
Title Bar on Metro Apps
A title bar will appear across the top of all Metro-style apps, aiming to make it easier to use a mouse to minimize and close apps, as well as snap them side-by-side next to each other.
Belfiore also added that Microsoft was improving Windows 8.1 for enterprise customers, improving IE8 compatibility in Internet Explorer 11 and extending mobile device management tools.
Windows 8.1 Update 1 Release Time
Windows 8.1 Update 1 is set to launch sometime in April, and will be talked about at Microsoft's BUILD developer conference.
To have a fresh taste of the Windows 8.1 Update 1, we've searched torrent for download. However, no downloads available for the moment. Guess we should have some patience and wait for a few more weeks for the release of Windows 8.1 Update 1. You can check our Windows News and Tips for the latest information.
Related Articles
comments powered by