Line's Cheap Call Service Now Available for Android Users in 8 Countries

Apr. 7, 2014 9:31 am / Posted by Jennifer Carrington to News
Follow @Jennifer Carrington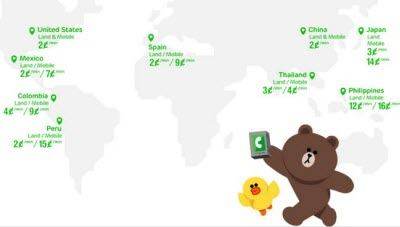 Recently Japan's Line has added a new feature, Line Call, to its App, allowing users to make phone calls from the Line mobile app to home or mobile numbers directly.
Line Call is currently live on Android devices in 8 countries: Columbia, Japan, Mexico, Peru, the Philippines, Spain, Thailand, and the US. Users from these regions could just download version 4.1.0 of Line to access the service.
Line Call Makes Voice and Video Calling Cheap
The free video and voice calling currently works between devices connected to the Internet. But the company is planning to change this and according to reports there are plans to introduce voice calls to general mobile phones as well as landline numbers at a much cheaper rate. Americans get one of the best deals: their calls start at 2 cents per minute using prepaid credit, and they can pay 70 cents per month for an hour's worth of talk time.
Tips
: If you can't find the number you want to call because you mistakenly delete important call history on Android device, you can use
Tenorshare Android Data Recovery
to restore lost Android contacts.
For the time being, this service doesn't support iOS device user. But you can count on it that in the near future, this will come to iPhone, iPad and iPod touch as well. This doesn't mean that you can't enjoy free call via iPhone. We've picked top 5 iPhone apps to make free calls for your consideration.
Line is not the only company that provides voice and video calling. It will face a bunch of competitors including Skype and WhatsApp which has been acquired by Facebook. WhatsApp has not yet come up with such service; however, leaked information revealed that it's working on voice calling which can be expected during the second quarter of 2014.
Related Articles
comments powered by