Phone 6 Rumored to Arrive on June 2014: What to Expect

Feb. 13, 2014 2:24 pm / Posted by Jenefey Aaron to News
Follow @JenefeyAaron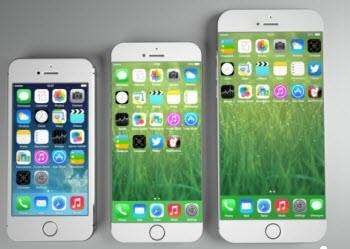 As iPhone 5S and iPhone 5C has been available for quite a while, many iPhone fans are now expecting for the next generation iPhone which might be called iPhone 6. Though Apple hasn't officially confirmed that they are working on the next generation iPhone, the rumors of iPhone 6 have been flying all around.
Federico Ciccarese, the Italian designer who has shown us his visions of a possible future iWatch or an iPhone Air in the past, got in touch again to share with us how he conceives of a bigger iPhone 6 with both 4.7-inch and 5.5-inch screens. Just take a look at the image below which shows the comparison of iPhone 5S and both size of the iPhone 6.
iPhone 6 Tech Specs
A8 Processor: Each year, Apple upgrades its processor to accommodate the new power hogging features that it will incorporate in the device. The iPhone 5S is equipped with A7 processor, and this time iPhone 6 will be upgraded to the A8 processor.
iOS 8: Another feature that gets an annual upgrade is iPhone's software. If rumors proved to be true that Apple will launch the next iPhone at the WWDC 2014 event in June, it is most probably that it will come with a new operating system, iOS 8 with new features and added capabilities.
Fingerprint Sensor: The TouchID Fingerprint Sensor appears first in the iPhone 5S. It is likely that this security feature will remain in iPhone 6 but padded with new features and capabilities. There were also rumors claiming that Apple will pack a futuristic eye scanner.
Camera: Apple equipped iPhone 5S camera with an 8-megapixel sensor, making each pixel gets more light. It upgraded the lens from an f/2.4 model to an f/2.2 model, increasing low-light performance again. It makes sense if Apple uses the same sensor for iPhone 6. In addition, rumors suggest that the iPhone 6 could also get a refocus-able lightfield camera. Reported by 9to5Mac, a patent has been granted to Apple for a lightfield camera, making it possible to refocus their shots after they've been taken.
iPhone 6 Screen Size: 4.7 Inch and 5.7 Inch
It seems that this time, Apple will make a big change in the size of the iPhone screen. According to leaked information from anonymous Foxconn executives, the iPhone 6 will ship in 4.7 inch and a phablet-sized 5.7 inch. This would be the first time that Apple has launched one mobile product in two sizes.
iPhone 6 Release Date
The iPhone 6 release date will be in 2014, although exactly when that will be in the year is still a little unclear. Rumor has it that the iPhone 6 release date will be June, 2014 which is also the month when WWDC will be held, only about 7 month after iPhone 5S went on sale.
We'll keep you updated with the latest news on iPhone 6 and other iPhone news in later posts.
Related Articles
comments powered by