iOS 7 Jailbreak is Available, But Do Not Jailbreak Now

Dec. 27, 2013 10:21 am / Posted by Jennifer Carrington to News
Follow @Jennifer Carrington
It's been just a few months since iOS 7's official release, and you the untethered Evasi0n jailbreak for iOS 7 is available for every iDevice running iOS 7.0 to 7.0.4, including the iPhone 5, iPhone 5S, and the latest iPad Air and iPad Mini 2.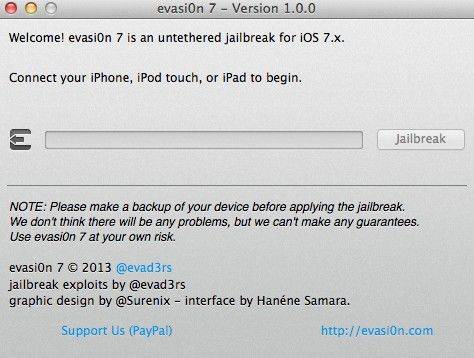 Why not Jailbreak Now?
The Evasi0n team unexpectedly released its iOS 7 jailbreak over the weekend, and then some users complain that the unannounced inclusion of a Chinese app store that apparently contained pirated iOS apps. Due to malware and other possible issues, we recommend you do not install the Evasi0n jailbreak for the moment.
Evad3rs, the hack team who released iOS 7 jailbreak at evasi0n.com, warned that "Please always backup your phone before installing new tweaks from Cydia as your iPhone could be stuck in the boot process". They also said that "The situation will improve as developers will update their software."
On Twitter and Reddit rumor has it that evad3r has a commercial partnership with the Chinese app store Taig. As part of the agreement, Taig comes bundled with the evasi0n7 jailbreak software for people who download it in China, just like Cydia is bundled with the jailbreak elsewhere in the world.
About iOS Jailbreak
iOS jailbreaking removes the limitations on Apple devices running iOS by using software and hardware exploits. You can jailbreak iPhone, iPod touch, iPad, and second-generation Apple TV. Jailbreaking permits root access to the iOS operating system, allowing you to download additional applications, extensions, and themes that are unavailable through Apple's App Store. Unlike rooting an Android device, jailbreaking is necessary if you want to run software not authorized by Apple.
Jailbreaking an iPhone or iPad is not illegal, but Apple has warned that the practice "can violate the warranty". If you insist on performing an iOS 7 jailbreak, you can head to the official website of Evasi0n http://www.evasi0n.com/ to download evasi0n app to your computer running Mac, Windows, or Linux. If your device is running iOS 6, the jailbreak has long been available and proved to be safe. Check How to Jailbreak iOS 6 iPhone, iPad and iPod for details.
Just download this free utility, Tenorshare ReiBoot or Tenorshare ReiBoot (Mac) to your computer running Windows or Mac. Then connect your iPhone, iPad or iPod that is in reboot loop with your computer. Double click the icon of this free utility to launch it.
Should you had troubles jailbreaking your iPhone, iPad or iPod touch, and your devices stuck on Apple logo, fell into endless reboot loop, etc., you can reboot your iDevice with a free utility Tenorshare ReiBoot or Tenorshare ReiBoot (Mac) to bring your device back to normal.
Related Articles
comments powered by