Apple WWDC 2017: iOS 11, iMac Pro, New iPad Pod, HomePod and More

June 7, 2017 5:20 pm / Posted by Jenefey Aaron to News
Follow @JenefeyAaron
Apple finally held its WWDC 2017 n San Jose CA, June 5. It announced iOS 11, tvOS 11, watchOS 4, and macOS High Sierra 10.13, new iPad Pro tablets, iMac Pro, the HomePod smart speaker and refreshed the MacBook, iMac line. Now let's take a look at the details about what we get from Apple WWDC 2017 Event.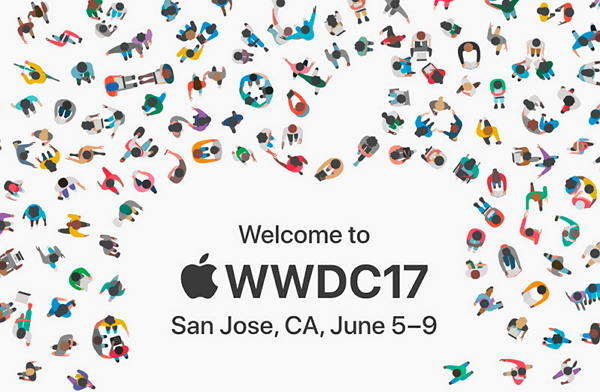 iOS 11: Improved Siri, Message, New Control Centre, Do Not Disturb While Driving, Etc.
iOS 11, the next major update to iPhones and iPads, comes with new features and better iPad productivity. Below are some important updates of iOS 11.
Improved Siri: Siri now is getting more smarter that will give suggestions based on personal usage of Safari, News, Mail, Messages and more. Additionally, Siri will now be able to perform translations from English to Chinese, French, German, Italian, or Spanish.
Redesigned Control Centre: Apple has completely redesigned Control Centre and will now be just one page. On the control centre, users can swipe up to access frequent and important settings or change songs when listening to music. There is also a new one-handed mode for use on the larger screen sizes.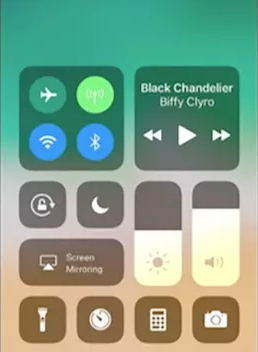 Dock, Drag-and-drop Feature and Files App for iPad: iOS 11 includes a huge number of features that are sure to please iPad owners. Dock on the iPad offers access to frequently used apps and documents. The new drag-and-drop feature lets you quickly drag images, text, links, and more from one app to another, or between documents.
The new Files app lets you access all of your files, regardless of whether they're stored locally, in iCloud Drive, or in other cloud services like Dropbox or Google Drive.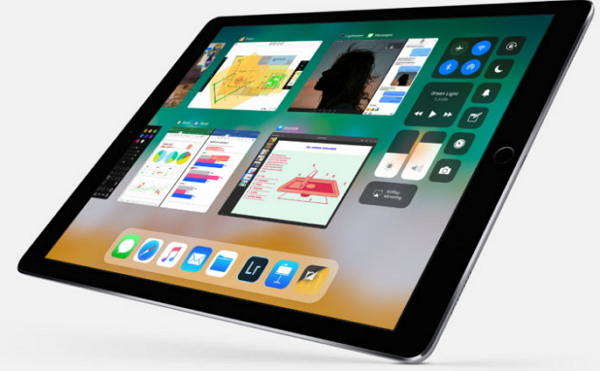 New Message Features: Apple has redesigned the App Drawer feature on the Messages app, thus you can share content through the Messages app easily. And now the Messages app will sync across multiple device, which enables you delete from any device you own that are under the same account. You can also pay and receive payments from contacts through iMessage.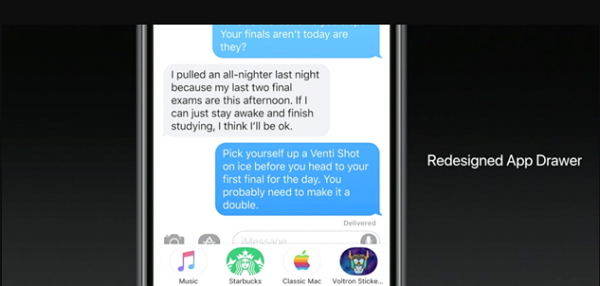 Camera and Photos: The Camera app now supports high-efficiency video coding (HEVC). Live Photos are editable so you can trim the video loops. Photos app introduces High Efficiency Image File Format (HEIF), which reduces the file size of every photo taken with the iPhone 7/7 Plus without compromising the quality.
Do Not Disturb While Driving: This feature helps drivers stay focused on the road by automatically silencing notifications. And you can send auto-replies to your contacts in your Favorites so that they know you are driving.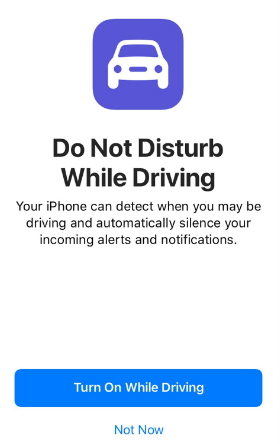 watchOS 4: New Watchfaces, fitness and Music Enhancements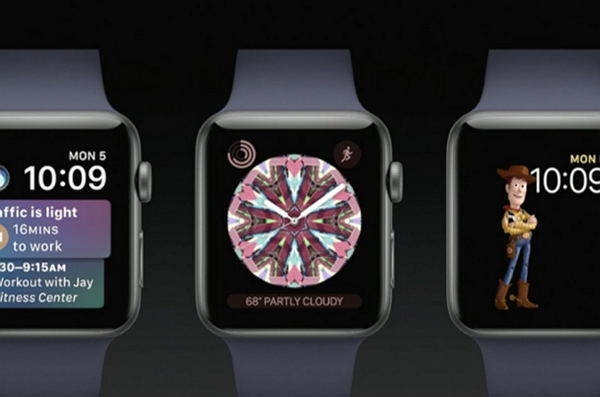 watchOS 4, the next version of its smartwatch platform, will be arriving later this fall. There are 3 major features you need to know.
New Watchfaces: watchOS 4 features a couple of new watch faces that display different types of informations, such as Siri reminders or more visual ones that feature Toy Story characters a la Mickey Mouse.
Updated Fitness Tracking:  The new update includes monthly challenges to encourage the wearer to get more active and NFC-enabled data sharing where the user can tap their Apple Watch on gym equipment to pair the two, sharing the most accurate calorie burn and activity information.
Improved Music Management: The Watch will automatically import Apple Music playlists and can support multiple playlists. Apple has also redesigned the dock with a vertical interface for scrolling through recent apps.
macOS High Sierra: Faster Safari and New File System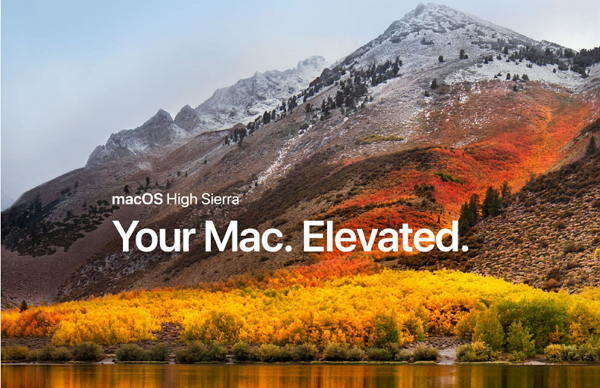 Safari's JavaScript performance will be 80 percent faster than Chrome's. Safari also now blocks auto-playing videos and will use machine learning to identify trackers and segregate the cross-site trackers so advertisers won't be able to easily track you across sites.
Apple's File System will replace the Hierarchical File System, bringing its superior performance and robustness to the desktop Mac. And Apple will move H.264 to the H.265 video standard.
MacOS High Sierra would run on every Mac that is able to run macOS High Sierra, macOS Sierra, and it'll be out this fall, when mac updates usually arrive.
Apple Homepod Speaker: The Smartest Speaker Yet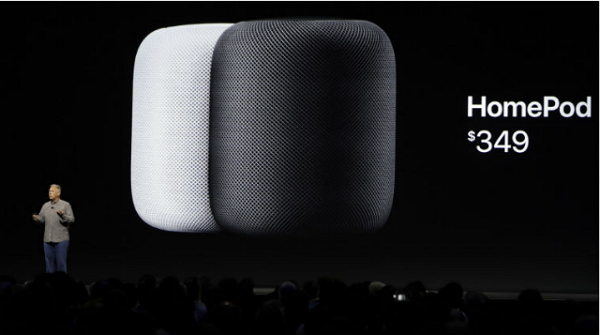 Apple launched a smart home speaker - HomePod to compete with the Amazon Echo and Google Home. It is the first brand-new hardware product for Apple since the Apple Watch.
HomePod is a Siri-powered smart speaker that allows you to play music, check the traffic, control you smart lights, query sports scores and more. It's under 7-inches tall, has a seven array beamed-formed tweeter array, 6 microphones and a 4-inch woofer, all controlled with an Apple A8 chip.
With it, you can access to Apple Music subscription and listen to 40 million tracks from the cloud, using existing playlists. And it also integrates with Apple HomeKit, meaning it can be used to control WiFi-connected home appliances such as lightbulbs, thermostats and coffee machines.
HomePod will be shipped in December for $349.
10.5-inch iPad Pro: Thinner, Brighter and Faster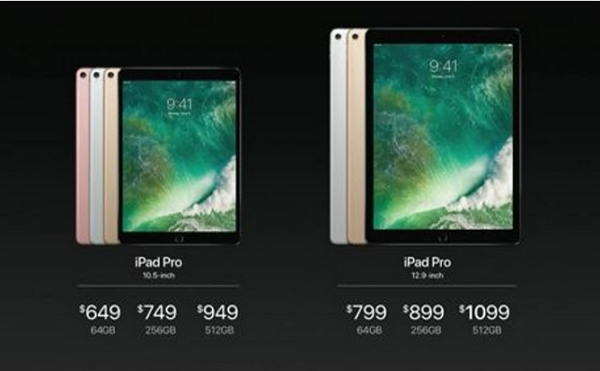 Apple introduce its new 10.5-inch iPad Pro in at just one pound. Coming with a new six-core A10x CPU, it has 30 percent faster processing power than the A9x. Equipped with True Tone display, the new iPad is 50 percent brighter than earlier models. Battery life will still be around 10 hours, and keep the same 12 megapixel rear camera along with a 7-megapixel front-facing camera.
The new 10.5-inch iPad Pro starts at $649 with 64GB of memory, or $779 for a 64GB cellular version. The 12.9-inch version starts at $799 for 64GB of storage and Wi-Fi, or $929 for 64GB of storage with cellular connectivity.
iMac Pro: The Most Powerful Mac Ever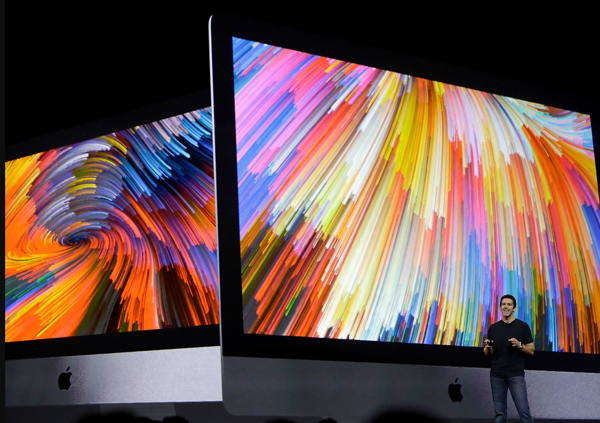 Apple announced a brand-new tier of its all-in-one desktop called the iMac Pro with an 8-core Xeon processor, with configurations that scale up to an 18-core Xeon processor, 5K display, and an all-new AMD Radeon Vega GPU with 11 teraflops of single precision and 22 teraflops of half precision compute power.
It'll have 128GB ECC memory for the most extreme workflows and 4TB of 3Gbps SSD internal storage, which is enough space for most pro users and have four Thunderbolt 3.0 ports and a 10GB ethernet port.
iMac Pro will  start at $4,999 (about £3,870, AU$6,680) and will be available in December
New iMacs and MacBook Air/MacBook Pro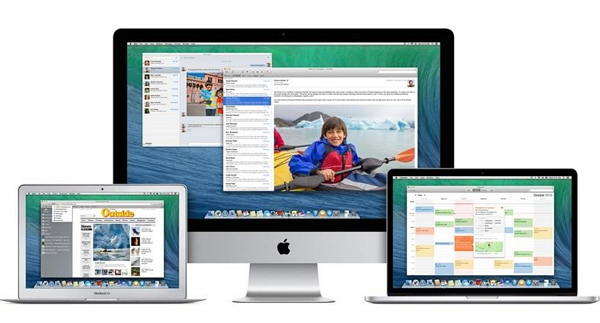 Besides iMac Pro, Apple also updates its iMac line and entire MacBook line at WWDC. The new iMac is packed with Retina display, seventh-generation Intel Core i5 and i7 processors, the latest graphics technologies, innovative storage, 32GB RAM on 21.5in iMac/64GB RAM on the 27in iMac, and higher-bandwidth connectivity.
Apple updates entire MacBook and MacBook Pro lineup with seventh generation Intel Kaby Lake processors. The 12-inch MacBook now supports up to 1.4 GHz Core i7 processor with Turbo Boost up to 3.6 GHz, and can be purchased with up to 16GB of RAM.
The 13-inch MacBook Pro features Kaby Lake processors up to 3.5 GHz Core i7 with Turbo Boost up to 4.0 GHz, and the 15-inch MacBook Pro goes up to 3.1 GHz Core i7 with Turbo Boost up to 4.1 GHz. And the 13-inch MacBook Air now starts with a 1.8 GHz processor.
The 21.5-inch iMac will start at $1,099 and the 4K 21.5-inch model at $1,299. The 13-inch MacBook Pro starts at $1,299 (a $200 drop) without Touch Bar and $1,799 with Touch Bar. The 15-inch with Touch Bar will cost $2,399.
That's all we can get from Apple WWDC 2017. If you are interested in Apple's news and iPhone tips, get more information from here.
Related Articles
comments powered by