Apple Watch Features, Release Date and Price: Everything You need to Know

Mar. 09, 2015 03:21 pm / Posted by Jennifer Carrington to News
Follow @Jennifer Carrington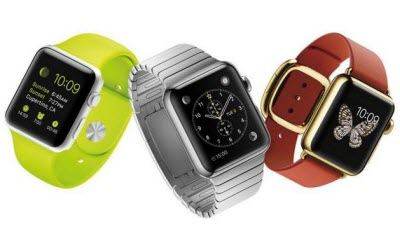 Back in September, Apple officially unveiled its smartwatch line, simply called Apple Watch. Well, that date has finally arrived and now Apple has filled in some of the blanks at its March 9 media event in San Francisco.
What does Apple Watch do?
Here are 5 things the Apple Watch can do.
You can send and receive messages by dictating them or selecting from preset options.
Using Apple's personal assistant Siri to dictate messages to friends, get turn-by-turn directions or perform local searches, like for movie times.
Apple says the watch can help you lead healthier lives, by letting them set goals within apps or tracking their physical activity using built-in sensors.
Apple watch supports Apple Pay, and will then be able to buy items by double clicking the button under the crown and waving their wrist in front of special in-store readers.
The watch uses "taptic engine" for alerts and app notifications. There's a range of on-board apps like calendar, Maps, photos, and music. The WatchKit tools will let developers build more apps for the device.
What can't Apple Watch do?
Here are 3 things the Apple Watch doesn't have:
There is no keyboard. To send messages, they must be dictated into the microphone or selected from pre-set responses.
The Watch can display favorite photos from a Mac or iPhone, but it doesn't have its own built in camera.
No Built-in GPS and Wi-Fi.
Battery Life
Apple CEO Tim Cook promised 18 hours of a typical day, and can be charged wirelessly. The current target is reportedly 2.5 hours of "heavy" use or 3.5 hours of "standard" use.
Required Hardware
You will require an iPhone to use the Apple Watch, and Apple has confirmed the device will work with the newly-introduced iPhone 6 and iPhone 6+, as well as the iPhone 5s and iPhone 5c.
Release Date
It'll be available in nine countries on Friday, April 24 with pre-orders beginning on April 10. It'll come to the US, UK, Australia, Canada, China, France, Germany, Hong Kong and Japan, with more countries coming at a later date.
Pricing
Pricing is a little more complex than Apple's iPhones or iPads, with pricing for the three collections - Apple Watch, Apple Watch Sport, and the gold Apple Watch Edition - all including various tiers depending on strap and case size combinations. Look at the entire lineup, all three collections range from the starting price of $349 for the Sport model to as much as $17,000 for the 18k gold Apple Watch Edition model.
38mm
42mm
Apple Watch Sport
$349
$399
Apple Watch
Sport band
$549
$599
Classic Buckle
$649
$699
Milanese Loop
$649
$699
Modern Buckle
$749
/
Leather Loop
/
$699
Stainless steel link bracelet
$949
$999
Space Black stainless steel link
$1049
$1099
Apple Watch Edition
18k rose gold w/ black white band
$10,000
$12,000
18k yellow gold w/ black sport band
$10,000
$12,000
18k rose gold w/ rose gray modern buckle
$17,000
/
18k yellow gold w/ black classic buckle
/
$15,000
18k yellow gold w/ bright red modern buckle
$17,000
/
18k yellow gold w/ midnight blue classic buckle
$15,000
/
Related Articles
comments powered by