Apple Releases iOS 7.1.1: Improves Touch ID, Fixes Bugs

Apr. 29, 2014 10:21 am / Posted by Jennifer Carrington to News
Follow @Jennifer Carrington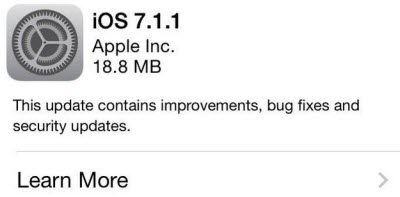 Apple has released a new update, iOS 7.1.1, to iOS 7 on Tuesday, a minor update with improvements, bug fixes and security updates. The most significant improvement is one that beefs up Touch ID performance. iOS users could now download and install the latest iOS update provided their device is iOS 7 supported.
iOS 7.1.1 Update: Supported Devices
According to Apple's support team, the iOS 7.1.1 update contains:
1. Further improvements to Touch ID fingerprint recognition.
2. Fixes a bug that could impact keyboard responsiveness.
3. Fixes an issue when using Bluetooth keyboards with VoiceOver enabled.
The newly released update is available on the following devices:
iPhone 4 or later.
iPad 2 or later.
iPad mini or later.
iPod touch (5th generation).
iOS 7.1.1 Improves Touch ID
As the iOS 7.1.1 update focuses on finger print recognition, the update is meant to sort out issues with inaccurate or "faded" sensors, the same goal Apple dealt with its iOS 7.1 release. This might bring better recognition of fingerprints registered with your iPhone 5s device. Some users had cited a gradual worsening of the Touch ID sensor's ability to recognize existing fingerprints, so hopefully this clears that up for those who were having trouble.
It's rumored that the next major iOS update might be iOS 8. And it will first appear on iPhone 6 at Apple's annual Worldwide Developers Conference (WWDC) which will kick off on June 2.
Related Articles
comments powered by