Android 4.4 KitKat Release Date and Features

Oct. 17, 2013 9:34 am / Posted by Jennifer Carrington to News
Follow @Jennifer Carrington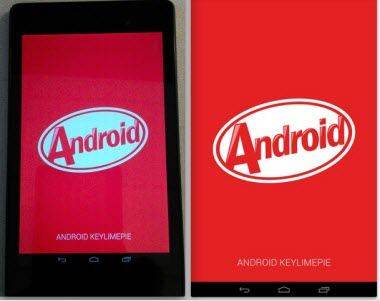 "Hi Tim, Android 4.4 KIT KAT is available in October". This is a translated answer on Nestle Germany's Facebook, which seemed to confirm an October launch for Android 4.4. Well, Google didn't say much about the launch date, though rumors suggest that the release data is likely to be October 28.
Along with many leaked photos of Android 4.4, it seems that the next version of Google's platform is coming soon. As Android 4.3 only has some minor updates, many Android users expect the Nestle-inspired build should prove to be a large update. What features could this update bring us?
Android 4.4 Features
Photos unveiled by tech blog GadgetHelpLine showed us that Android 4.4 is likely to carry with new features like wireless display support, cellular phone plan settings, and new printing and payment options. The list below details what new features could be included in KitKat.
1. Folders and Widgets
According to findings of an Android forum, folders are no longer limited to 16 shortcuts and will simply scroll if there are more. Widget placement moves out from the app drawer and back to the more traditional long-press method on the home screen. What's more, users might also notice that the stock Android 4.4 experience allows for more than five home screen panels.
2. Camera and Photos
Adjustments could be seen in the stock camera experience as well. It's said that users will be able to have options to apply filters, borders, and effects. Well, if users have already uploaded the image to the cloud, Google+ already allows for photo editing and manipulation.
Note:
If you deleted photos on your Android device mistakenly, use
Tenorshare Android Data Recovery
to get them back. What about text messages, contacts and videos? You can also use this software to recover them if you deleted or lost them.
3. Re-designed Setting Menu
The coming Android 4.4 KitKat could sport a re-designed settings menu complete with a print function, plus new photo editing tools in the gallery.
The native printing could allow for options such as paper size, number of copies, orientation, and choosing between color or black and white. It sounds that Google might simply add Cloud Print to KitKat at an OS level instead of counting on its standalone application.
4. Google Experience
Transparent navigation and status bars in Google Experience. Google Search/Now integrated within Google Experience. Leftmost home screen reserved for Google Search/Now. Google Search/Now has a "one-touch button to set a reminder." Google Search's voice input prompt is "kind of transparent on the bottom and floats instead of occupying the whole screen."
Follow Google's release history, it's anticipated that the most recent Nexus 4, Nexus 7 2013, and Nexus 10 devices, as well the previous generation Galaxy Nexus and Nexus 7 2012 would pick up the release first, maybe a few weeks after the launch.
Related Articles
comments powered by