Android 4.4 KitKat Arrives on Nexus 5: Simpler and More Integrated OS for Everyone

Oct. 31, 2013 1:39 pm / Posted by Jennifer Carrington to News
Follow @Jennifer Carrington
With the reveal of Google's Nexus 5 today, KitKat is at the cutting edge of break time innovation. It provides an extremely versatile, multisensory user experience with features such as finger into Face-Time and edge-to-edge chocolate coverage.
Android 4.4 is designed to run fast, smooth, and on much more devices — including on millions of entry-level devices world-round that have as little as 512MB RAM. What new features it will provide? Just read on.
1. New Features of Android 4.4 KitKat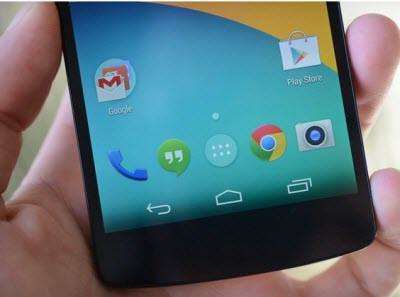 Simpler Interface and UI: Much of the interface has been streamlined. On the lock screen, you will find a camera shortcut and more immersive "now playing" content. You'll also have an option to rearrange home screens. The navigation interface disappears when you're inside of supporting apps, giving back real estate on devices without hardware keys. The dialer and Hangouts make it easy to search for nearby addresses. Fond of self-expression? You must be glad to hear that emoji icons are available in the keyboard.
New NFC-based Transactions: Google says that Android 4.4 can let any app act like an NFC smart card, which means that you don't need to have a phone with a secure element to tap-to-pay with Google Wallet or at your local Starbucks. There's built-in support for step detector and step counter sensors, so your phone can act as a pedometer without requiring apps developers to build fancy algorithms in order to detect when you're taking a step.
Google Now and Speech Recognition: With improve Google Now and speech recognition, you can wake up your phone, start a search, take a photo and so on just by saying "OK Google" (only for Nexus 5 for the moment). Google Now will also find a place on your home screen if you like. For example, a simple search for a restaurant will offer a link directly to that restaurant page in the OpenTable app if you have it installed, allowing you to set up a reservation.
Hangouts: KitKat will have the latest version of Hangouts, which supports for SMS, animated GIFs and location sharing. And this time Hangouts can be your go-to app for all of your instant messages, video calls and text messages.
New features of Android 4.4 KitKat also include some minor ones like GPU acceleration, ongoing performance improvements, screen recording, which we'll not detail in this post.
2. What Devices Can be Updated to KitKat
For the moment, all search tweaks are bundled into the newly released Nexus 5. Surely it will soon be available on other devices, as Motorola confirms Android 4.4 for DROID Mini, Ultra, Maxx and Moto X. HTC promises Android 4.4 update will be available in 90 days. Google said Android 4.4 KitKat will come to the Nexus 4, Nexus 7, Nexus 10 tablets, and the Samsung Galaxy S4 in the coming weeks.
There's much more KitKat features waiting for you to be found. Just grab your phone and wait a few more days to start your journey with Android 4.4. Besides, you can have the Android Data Recovery tool to recover contacts, text messages, videos and more on your Android phone in case of data loss.
Related Articles
comments powered by