How to Use Dark Mode on Mac OS
by Jenefey Aaron Updated on 2019-07-25 / Update for Mac OS
Mac dark mode is one of the most talked about features that Apple has provided. The Mac users are overwhelmed with this feature for its convenience to make use of their PC at night. Although it offers limited functionality, it has made pretty easy for the users to view the screen at night without any complications. In this article, we have brought everything you should know about Mac OS dark mode. We will share you the ways on how you can use this mode and make the Mac interface look changed at night. Let us get started without much talking.
Why Dark Mode Is Necessary?
To make you more aware, we would like to put a light on why using OS X dark mode is suggested. Well! Studies have suggested that blue light exposure at night is harmful since it can lead to disrupted circadian rhythms. As a result, you may get a hard time in sleeping. Besides this, the consequences also include extreme eyestrain, tiredness and stress.
Giving a thought on this, the technology has introduced dark mode system. You can now apply MacOS dark mode to do away with this sort of strain. This mode will help you work at evening and night without providing much strain to your eyes.
2 Ways to Turn on MacOS Dark Mode
Way1: Turn on Night Shift on a Mac
The Night Shift feature was introduced by Apple in macOS Sierra. It helps in the adjustment of display color post sunset. By reducing the blue light amount and spreading the yellow tone on the screen, it makes the screen bearable to work with at night. Here is how to turn on OS X dark theme with this way.
First of all, go to "System Preferences" and click on "Displays" option.
From the three tabs given on the next screen, choose "Night Shift".
Now, from the "Schedule" option, either choose "Sunrise to Sunset" or "Custom".
Also, you are enabled to modify the color temperature according to your preferences.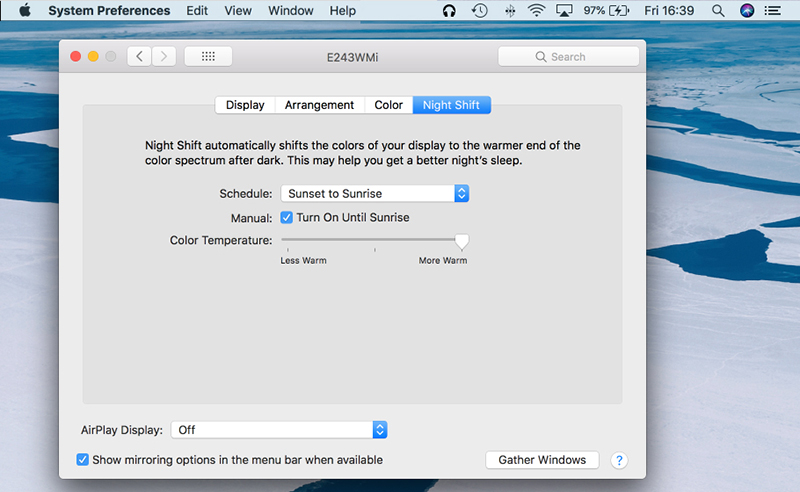 Way2: Turn on Dark Menu Bar and Dock
You can also use this way to set OS X dark theme. Here are the steps for this way.
Begin with clicking on the Apple icon followed by "System Preferences"
Then click on "General".
Next, check the tiny box just next to "Use dark menu bar and Dock"
If you want to disable the mode, ust uncheck the box.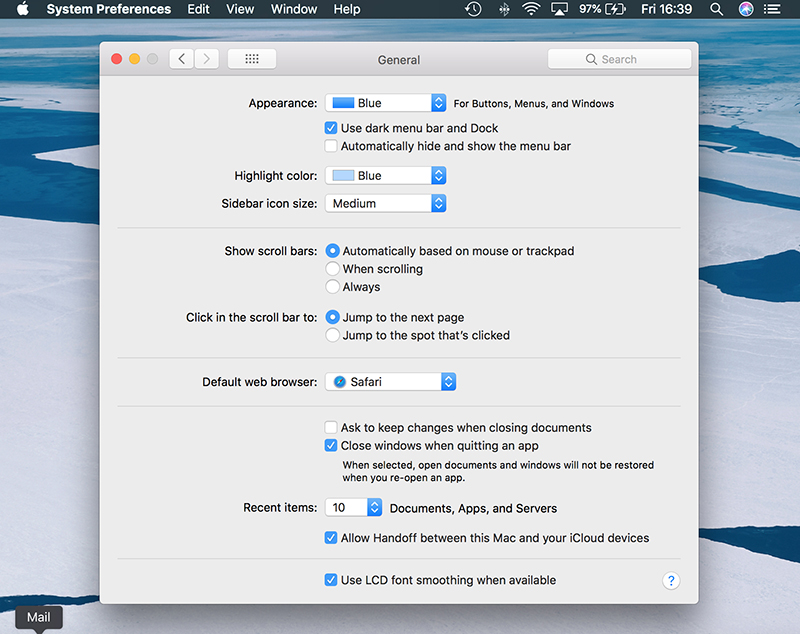 You could notice after enabling the option that you screen will go yellow and the menu bar at the top and dock at the bottom (as what the option says) will turn dark.
Rumors about Mac Mojave
Dark Mode in MacOS Mojave
With the release of MacOS Mojave, Dark Mode feature is going to take the center stage. The people who experience strain in their eyes while working at night will get great assistance with the feature. Their eyes will no longer be in problem. Apple has made sure that Dark mode will enable the Mac users to make adjustments to the color of the menu bar and the dock. With the help of this feature, the bright screen tone will be reduced to the yellow tone and the menu bar and dock will become darker thereby relieving users to carry on the work at night.
Dynamic Desktop on Mojave
In Mojave, the users are also getting the feature named as Dynamic Desktop. With the help of this feature, the wallpaper on the screen gets adjusted throughout the day. For instance, when the sun begins to set, the screen starts getting darker.
How to Get Mojave Dark Mode
To enjoy the Mojave Mac dark mode, you can follow the steps given below.
Firstly click the Apple icon and go to "System Preferences"
Now, click on the "Accessibility" option.
Next, you have to go to "Display" option.
Select "Invert Colours" and the white background of your screen will turn black whereas the black things will go white.
Also, you can similarly pick out the "Use grayscale" option and the screen of your computer will be altered to black and white.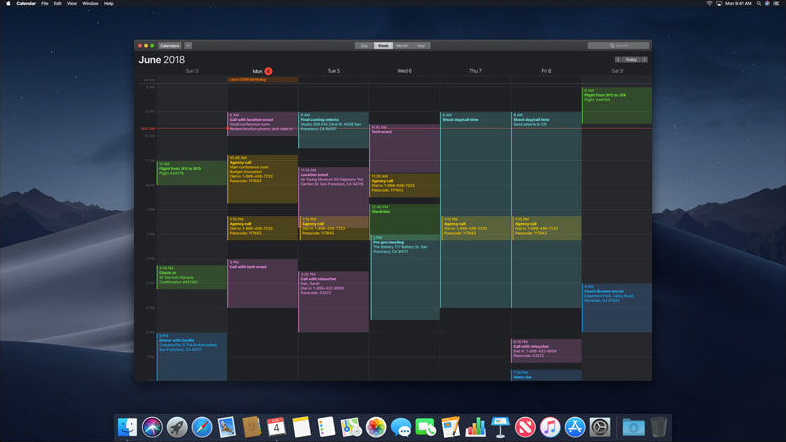 Recommend:Tenorshare iCareFone
If you wish to manage your data in simplest way, we would recommend you to use Tenorshare iCareFone. It is the most secured and simpler tool offering easiest interface than ever. With the help of iCareFone, you can transfer your data between iOS device and PC flexibly. More than this, it can assist you in creating backup of your device and restore it anytime you wish. Also, you can fix minor iOS issues to via this tool. You can use it on Windows and Mac without any trouble.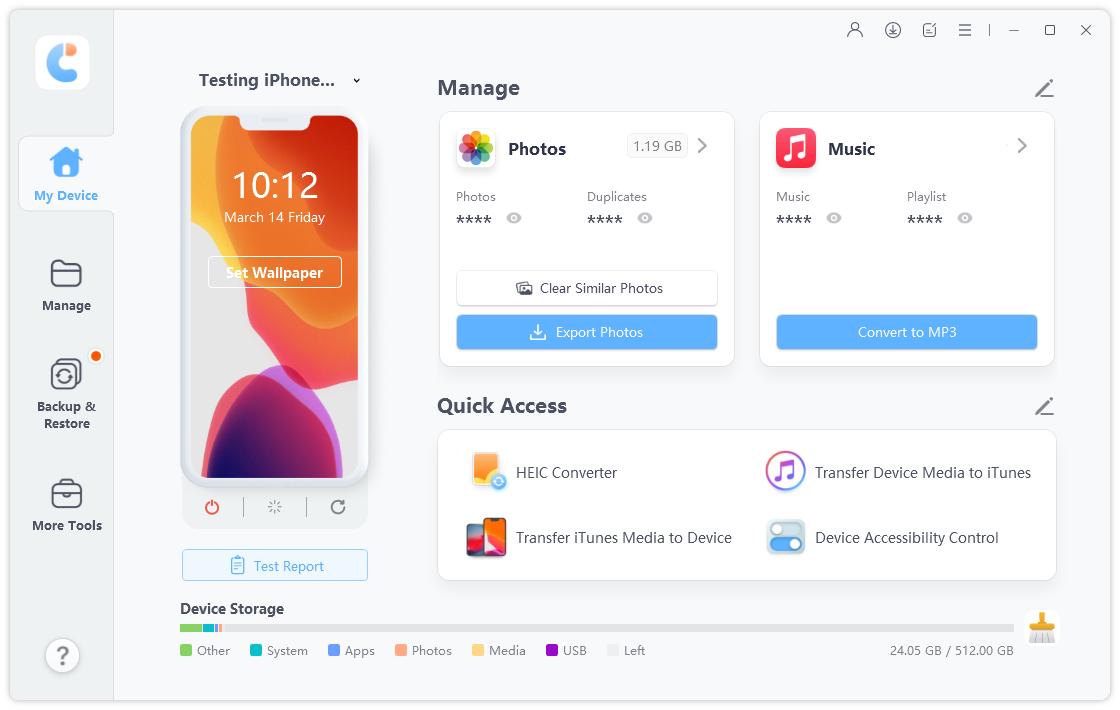 Conclusion
So that was about using the MacOS dark mode with their respective step by step tutorial. We hope that you no longer have to worry about your eyes while working during the evening or at night. Moreover, you also need not to worry about the iOS errors that might crop up on your Mac, just in case something went wrong. With Tenorshare's iCareFone you can efficiently and effortlessly rule out any sort of iOS issues. Thank you for reading article and bid your eyes farewell!