Fix MacBook Pro Black Screen? Here's Why and How
by Sophie Green Updated on 2021-05-26 / Update for Mac OS
It is rare for MacBook to have a Black screen like in Windows OS. You might have heard of the phrase called "Black screen death," which is familiar with Windows OS. If the Black screen is encountered in MacBook, your system becomes wholly irresponsible and freezes your entire task, which you were doing. In this comprehensive tutorial, we walk you through the possibilities of how to fix the MacBook pro black screen. Read on to find out details.
Part 1. Why Is My MacBook Screen Black
When your MacBook becomes unresponsive, you might wonder why my MacBook screen is black. This kind of hardware or software failure is unpredictable. Possible reasons for your MacBook going black are listed below:
1. Issue with Display
You might encounter a display issue while powering up your system. You hear little hiss noise that the system is up, but actually, the screen is not functioning. This might be a hardware issue in most cases.
2. Battery Drainage
You need to have a battery in your MacBook to juice the system. Sudden drainage of battery to 0% might also cause the MacBook Pro black screen.
3. Glitches Encountered in Applications
Sometime you might run into installing system software which has glitches on them. As you open that application in your system, you might face the sudden death of the screen to black.
4. The Unexpected Waking System from Sleep
Immediate wake from sleep is the most cases that cause black screen in your MacBook. Make sure you check every possible fault in the order while purchasing them so that you don't have to encounter such issues.
5. Power Outrage
While you are browsing in your MacBook with the charger on, you might get into a condition where electricity frequently goes ON and OFF. This power outage may cause a problem in hardware and create a black screen.
6. Broken Disk and OS Incompatibility
Part 2. How to Fix MacBook Pro Black Screen
With the black screen, your whole display screen goes black, and it becomes unresponsive to any keys pressed, even the power button. Here are fixes for you if you encounter unpredictable issues like the black screen in your MacBook.
Here are fixes for you if you encounter unpredictable issues like the black screen in your MacBook.
Solution 1. Simple Check - Adjust Screen Brightness
You never know if you have set the brightness of your screen all the way down and panic for the black screen. Make sure you have enough light in your MacBook and try other solutions mentioned below.
Solution 2. Troubleshooting the Power-Related Issues
Make sure you have checked all power-related settings in Energy Saver. 
Solution 3. Disconnect All External Devices
If you have any external USB, mouse, or pen drive connected your MacBook, disconnect them from the system. The black screen may be the issue due to the external device being incompatible with your order.
Solution 4. Force Restart MacBook If Still Black Screen
In order to force restart, press the power button and hold it for a couple of seconds until you hear his sound. This trick might also help you recover from the black screen.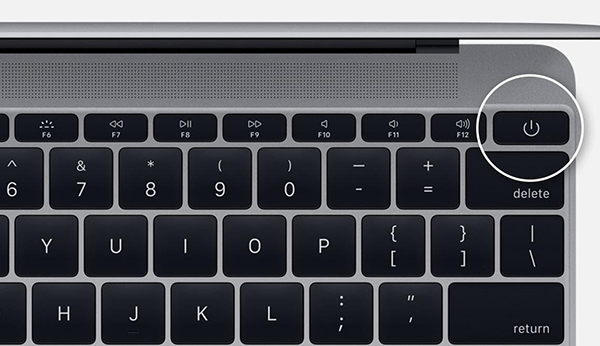 Solution 5. Resetting the PRAM/ NVRAM
The black screen might be the problem with PRAM or NVRAM. It is always better to check this solution when you run out on the black screen. Just press option + Command + P + R keys at once

Solution 6. Modify Your Mac's SMC Settings
You have already tried powering-off your MacBook and resetting NVRAM, which did not work restoring your black system screen. Try modifying Mac's SMC setting. Steps include:
Shutdown MacBook completely
Power MacBook with charger
And press and hold Ctrl + shift + option key at once
Release them all at once
Restart your MacBook again
Solution 7. Force Quit All Applications
To force quit all your running application, please follow the below steps.
Press Option + Cmd + Esc key all at once
On the screen, you will find a list running application.

Click on the app and hit force quit option.
Solution 8. The Final Solution for MacBook Black Screen- Reinstall The macOS
If any of these solutions did not work, the last option is to reinstall the macOS. You can either install it from Apple or install it from partition in your hard drive.
Extra Bonus: How to Restore Lost Data after Fixing MacBook Black Screen 
Here is a guide for data recovery after MacBook Black Screen. You might encounter data loss due to various catastrophes. You can recover lost data on Mac with the help of Tenorshare 4DDiG for Mac Data Recovery.
On the home interface, tick the location where the lost files were saved, for example, the Documents. If you have no idea, check "The Whole Computer" which will scan the whole system for you.

Next, click the "Scan" button on the bottom right corner. Wait for a while, it will list all deleted files in the location you choose.

As soon you are redirected to the next screen you will encounter "Recover" option. Hit the recover screen and wait till it is completed.
You may also want to know How to Fix Grey Screen On Mac in 6 Ways Easily?
Conclusion
The black screen is caused by system hardware itself or sometimes its problem with the software in your MacBook. You need to be aware of such unpredictable matters.Above mentioned solutions are highly likable to solve the issue related to the Black screen in MacBook. And in the end of the article, we also recommend you Tenorshare 4DDiG for Mac Data Recovery, you may need it if you lost something during fixing the black screen issue. If you have other questions that related to mac, you can refer to this article: Top 26 MacOS Catalina Update Problems. Hope it will resolve your problem.