3 Ways on How to Defrag a Mac to You
by Sophie Green Updated on 2020-03-13 / Update for Mac OS
You may ask "Why is my mac running so slow with the spinning ball, the low speed?" Your Mac doesn't work as well as before. But if you have ever used PC, you definitely heard about how to defragment a windows, because Windows supports its users' to run more fast. When Apple users confront with the performance optimization, they prompt the question — Is there any chance to defrag Mac? Does this practice perform effectively on Mac?
As with technologies emerging at present, the next article will show the answers for you.
Part 1: What Is Disk Defragmenter Mac
Disk Defragmentation is the process of collecting "fragments", which are written to different sectors of the hard disk. The large files on hard disk have been rearranged side by side. Seeing hard disk as a round circle. Every file on your hard disk only takes up half, and then the circle leaves another half to release more space. Defrag mac hard drive is like a cleaner.
As for Disk Defragmenter Mac, Mac runs with APFS (Apple File System) like HFS+ (Hierarchical File System). That means macOS writes small files in one batch to prevent fragmentation of disk storage. This is more difficult to defrag MacBook Pro.
Part 2: Do You Need to Defrag Mac Hard Drive
According to Apple, for the various versions of Mac, OS X later than 10.2 does not need to be defragmented. Besides, Mac Mojave or more modern Mac Catalina have their own built-in mechanisms to prevent files from fragmentation. Thus, there is no need for users to defrag a mac.
Only in such circumstances your Mac need to defrag:
The old Mac with old HD.
Requiring working efficiently.
Running a large volume of software like Photoshop, DW.
Facts you should know before defragging Mac:
Hard Disk requires defragging, but SSD does not need.
If your Mac runs with the version of High Sierra or later, none of third-party works them.
Hard Disks are the fastest at the beginning and the lowest at the end.
Part 3: Will Defrag Mac Harm Hard Drive
Although defrag mac hard drive is such extreme dangerous process, it will not harm your Hard Disk or your mac. It is advisable to search for more information to see how to defragment a mac. Only if you understand how the process is going on and perform properly, the process will become a safe process.
Part 4: How to Defragment a Mac - 3 Ways
In an effort to run your mac at peak performance. Here are two tips that you should remember:
The data on Mac are kept on the first 50% of the hard drive to make sure your defragmentation process running on the track takes more less time to reach them.
Using an external mobile hard disk to back up all important data first in case of data loss.
Right now, there is some third-party software that supports to defrag MacBook pro:
iDefrag
The latest versions of iDefrag is 5.3.1. This tool is compatible with Mac OS X10.10 or later, that means it supports the newest HFS+. The iDefrag is the most popular advanced app. Download free with a period of trial. After that, it is no free.
How to Use iDefrag:
Download the App, then drag it into Applications.

Launch the App, draw the license file into window.

Click the lock icon, require password of macOS, then tap "OK".
iDefrag will check up hard disk automatically. After a while, hit the first drop-down menu.

Select features depending on your needs, and go to click "Play" button. The procedure will take a couple of minutes.
Drive Genius 5
The Mac protection software Drive Genius 5 with powerful 18 features totally guarantee your mac. It has "Defragment" feature to speed up your Hard Disk. But only support macOS 10.11-10.14.6(10.15 is not supported) with large limitation. The Standard version is $79 while the Professional version is $299.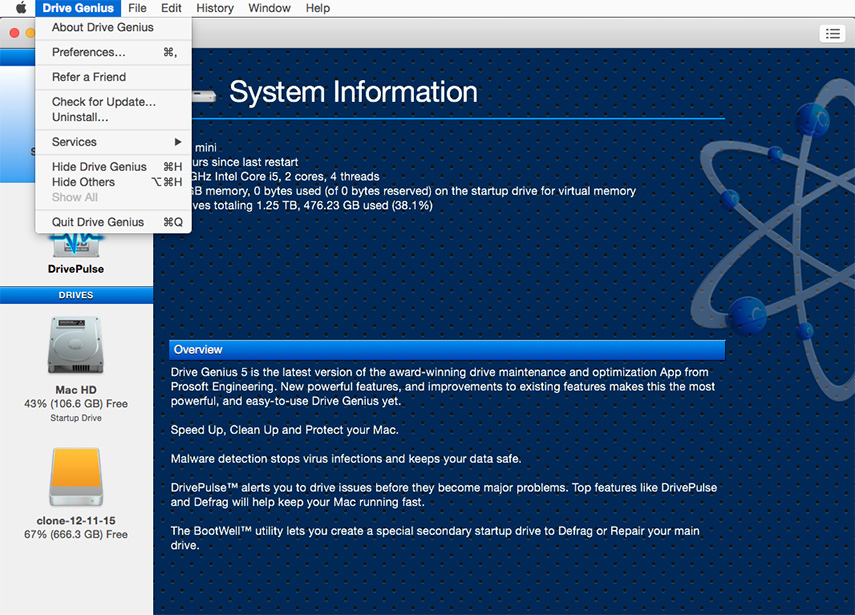 How to Use Drive Genius 5:
Download and launch Drive Genius 5.
Select Defragment Process.
Defragment will examine mac first to check if there any issues are picked.
Then click "Start". The whole process will depend on kinds of fragmented.
TechTool Pro 12
TechTool Pro is also a widely using software to keep your mac running more efficient. The latest version is released Dec. 10th 2019, so it requires Mac OS X10.10 or later. The price is $134.93.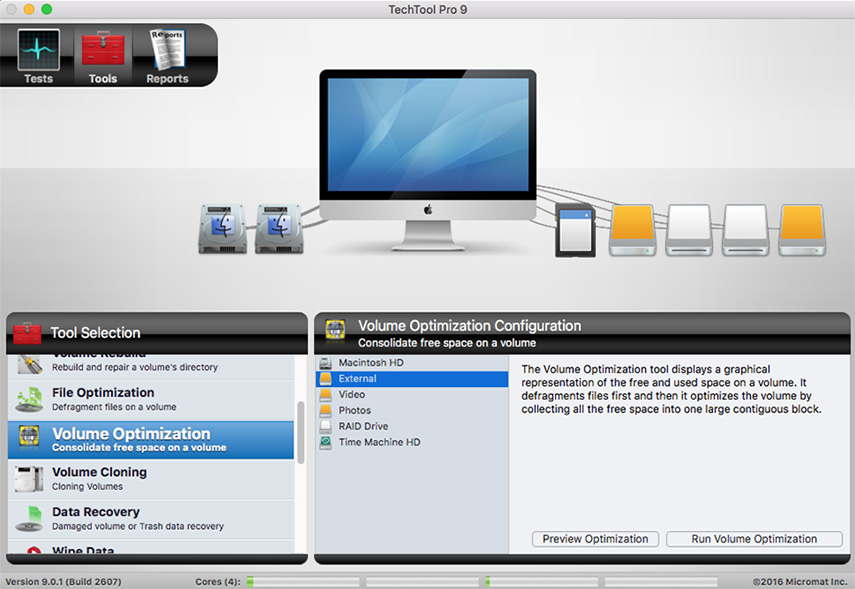 How to Use Drive Genius 5:
Download and launch Drive Genius 5.
Select Defragment Process.
Defragment will examine mac first to check if there any issues are picked.
Then click "Start". The whole process will depend on kinds of fragmented.
Of course, when you finished the steps above, you need to select "File Optimization" in Tool Selection. The next steps are same as the former.
Note
Remember no matter what kinds of third-part tools you choose, if you are facing defrag MacBook failure, don't hesitate to find the support from official website.
Additional Information: How to Recover Lost Data After Defragging a Mac
As we mentioned, Defragmentation won't harm your mac or hard disk. But unfortunately, if you run program inappropriately, the whole procedure will damage the hard disk. All data on hard disk will be lost. Don't worry, the handful software Tenorshare Ultdata for Mac will recover all data easily. Read the detailed guide on how to recover lost or deleted files on Mac.
Download and launch the Tenorshare Mac data recovery, and select a location to start scanning the data you kept. Tap "Scan" button.

It will take a while to scan all data. Following the all data results displaying, you can choose one file types to preview.

Once you choose files, click "Recover" button to save the files. It's not advisable to save the files at the same partition where the files lost. This move will lead to permanent data loss.
Summary
There is no doubt that occasionally defrag mac hard drive will make your mac run smoothly and efficiently. If you want to defrag a mac, please make a backup first. Once in data loss situation, using Tenorshare Ultdata for Mac is the most professional tool to recover data. With the invaluable tool, you can easily recover data like photos, videos, documents and others on hard disk or external disk.